21 CANDLES AUDIO DRAMA: ANDREA JANEIRO
THE PITCH:
 Title: 21 Candles
Duration: 14'59"
Delivery date: 8th December 2020 (1pm)
Written and produced by Andrea Janeiro
Website link -Backup Player: It is suggested to listen to the audio with headphones
Short synopsis: Juliet hates her birthday because it's on Halloween; but turning 21 her boyfriend Phil takes her to an historical old house for a romantic night. On the outskirts of West London, they brave a stormy night and Juliet's heels on broken gravel to begin the scariest night of her life. The house has been abandoned since a man murdered his wife five years ago and locals think is haunted. Not believing in the paranormal, her boyfriend and her parents have prepared a surprise inside of the house and her non-belief in ghosts are challenged by a loving prank inside the house…
TRETAMENT
21 Candles is a comedy-horror, fifteen-minute audio drama written, produced and directed by Andrea Janeiro. It is important to mention that this specific audio piece includes bad language and horror (just in case you don't like this type of drama). Throughout this work, this piece aims to take listeners on a horrific journey through the effects of different sound locations, characters voices (normal and paranormal) and scary genre music.
To begin the audio, Juliet writes in her diary about her upcoming birthday.  It's always on Halloween and she dreads it because of the pranks made by her friends and basically the feeling of being ignored. Tonight, however, she's turning 21, and her boyfriend Phil has told her he is taking her someplace special. It's a dark night which is pouring rain and Phil is driving a bit too fast as they arrive in the outskirts of West London to a place she does not recognise.
The piece will draw upon the secret location that Phil refuses to tell her about they arrive. Finally, he tells her as they are about to enter a haunted house, that he knows how much she loves historical houses, and this one is where a murder took place five years ago.  He paid the groundskeeper 25 pounds so they could have a romantic meal inside and spend the night.  Hearing about the owls and bats that live in the old house doesn't make her happy and it gets worse when they enter the house to hear creaking sounds of wind, that sound…almost like voices. Also, the electricity has been turned off, despite Phil paying the groundskeeper to make sure everything was going to be perfect for her birthday; they resort to using their phones to light.
In a short time, Juliet wants to leave, and Phil has to work hard to convince her to stay, promising her wonderful bangers and mash and her favourite Spanish wine. As they walk into the kitchen to prepare her birthday feast, Juliet is disturbed when she hears a ghostly scream. Juliet is not scared because she does not believe in anything paranormal, but Phil is being a bit weird and trying to do his best to be brave and suggests it is only the wind in an old house making all the strange noises and echoes.
Phil goes to the bathroom, while Juliet toasts herself and jokingly toasts the fake ghosts… but a scary male ghost voice answers back and suddenly Phil is screaming from the bathroom.
When she goes to take a look, he was complaining about a splinter and a rat that jumped out at him.  Very shortly there are more ghost sounds and they ultimately must hide from a crying female ghost asking for help and a male ghost that is now chasing them through the house with a chainsaw noise. They find a closet and then search for a way out.  Juliet remembers the owls flying into the open window near a fire escape from when they first entered the old house, and they make a run for it with the ghosts chasing them.
Finally, outside Phil realises he dropped his keys somewhere inside the house and he goes back with Juliet insisting on waiting for him at the doorstep.  Suddenly after she tells him that she doesn't trust him, the door flies open and it is Juliet's parents saying 'SURPRISE, HAPPY BIRTHDAY…' and that everything she just experienced was part of a prank… is an extreme prank from her parents…?
Very upset she challenges her parents, who 'played the ghosts', after seeing her reaction, apologise, and they all prepare to go home to do a real celebration.  As they leave a ghostly voice comes from the house leaving the audience to suspect… Is this house really haunted…? The piece ends by Juliet writing her diary the next morning (November 1) writing that it was all a good prank from her boyfriend and her parents. The audience is left wondering: Will Juliet take revenge …?
Commissioner's confirmation:(EMAIL CONFIRMATION ON TURNITIN)
I contacted George Ledoux, who has been a professional voice actor for over 20 years. He has made hundreds of voices and character narrations for TV and radio commercials, but also for video games, documentaries, corporate videos on various American television networks. He accepted my request to be my commissioner for my project. Additionally, he proposed to see the script and the audio piece once was finished it.
Tweet: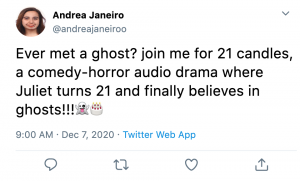 CUE/TEXT:
Cue: Juliet dislikes her birthday because it's on Halloween; but turning 21 her boyfriend Phil takes her to an old house for a romantic night on the outskirts of West London. The house has been deserted since a man murdered his wife five years ago and locals think is ghostly. Not believing in the paranormal, Phil and her parents have organised a surprise inside of the house and her disbelief in ghosts are challenged by a prank inside the house.
It is recommended to use headphones.
In: '21 Candles Production presents…'
Out: 'I'll have a plan to get them back!!!'
Duration: 14'59''
Back anno: 21 Candles is written and produced by Andrea Janeiro, starring Joanna (Juliet) and Franco (Phil), who are the main characters in this comedy-horror audio drama. To listen it again, you can find it on our SoundCloud account.
Image: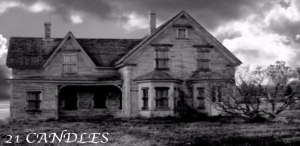 REFERENCE:
Architecture.desktopnexus. (no date). Scary House [image]. Available from https://architecture.desktopnexus.com/wallpaper/2319244/ [Accessed 2 December 2020]. EDITED (21 CANDLES WORDS): Andrea Janeiro
MUSIC REPORTING:
All SFX used in this audio piece are FREE (YouTube).  Some of them are recording by myself, such as umbrellas, car doors, jumping.
SFX radio: recorded in a car with real radio sound.
Time Stamp: 1'26'' – 1'43''
Three songs chosen:
Title: Creepy Music Box | 30 Minutes of Creepy Music box Medley | Free Download Links https://www.youtube.com/watch?v=HYCOwzTqcGQ&t=287s
Time Stamp: 7'11'' – 7'28''
Composer: Private Hell Productions
Title: "Happy birthday"—dark music/disturbing (music box)—Alina Pisleaga https://www.youtube.com/watch?v=DuRKPo7oY54&t=16s
Time Stamp: 10'38''-10'53''
Composer: Alina Pisleaga
Title: carousel music ride
https://www.youtube.com/watch?v=2TWGPFpeyPw
Time Stamp: 11'29'' – 11'44''
Composer: Belvueboy
Special gratitude:
Joanna Ferbrache – Juliet
Franco Machado – Phil / new' ghost
Devo Cutler – Juliet's mum / ghost woman
Jon – Juliet's dad / ghost man