It would be typical of me to leave everything to the last minute, but something I promised myself was that I would find a topic that would demand so much of my attention and my interest that I would have no choice to not neglect it. So far so good!
Afro hair – Something many black men and women find time-consuming, yet pleasing to maintain. Something many white men and women lack understanding in and most of all something all white people are not affected by. I really wanted to create an educational piece of audio on the subject of afro hair and the struggle in which black people have endured with it. The stereotypes, the advertising and the misrepresentations.
I recently watched a 'black hair salon vs white hair salon' documentary (I can't find the link anywhere – You can never find something when you really need it!) which discussed the lack of diversity and the fact that neither tend to both hair textures. This is what led to the development of my idea.
26/09 – The first week was the introduction to our module. Going through what's to be expected and where to begin listening in order to gather ideas. At this point, I hadn't really cemented any thoughts. However, during the afternoon we were introduced to an audio walk, based in Clerkenwell via an app called Detour. This audio walk offers an interactive experience to its listener, by walking and talking you through the historical streets of London or whatever city you happen to be in. David Waters; a producer of this fascinating piece of work sat and discussed with us (after the experience) how the idea came about. He also talked about how the piece was produced and the obstacles endured while producing it, as well as how we could use it to inspire our own creations.
Listening to this piece of audio was supposed to get the creative juices flowing however, I think I needed to do a lot more research to know how I wanted to present this idea of mine. Therefore, I felt the best place to start was the module handbook. Here, there is a list of audio pieces that have been recommended for us to listen to, so here I began. One in particular that caught my attention was in the style of a docu-diary that told the story of a young South-African woman who was infected by HIV. She later died but was determined not to let the disease consume her life. It was a very interesting piece to listen to, especially due to a lot of the audio captured, sounded as though there was no post production – very natural (I couldn't find the link again!) I also listened to quite a few pieces of audio on This American Life – this in particular: 625: Essay B . This was an interview style piece of audio. My main reason for listening to a range of audio is just to get a feel for what kind of format would best suit my own piece as well as for inspiration in how to construct my own.
03/10 – This week was another week to help get our creative juices flowing. During lectures, the plan was to look at various organisations that would be likely to commission certain audio pieces. For example, I came across a relatively new invention 'The Blitab' an iPad for the blind. This could offer braille and audio description all wrapped in one.
As of today, it was more or less time to get hands-on and begin the commissioning process so by this point, I had already taken pen to paper and spider mapped all of my ideas. I did this to help narrow my topic of discussion because afro hair is extremely broad.
10/10 – Today I touched base with Asiya in my first tutorial for this module, where we discussed what companies would make the most sense in commissioning my audio piece too. We threw around some names such as The Voice Newspaper, The Podcast.me, Radar Radio etc. and came to the conclusion that it would be best to approach a platform that would encourage my creativity – The Voice or Radar etc.
As mentioned in week 2, I'm still trying to narrow down my ideas yet Asiya advised that the direction of my piece will become clearer once I found a company to commission my piece of work, as it is a piece of work which is a collaborative effort between I and my employer. Therefore, the aim for me tomorrow is to contact these companies and see who will support my ideas.
11/10 – This afternoon I contacted the advertising marketing and circulation department for The Voice Newspaper Online and queried who I would need to speak to directly in order to gain a commission. I spoke to a very helpful man named Getnet Hilau – The Accounts Manager who invited me to attend a local event that the newspaper sponsored.
12/10 – Today I was invited to take part in the production of a podcast produced by an audio production company called 'We Are Unedited' at the BBC Headquarters. Bernard Achempong, former BBC producer and the person behind the Ideas Genius Podcasts was the director of 'We Are Unedited' therefore, I thought who better to chop up my ideas about this audio project than him. We discussed the theme of the piece and what stance it would take – I explained I wanted it to come from an educational perspective, but not educational from the view of a classroom but from one person to another who has never and would never experience such effects regarding afro hair.
We spoke about its production and how the piece could potentially be layered. He suggested strictly using voice and using a repetitive technique to make it impactful. We then moved to the subject of poetry/ spoken word. My original idea was to use comedy to tell the story but here was where I decided to make a change and follow the poetry/ spoken word route.
14/10 – During the afternoon I attended 'Africa on the Square' which as mentioned before, was being sponsored by the newspaper. I met the director, Paulette Simpson face to face and was advised to get in contact via her email to confirm my ideas and any deadlines.
16/10 – Today I sent the director an email stating my ideas and deadlines. Also, to get my creative juices flowing I did a little bit of listening. As I was interested in the use of Binaural sound, I stumbled across this weirdly freaky yet well-constructed piece on YouTube entitled "Bound & Blindfolded" by Nelson Barnes.
17/10 – In class, some of us shared our ideas in the form of a mini pitch to the entire class and were able to run over any problems encountered or ideas with Aasiya also. I spoke to Eliza individually – a classmate, who advised that if I was to take the poetic/ spoken word route, she had a friend named Temi who is an actress and passionate writer who may be willing to collaborate with me. The intention would be for her to construct a piece of poetry/spoken word based on an experience that she's encountered with her afro hair and use that to arch my piece. If that wasn't feasible I would think about contacting performers who already had work out there, such as Mina West – The Crown (Natural Hair).
18/10 – Today I emailed Eliza's friend, Temi and will await her response.
19/10 – Today I have been a little nervy as I haven't heard a response from Paulette – The Voice Newspaper Online. Therefore, I sent a follow up email of which she responded she would have a look at my email early next week. As we are due to have finalised and submit our pitch by Tuesday 24th October 2017, I decided send a response email stating that the commission would need to be done by Monday morning. In sending this email, I decided to try to communicate with another company called Guap Magazine by emailing their Talent, PR and Brand Partnerships department. So once, again will await their outcome.
22/10 –  I attempted to contact Temi this morning to no avail. However, this afternoon she called back and arranged to meet at Waterloo station on Monday 23rd October 2017 (Tomorrow) to discuss any ideas that she could potentially contribute to the piece and the direction in which I want the piece to take. I haven't heard back from Paulette – The Voice Newspaper Online or Shanice – Guap Magazine therefore, I'll await the end of day tomorrow before chasing them up.
23/10 – Temi had prior engagements so rescheduled for the 25/10 instead. Still no feedback from The Voice or Guap so will start looking into alternatives. I may look into speaking to the audio production company We are unedited as I am currently working for them. This could be an option.
24/10 – Today our Pitches are due and I still don't have an official commission. Therefore, I'll speak to Aasiya today and see what the outcome will be.
Once in class, I managed to chase up Guap Magazine (Shaniece, the contact) and also sent an email to Camilla Byk from Podium.Me who use the opinions of the under 25s to produce short podcasts and blogs. I also managed to speak to We Are Unedited the audio production company I am currently shadowing, to assist with a commission also.
Guap Magazine – Shaniece was a bit too late in response and I feel that my piece wouldn't sync with their platform compared to the other companies I have approached. So I kindly declined their assistance.
Podium.Me – Camilla was very swift and enthusiastic with her response. I have decided to grab a coffee with her on Friday 27th to discuss my idea in depth as she sounded very keen on collaborating.
We Are Unedited – As I work with this audio production company already, I don't know why I didn't think of utilising them sooner. However, they are also prepared to offer an official commission.
I've decided to meet up with Camilla before confirming who to officially use for my project.
25/10 – As mentioned before, I met with my main contributor, Temi Ademilola. A passionate writer who I believe would be able to tell my story from a personal yet relatable perspective. We agreed for her to have a rough sketch of a 15-20 min written piece by Saturday 28th October 2017. As she was very passionate about this project she offered her ideas regarding what she wished to say, which was great! I also contributed ideas and will await the rough cut this Saturday.
27/10 – Today I met with Camilla Byk, the owner of Podium.me. We discussed her interest in black hair and she mentioned that she had attempted to pitch something of a similar nature to the BBC before. She advised that she'd love to work on something similar to my university project but with a little more authenticity to the podium.me audience (under 25s). We Are Unedited, would be best suited for this particular piece as it would relate to their audience more.
Although Camilla and I will not be working together in regards to this university project, she advised that she would be able to contact two of my interviewees on my list for this piece; Clara Amfo and Akala, so I will remain in touch with her regarding them.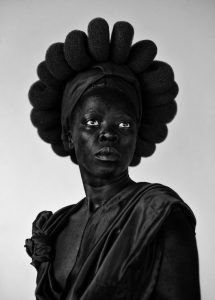 28/10 – Today, just to get a little inspiration I went to an exhibition based in Shoreditch called Zanele Muholi: Somnyama Ngonyama, Hail the Dark Lioness. In more than 60 photographs Muholi – the subject and photographer uses her body as a canvas to confront the politics of race and representation in the visual archive.
31/10 – Another tutorial today, which I let Aasiya know what I was thinking and the status of my project. I feel I may have been a bit over ambitious in wanting A-List celebs to participate in my project, but never-the-less I'll pass an email to the right teams and see whether I gain any traction. In the mean time, I will start the process of recording. That means atmos and any contributors that may have had any experiences with certain hairstyles in the 50s and 60s in the UK, Youtubers, Hair product shops based in Peckham (one of the homes to black hair care) and so on.
01/11 – Today I contacted a lady by the name of Lekia Lee via phone. She's the brains behind the campaign #Afrovisability and 'Project Embrace'. I also contacted Francis Rabbles a man who works for TFL via phone – A train driver assessor (who happens to be my cousin). Lekia understandably was quite busy and asked if I could drop her an email of which she'd be able to see when would be the best time for us to meet so, I will email her now. Francis advised that he will be able to do the interview on Monday 06/11 so I'll head off to East London then.
3/11 – As I forgot to email Lekia Lee on 01/11, I sent her an email today and will await her response.
04/11 – Today I travelled down to South East London, Peckham to do some atmos recording of the streets the community and of course the hair shops that run along Peckham High Street.
6/11 – As Lekia hasn't responded I messaged her via Twitter, which she stated she'll email me a date as to when we can do the interview by tomorrow. I'll await her response again. I messed Temi to see how she was getting on with the spoken word piece as I mentioned to her earlier on last week that I would like it completed ideally by Wednesday this week.
I was also able to record my first interview with Francis today.
07/11 – Still no response from Lekia, therefore will assume she's unable to participate therefore will keep in touch but will look for other contributors. The aim for today is to contact at least 4-6 more contributors. Temi let me know that unfortunately one of her family members had passed away and wouldn't be communicative for the next few days but will send the finalised copy of the written piece by tomorrow.
09/11 – I finally managed to get a hold of Lékia Lée, the owner of the brand Project Embrace as to which we decided to meet tomorrow (10/11) in Hackney. She also invited me to her event on 24/11 – A panelled discussion on how we can make the creative industries more diverse.
10/11 – Today I went to Hackney to meet Lékia to conduct the interview.
11/11 – I contacted a colleague I used to work with – Ben, who I remembered always had stories to tell about his struggle when it came to embracing his natural hair. Ben said he'd be willing to meet in Woolwich (South East London) on Tuesday 14/11.
13/11 – I sent a reminder to Ben to see if he was still able to meet to record the interview, of which he was still able to.
14/11 – Today I met up with Ben and conducted the interview. I also contacted Temi to see if she was still able to create a longer piece of written prose for the spoken word piece. She stated that she wasn't able to do so, therefore I advised that the best thing to do would be to just get it record as soon as possible. Knowing that the piece was only maximum four mins (she didn't really adhere to the brief set), I asked a friend of mine – Natalie, to produce another spoken word piece of the same context. She said yes and would be able to deliver it by Sunday 19/11.
I also came to the conclusion that the best place to begin this story would be the 1 person I grew up with, my dad. Therefore, after I interviewed Ben I went to interview my dad, in order to get a perspective on what it was like for him growing up in Ghana and the UK with natural hair as well as how his natural hair was perceived back then as opposed to now.
15/11 – Today I confirmed with Temi to do the recording on Monday 20/11 in the university studios.
17/11 – At this point, I knew that it was necessary to get the input of a natural hair Youtuber, so I got in touch with a popular vlogger by the name of Nash Amber. I received a response quite quickly and she advised that she would be free on Tuesday 21/11 to conduct the interview.
19/11 – I received the Spoken word piece from Natalie today but unfortunately, as she is busy will not be able to record it, therefore I will have to find an actor to get this recorded.
20/11 – I met Temi in the evening at University to finalise the Spoken word piece and managed to get it recorded within 4 takes.
21/11 – Early in the afternoon I went to interview Nash Amber at the Holiday Inn based in Willesden Junction.
22/11 – Today I attended an event held by one of my contributors Lékia Lée titled: 'Afrovisability: Being Black & Creative' – A panelled discussion intended to enlighten those new to the creative field assisting with networking and advice. I managed to get some atmos.
05/12 – Today we had tutorials with Aasiya however, one of my contributor files became corrupted so I had to attempt to retrieve it, though to no avail.
06/12 – I attempted contacting Ben (The file that was corrupted) I was informed he had taken annual leave and was in Ghana. Therefore, decided to use what I could retrieve…which was one or two files.
07/12 – This week I'll just be putting the last touches on the edits I've already done, that also means getting into the studio and recording the necessary links.
09/12  – I still need to get the links done and find a music bed for the piece. I will make sure to do this latest by tomorrow.