Digital Entrepreneurship Written Pitch
Title of programme: Afro Kinks and Myths
Producer: Afia Amoateng
Duration: 18' 13"
Submission Date: Tuesday 12th December 2017
Genre: Spoken word
Production Methods: This pre-recorded piece will use a mixture of spoken word, interviews, atmos and music beds to create a very artistic multi-layered piece of audio.
The Synopsis: This piece will dispel many African textured hair myths and share personal experiences from a handful of contributors.
Commissioner: We Are Unedited is a multimedia content development company, specialising in audio, be it podcasts, radio shows or documentaries. They also develop and produce digital audio formats and content exploring complex ethical issues with high editorial standards.
Long Synopsis 
The story will revolve around the 'two-day' hair maintenance process that most black women are familiar with. From removing braids to creating twist outs and drying the hair after washing it with a cotton t-shirt to prevent damage and so on.
It will involve a long-form piece of spoken word – fifteen to twenty minutes, that captures this two-day hair process; this will detail the pride that goes into taking care of Afro hair and although it may not be the easiest to deal with, that it's definitely not a burden. This will be used to arch my story.
It will describe the beginning, middle and end of the process and the time and strategies it takes to clean, prepare and style a black persons' hair. Throughout the piece, there will be interjected stories from different men and women (famous or not) that have their own related experiences to share.
Ideal Contributors:
– Temi Ademilola Actress / Writer
– Lekia Lee Project Embrace
-Frances Rabbles Cousin / TFL Train Driver Manager
– Clara Amfo BBC Radio 1 Presenter
– Akala Rapper / Political Activist
– Charlotte Mensah Business Owner / Award Winning Hair Stylist
– LizLiz Live Social Influencer / YouTuber
– Lekia Lee "Afrovisabiltiy"
N.B. The list above is not an exhaustive list.
Commission Letter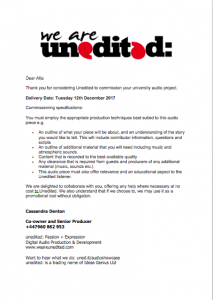 ONLINE CUE
Commissioned by We Are Unedited, Afia Amoateng untangles the misconceptions that are connected to Afro-textured hair. "Afro hair is a political statement."
"Afro hair is so hard to maintain!"
"Kinky hair doesn't grow!"
Afia helps tackle the myths linked to Afro-textured hair with the help of Spoken Word artist Temi Ademilola.
IN: "The strange fruit has fallen from the trees…"
OUT: "…looks and moves."
DUR: 18'13
IMAGES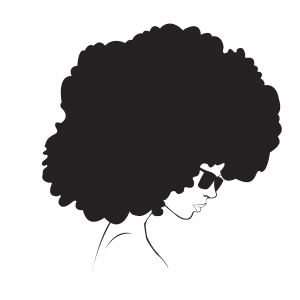 TWEET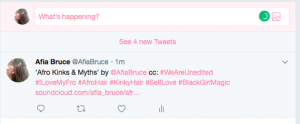 Afro Kinks & Myths' by @AfiaBruce cc: #WeAreUnedited RT
#ILoveMyFro #AfroHair #KinkyHair #SelfLove #BlackGirlMagic
MUSIC REPORTING FORM
Name of track: NA-TU-RAL
Composer: Quality Official
Publishing company N/A
Year of publication/release: 2013