Title – An Audio Experience of The Royal Mile, Edinburgh
Duration – 13:13
Audio:  https://soundcloud.com/claire-lynch-2/an-audio-experience-of-the-royal-mile 
Notes for on-air delivery:
CUE: In the heart of Scotland beats Edinburgh. In the heart of Edinburgh beats the Royal Mile. This famous walk from Holyrood Palace right up to the gates of Edinburgh Castle is bubbling away with all kinds of Scottish culture. From whiskey to wynds, owls and outlets, let's join Claire Lynch as she guides through Scotland's historic heartland.
In: "Hello and welcome to…"
Out: "at the heart of Scottish history. Enjoy."
Treatment: This piece shall be an audio walk of Edinburgh's Royal Mile, but with additional sounds and interviews to add to the experience. It shall aim to educate the listener but also help to create atmosphere whilst they explore the Mile. It aims to focus on varying types of tourism, from the historic walks and tours, to a casual frequenting of the shops. Complete with live soundscapes recorded at the Mile, this piece aims to give you a strong sense of Edinburgh, even if you might not physically be there.
Music Credits:
'Harry In Winter' (from the movie 'Harry Potter & the Goblet of Fire') – Composed by Patrick Doyle. Performed by the London Symphony Orchestra. Label: Warner Sunset Records.
'A Gift of a Thistle' (from the movie 'Braveheart') – Composed by James Horner. Performed by Julian Lloyd Webber/ London Symphony Orchestra. Label: Decca Records.
Whiskey In A Jar – Performed by Thin Lizzy. Label: Decca Records.
Lounge/Cafe Music – taken from Cafe Music BGM Station (via free trial)
All sound effects taken from www.freesfx.co.uk except for:
Annie's Doll Laugh – https://www.youtube.com/watch?v=lc-DlKrmqSA 
Dark Cave Sounds –  https://www.youtube.com/watch?v=_2AAR9jRc7I
Tweet: Discover Edinburgh's Royal Mile with Claire Lynch as she invites along to her first adventure in the city. Get ready to don your finest tartan, sample a wee whiskey or two, and of course, meet the local owl…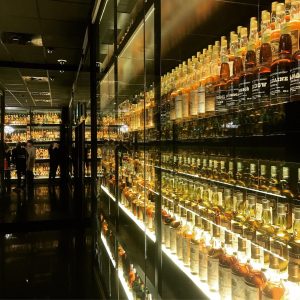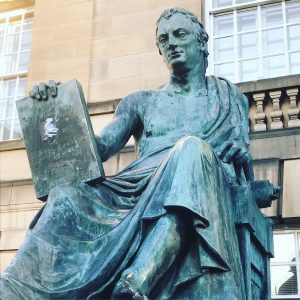 Script:
Hello and welcome to a tour of The Royal Mile, a treasure trove of Edinburgh's finest cashmere and tartan boutiques, whiskey shops galore, beautiful quaint and hidden cafes, and of course, home to some of Scotland's greatest tourists attractions.
We'll begin our adventure at a place where all great adventures begin – (at) The Scottish Storytelling Centre. If you've walked up away from Holyrood Palace, it will be on your right-hand side, opposite Fountain Close and the Heritage Clearance Store. I'll give you a moment to get your bearings…
(music/atmosphere)
So, you should now be standing outside the Scottish Storytelling Centre. A cultural hub for fans of literature, surrounded in cobblestone streets and old brown brickwork as far as the eye can see. Inside the centre, you can listen to recorded excerpts from Edinburgh's most famous storyteller, Robert Louis Stevenson. As well as indulging in his finest tales, you can enjoy live storytelling performances, or for the more visual folk, there is theatre and dance, as well as music on offer, designed to engage younger audiences. But it's the house next door that I want to introduce you to. The oldest housing surviving on The Royal Mile, and once home to Scottish minister: John Knox. Let's go…
Doubling up as the book shop for the Storytelling Centre, you'll see John Knox's house from the outside appears quite cold. Right outside you'll notice what was once a water font complete with a gargoyle acting as the faucet, and towards the door, you should observe a wooden plaque carved with Knox's image and dates of his birth and death adorning the entrance. Beautiful, but cold. Let's warm up inside and learn a bit more about John Knox from local guide, Gordon:
(Gordon interview – 2:30")
Now we've fuelled ourselves with our first historical visit, let's venture further down The Royal Mile and see what else is in store…
(music/atmosphere… underground sounds, dripping water)
…There's so much to see and do here! On your right, past the Radisson Blu hotel, you should see The Real Mary King's Close museum: an underground coven of old homes and historic passageways "shrouded in myths and mysteries". It's the only preserved 17th century street in Edinburgh where you can discover the stories of those who lived, worked and died there – including the tale of Annie's doll…(SFX?)
However, if dark and dingy isn't your thing then above ground there are plenty of shops to explore too. There's always somewhere to pick up a tartan or cashmere scarf to keep you warm! Or perhaps you fancy disappearing into one of the many cosy cafes hidden amongst to wynds and closes along the Mile. Feel free to pause me if something catches your eye! I'll meet you up by the statue of David Hume.
(briefly fade out sound)
Welcome back! By now you should have reached the part of the Royal Mile known as Lawnmarket. Here you should see the statue of David Hume. Now David Hume was an 18th century philosopher and writer who believed that humans were more influenced by our feelings than by reason. The idea that we are encouraged and motivated to a bigger degree through our feelings, rather than results of analysis and logic. Hume was born and died in Edinburgh and continues to be celebrated in the city through the striking statue you're standing in front of now. To quote Hume, "Beauty in things exists in the mind which contemplates them", so why not pause me for a moment, and take in the statue.
Now if you're a fan of Harry Potter, you'll know that Scotland has its ties in with franchise. JK Rowling wrote many of the books here in Edinburgh, in several of her favourite cafes, and most notably at Room 552 at The Balmoral Hotel, now known as the JK Rowling suite. The highlands also feature in the movies as location settings, particularly the Glenfinnan Viaduct, the bridge where the Hogwarts Express can be seen chugging along taking excitable wizards and witches back to the School of Witchcraft and Wizardry. So with all this magic in the air, it's not uncommon to find the odd owl handler dotted amongst the bagpipers along the Royal Mile. Let's go meet one shall we?! I met up with Hazel the Owl and her handler Alex to find out more about these 'fantastic beasts'…
Hazel the Owl interview – 2:00"
You may have noticed several pubs and whiskey shops along the way, but if you're a fan of Scotch Whiskey, then there's one place you'll be itching to go and explore. If you move up towards Castlehill, you'll find The Scotch Whiskey Experience, nestled to the side of Edinburgh Castle, opposite the Camera Obscure and World of Illusions. There are several different tours on offer at The Scotch Whiskey Experience, the higher the price, the more whiskeys to get to sample! However, if you're new to the world of whiskey, then the silver tour should be enough to wet your palette. All tours start off with a barrel ride – pretty self-explanatory. You ride along inside a mechanical whiskey barrel which shows you the processes that barley goes through to become the popular golden nectar worshipped by Scots and Scotch fans alike. From there, your education continues with a presentation explaining the variations of flavours due to the different regions where the grains for Scotch are grown. Environmental factors play a huge part in defining a whiskey's outcome, but you can decide for yourself what sounds good – or rather, what smells good – with the scratch and sniff cards you are given on the way in. Finally, it's time for the tasting! Surrounded by the world's biggest collection of whiskeys – there's no better place to take in Scotland's finest export. Here's Angela to tell us a bit more about the experience:
Angela interview – 2:00"
By now hopefully your cockles are well and truly warmed by the whiskey and all the glorious Scottish culture that The Royal Mile has to offer, so what a perfect way to end our journey by exploring Edinburgh's most beautiful and historic attraction: Edinburgh Castle. There is so much to see inside the castle, from prisoner's cells to The Great Hall, so I will leave you now the heart of Scottish history…