Post-Production / Edit  Week  (22/03/19) – 
Today as a group we began working on post production sound effects.
We spent 30 mins in the car park, using Bethany's car to record lots of audio needed in the many car scenes
I recored the voice over for the sat nav scenes
Bethany recorded the opening and closing credits
Riya record a group of lads singing ' swing low sweet chariot', as we needed the sound of rugby lads in a few scenes.
I will now begin on the edit, I need to follow the script to see where to place certain effects and music. I'm hoping the edit should take a few days and I will send Jeremy a copy of the first cut for initial feedback. Bethany and Riya will make a start on the paper worked needed for submission.
Recording Week (15/03/19)  – 
Before greeting our actors, we made sure that a pack containing the script and production schedule was ready for everyone included in the recording of Entropy. Riya gathered her notes ready for directing and myself and Bethany spoke with Tim, to make sure the stero mic was set up in the recording booth, ready for the first scene. We made sure the studio was clean and cleared, and that their were enough refreshments for the actors if they needed. We had props ready and I spoke with Tim to make sure I was clear with the desk set up.
We then greeted our actors at 1PM, and had a quick read through of the whole script. This gave us an opportunity to hear our characters come to life and gave our actors a chance to ask any last minute questions about their lines.
Cast List: 
Ryan – Francis Quigley
Will – Fraser Wall
Ellie – Eleanor Narwal
Ian – Tom Edward Kane
I feel the recording itself went really well, the actors were absolutely amazing at their job. This made it easy for us to give them direction and they were talented at improvising when asked. The only issue we faces was with scene two, which started with Ellie and Ian in a exterior environment. Then ending with them sitting in the car. We hadn't made this clear in our production schedule, so we had to go back and record the end of scene two, after we finished the final scene. As we needed the stero mic in the sound proof booth, to make it sound like the actors were in a interior environment. We also faced a tech issue with scene six as, Ian was placed in the sound proof booth with the mono mic and Ellie was in the main studio. We wanted to record the actors on separate wave forms, but this wasn't possible due to the recording set up in audition. We asked Tim for assistance but, he said it wasn't possible in our time frame. This means in post production, we will have to attempt to put a effect on Ian's voice.
Next Friday we are meeting as a team to start post production, we need to record and gather all our sound effects. We also need to record the sat nav voice (which i will do), along with some opening and closing credits. Hopefully, we can get this done next Friday, which will allow me a week to mix the final project. Riya will also contact two of our actors for evidence of travel, to get the travel expense forms sorted.
Production Week 2 – 
This week myself, Bethany and Riya sat down and made vital decisions about the recording of the audio drama.
We decided to sit down and make a production schedule, this was to help us feel more organised and allows our actors to understand when we would be recording particular scenes. After our practise recording, we decided to record the interior scenes first. This would mean moving the stereo mic into the sound proof room, to make the actors sound like they are inside a room. (A majority of our scenes are based within a car environment.) I spoke with Tim to make sure we were allowed to move the mics as they were taped to the floor, but he had no issue with us moving the mics around. We also grouped the scenes by the pairs of actors, for example, we will record all the car scenes with Ryan and Will first. After the interior scenes, we will move the actors into the main recording space and begin with the exterior scenes. (See our production schedule below.)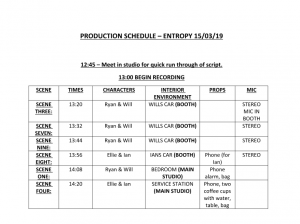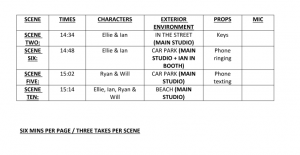 We also ran through the script several times to decide on what sound effects we would need to make during the live recording / in post – production. (See our list attached blow.) Myself and Riya sat down and contacted each actor separately, we made sure they had a copy of the script and that they were happy with the recording times, ect… Bethany took over Ola's role as, she sent copies of our script and production schedule for printing to Matthew.
On 12th March, we made Jeremy aware that one of our actors pulled out due to a job opportunity. He very kindly found as us a replacement actor, ready for 15th March.
* We had tried to contact Ola several times as a group and individually. She was meant to be our production coordinator. Bethany has kindly taken over her role, but I wanted to make you aware that we have not heard from her since February.
Production week 1 – 
This weeks session gave us the chance to practise recording a few scenes of our script. Throughout the previous weeks I was put in group 5, with the following members and roles as follows:
Holly – Studio Manager
Riya – Director
Bethany – Producer
 Ola – Production coordinator
Before heading into the studio at 2:45pm, Riya had made sure to contact members in group 6. They were to play our 4 characters in the dry run. We picked to rehearse scenes 2 & 3, as they had a good balance of all 4 characters.
Once we began, we realised quickly that we needed to think about the recording environment more. We were advised to try and put our actors in the sound proof booth, as this would give the atmosphere of a car. We also used the wooden screens to interpret the sound of being outdoors. Although this wasn't the actual recording, the task highlighted that we need to think about the props and sound effects we can make the actors do at the time of recording. (slipping drinks, movement in bed ect…)
As the studio manager, throughout the next two weeks I will start to look at what sound effects I need to gather. But the group needs to have a meeting to agree on what props need to be brought in on the Friday of recording. Riya / Bethany should work on the recording schedule too.
I'm excited to hear out script come to life as, I think it highlights a lot of issues that young people can resonate with.