Baked beans under the bed
Baked beans in pizza boxes
Or just baked beans out of the can. You get so many brands of Beans, and now you can enjoy them in a bar in Central London.
Right now all things Baked Beanz are being celebrated at Selfridges. A pop-up Baked Beanz Bar has emerged to celebrate the 50th Anniversary of The Beanz, Meanz, Heinz advertising campaign, and with Baked Beans being an iconic vision of Britain, this is not to be missed.
The event is running for just under a month and is getting a great reception from the public as well was some shocked gasps. At the event there are representatives of the campaign, who are happy to talk to you about what is going on and who the event is aimed at. They are even handing out  samples of baked beans with choice of topping.
The representatives are more than happy to even provide ideas for meals you can make easily and cheaply including baked beans.
For as little as £2 you can get a celebratory personalised tin and then even enjoy dishes from £3 at the bar, such as Beanz with Bacon, Beanz with scrambled egg and Beanz with ham hock.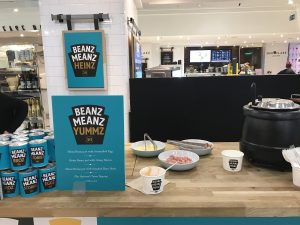 This is an exciting event, which won't be around forever. As well as free samples, you can be inspired. 50 of the limited edition tins are up for grabs and the first one has been signed by Maurice Drake, the creator of the original campaign. This one has been displayed in a case and will be auctioned off on 5th April. After just one day of being open, 30 of the limited edition tins had been sold and 20 will be available in the second week of the bars' opening.
Because of the advertising campaign slogan from 50 years ago, there are 50 different words on tins to represent those 50 years. Names like: Broz, Storiez, Eggz, Morningz. Every one of the 50 names has Z at the end to celebrate the slogan. At the event they are encouraging people to try and find all 50 words on the tins. The event organisers are hoping people will come and celebrate with them and try out new things.
If this sounds like something that'll interest you, then definitely get down to the Food Hall on Level G at Selfridges Oxford Street to have some great fun, try some great dishes and to get your very own personalised Baked Beanz tin full of the Beanz. The Bar will be running until 23rd April and will be open 9am-7pm Monday – Saturday and 11:30-6 on Sunday subject to availability. Therefore there's plenty of time to go and see what's happening down there. Plus Easter Break is coming up, so if you're looking for something to do, there you have it.