One million people in the UK are declared homeless and half of those are forced to call the streets their 'home', MP Bob Blackmans homeless reduction bill makes it the law for councils to provide help to those who are potentially at risk of being made homeless.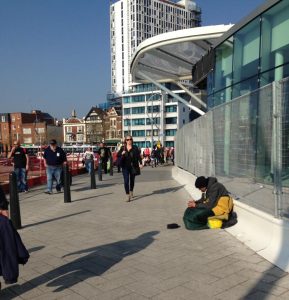 Today five households in England are made homeless every hour, according to the homeless charity, CenterPoint. I spoke to Sally Nash, a current worker at CenterPoint about how the homeless reduction bill will relieve some pressure from homeless charities and how the homeless and CenterPoint will benefit from the homeless reduction bill.
Local Harrow MP Bob Blackman is celebrating his recent success in getting his homeless reduction bill passed in parliament. Mr Blackman was successful after his 3rd and final reading of the Bill in the House of Lords, the Bill received no objections from peers. The Bill arose after homelessness increased by 16% between 2015 to 2016 and Mr Blackman stated: "It is profoundly wrong that homeless people who approach their council for help can be turned away to sleep on the street at the moment and that legislation in this area hasn't changed for the last four decades." The Bill will now ensure that councils must access the risk of one being homeless 56 days before they lose their home, this will be a big difference to the current threat of homelessness which starts 28 days prior to an individual losing their home. The homeless reduction Bill will also ensure councils provide help and advice to everyone not just those protected under the current laws. The aim of the bill is to reduce homelessness and the risk of people becoming homeless in the future, however many have local government representatives have expressed their concern about the bill, saying that with no additional funding and support for councils then little practise will be in place. with many believing that the bill will not blossom until other problems such as affordable properties are tackled first.