Production Week One | Friday 2nd Feb – 9th Feb 2018
This week we were put into our groups after deciding roles and given our scripts of choice. I am the production coordinator for 'Drama Darlings' and we are producing the audio drama 'Coffinated'.
As production coordinator, I went ahead and created a Google Drive with separate folders for scripts, expense receipts, paperwork, recordings and weekly schedules. I also created a schedule overview for the next few weeks of production as well as a schedule for week one with ideas of what people should be doing.
On Wednesday we had a group meeting (minus James) to have a script read through and to discuss what notes Fay and Tino had made and to change anything extra as well. We also discussed casting and came to the conclusion that out of the four people that Jeremy suggested only two could work with our particular script due to the fact that the actors were too old.
Regarding cross-casting, I didn't get the chance to meet with Afia and Adam with Fay but found out that Adam had already emailed the potential cast on Tuesday. We are hoping to meet on Friday to discuss this as like I said before we may not need to cast certain actors.
---
Production Week Two | Friday 9th Feb – 16th Feb 2018
This Friday (9th) our group sat down with T-Rex productions alongside Jeremy to discuss casting and finalise cross-casting. We sat and listened to each actors audio/showreel as the other group hadn't done this already and discussed which actors would work well for both of our teams.
I then drafted up an email to the actors that we would be cross-casting and showed it to Sam and Natalie, the producers for both groups, before sitting down with Adam to send them off to the actors that we will both be casting. Adam and I decided that we would send them from my account and I would cc Adam in so that all correspondence would be consistent for the actors and not coming from different sources.
After doing this we had a separate team meeting to discuss what we will be doing this coming week, involving a studio run through. We also decided on which scenes we would like to test with the mics on Friday's lesson.
During the week we still hadn't heard from Olivia Warren regarding whether or not she would be able to record on the 23rd so we began to look for a backup actress. After searching we found Madeleine Dunne and she was available to come in to record if we hadn't heard from Olivia by the end of the week. I informed the other group about us finding a back up as well so that they were aware but we knew that the role they had for Olivia wasn't as vital as ours so they were not as worried as our group.
---
Production Week Three | Friday 16th Feb – 23rd Feb 2018
On Friday we had a half hour session in the studio with the mic setup how it will be next week for our recording. We decided that we wanted to try using the baffle boards to create the sound of a coffin and having the actors as close to the stereo mics as possible. We discovered that the actors need to be very centralised to their own mics otherwise their voices bleed through to the other mic. We also tested the mono mic in the booth and how we would communicate with the actors as you cant see or hear anyone in the studio when you are in the booth so we decided that Tino would be in the middle, communicating between both parties when it came to recording.
Luckily we got a response from Olivia Warren confirming that she was able to record with us on the 23rd and so with that, I emailed across scripts from both plays to our actors that we were cross-casting by the end of the week and made it sure that they were all aware of timings and how refunds for their travel would work too. This meant that I also had to email Madeleine to thank her for being available if needed.
During the week we had an urgent email from Rosanna saying that she was unable to stay in the afternoon to record our play with us and so I had to contact Madeleine to ask if was still available on Friday to come in and record in the afternoon. Luckily she was and so I emailed Rosanna back to thank her for letting us know with time to spare and informed Jeremy that we had organised a replacement for the role of Steph.
---
Friday 23rd Feb  – Recording Day
As part of being production coordinator, my role included organising hospitality for the actors so I bought in tea, coffee, biscuits and water for the actors throughout the day and informed the other group it was in the kitchen in the radio studios for them to use in the morning too.
After that, our group met in RP1 to discuss our plan for the day. I also printed out copies of the script for the actors too. We then moved downstairs and sat around a table to go through our own production copies of the script to annotate and go over the order of recording before the afternoon. We went through and gave ourselves an allocated time slot to record each type of scene. We blocked them into the coffin, VOs, Cafe and Outside recordings. Each of these sections required different actors and different mics we also wrote onto our scripts and to a document that was printed for recording.
At 1 pm we headed upstairs after the other group had finished recorded so that we were able to organise the studio into the way we wanted. We moved the baffle boards around the stereo mics and set up tables for the cafe scenes too. At 1:30 pm I messaged Adam, the coordinator for the other group to ask when he was going to bring the actors back up. I was then told he was at home having lunch so I would need to go and get them from the canteen. I went down to meet the actors in the canteen and they weren't there so I messaged Adam to ask where they were and if he could come meet me which I got no response. So I called Natalie to ask but before I could someone else messaged me to let me know that they were upstairs. So there was a lot of stress when it came to that part of the day which could have been avoided.
I then took the actors upstairs and offered them tea and coffee before they had a quick read through with Sam and Fay while James, Tino and I set up the studio.
We then began recording.
When recording I was put in charge of creating a document for James and editing purposes later on that had notes about each take from every scene so that the editing would go smoothly and would be a lot quicker for James.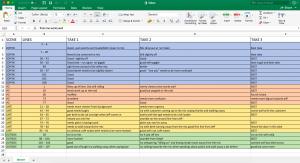 This spreadsheet was filled in for the whole recording process and then uploaded to our shared drive for James.
When it came to the cafe scenes being recorded I gathered a group of people to come into the studios to act as customers and create background noise. This was done quickly and efficiently and worked well to time.
We finished recording with the actors at half past four and felt that we didn't need them any longer so we thanked them and they went home. We then had the task of recording some extra sound effects and voices and were packed away before 5 pm.
---
Production Weeks Four, Five and Six | Feb 23rd – March 16th
Due to the fact I was production coordinator, I wasn't a huge part of the post-production process. Regarding the edit, I was there to offer any editorial advice if need be but I felt that our team were strong enough to make those decisions by themselves.
In regards to expenses, our group and T-Rex Productions joined together as we were using three of the same actors so decided to organise it between us. Simon from the other group took charge and I reminded our actors both on the day and via email that they would need to send their proof of receipt to us as soon as possible.
Over the next few weeks, all I needed to do was fill in some paperwork for the hand in and make sure our team were meeting deadlines for our rough edits etc. Most of this was done over Facebook Messenger and worked efficiently.
Hand in day soon rolled around and I was in charge of sending it over to Jeremy. I had filled in the necessary paperwork and waited for the final edit to be sent over to me so that I could then forward it on to Jeremy.
After we had sent it for hand in, I set up a new mixcloud account for Drama Darlings, and uploaded our final piece.
I then emailed the link to the actors that recorded for us and sent over our thanks as well.
Our final piece can be listened to here: