Production Week One: 7/11/16 – 13/11/16
This week we began putting our thoughts and ideas into action and with me being one of the two presenters, I began to immerse myself in to the music more and more. Eliza kindly created a Spotify playlist with over 100 songs on so that both myself and Callum could begin to understand the soul and funk genre more at the beginning of this module and since then Simon has created our final playlist for the show which I have now made into my own playlist so that I can listen to that as much as possible in the next month to really begin to know the genre.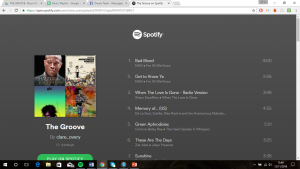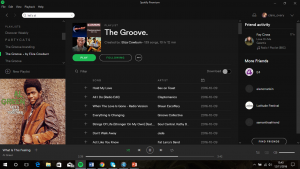 As well as getting to know the genre, Callum, my co-host, and Mark, our studio producer, and myself decided that we should get into the studio and discuss what works for us when it comes to doing the show in a few weeks time. We decided that either myself or Callum will self-op while Mark focuses more on the technical side of things and making sure everything will be running smoothly. We also spoke to Tom about figuring out what works best for me and Callum when doing a show eg. how many people we want in the room, who exactly we want in the room, whether we need anything during the show, for example tea! Over the next couple of weeks we will be doing some pilots, practising links, speaking to time, introducing the news and also throwing over to the OB.
This past week has also involved myself helping out Simon by researching into our playlist and finding out the information for the songs included. I used both the Official Charts and Discogs databases which are freely available to look for the information needed which in this case was the record label, year of release, category number and highest chart number. This also helped me learn more about the songs that we will be using in our live shows which helps me to sound like I truly live and breathe soul music.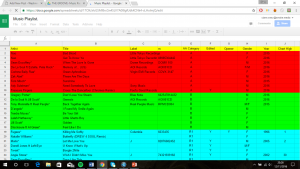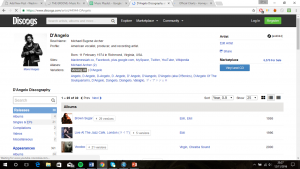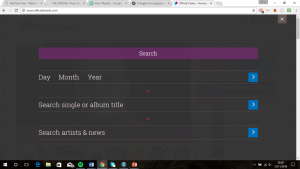 Over the next week, I hope to increase my knowledge of the genre, begin roughly scripting out the show with Callum whilst using the show clocks and beginning running through key elements of the show like features and speaking to time.
---
Production Week Two: 14/11/16 – 20/11/16
This week was one that involved me helping out with several different things. On Monday morning, we met as a group to quickly go over what we needed to get done this week, which, for me, involved creating a clock in more detail, a show script, updating the playlist's information, and helping with branding.
On Monday, I created a template of an overlook of the content on the show which will help me and Callum follow what we have coming up in the two hours. This template was one that I was shown by Pippa Taylor who works with Chris Moyles and uses it for his breakfast show and I found it a great way to have a general overlook of what the show contains and keeps them on track. I've adapted it so that it has the Mi-Soul and The Groove branding on it and also our social media contacts.
I also updated the information on our music playlist as we have recently added and removed some songs, which I have also updated on my Spotify playlist that I'm listening to as often as I can to really get into the genre.
Later in the week, I was working with Dan to create some content for our social media pages. In past weeks we have taken photos of the presenters for the website and social media but this week Dan wanted footage of myself and Callum in the studio to promote one of our features 'Soul Train'. This was then uploaded to our Facebook and Twitter pages to show that we want audience interaction when it comes to features like these.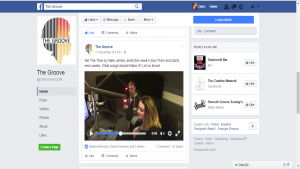 On Thursday I was also working on branding for most of the day. I was recording two people in the studios to begin making jingles and idents for the show and station as a whole. This went well, but we may need to re-record some clips or get another female voice at some point to give the jingles more texture.
I then went onto editing the best sounding clips into their own separate folders on the Google Drive, into male and female folders, so that whoever wants to use the clips, they can. I also began editing together some jingles to find out what works and what doesn't. I found that using instrumental clips of songs that are on our playlist work quite well but I need to work on my editing skills when it comes to adding reverb etc. so that is something that I'm hoping to work on in the coming week.
I have also begun writing up a full script for myself and Callum, at the moment it only has the songs, features, news and commercials in but this week we are going to work on scripting some of the links and working out whether a full script works best or just bullet points.
---
Production Week Three: 20/11/16 – 27/11/16
This week was one that involved myself and Callum tightening up scripts and clocks while also updating the music playlist with information and facts. We also had a quick 1-hour run through on the Thursday afternoon where we were stopping as we went to make sure we understood the clock and the show as a whole. Unfortunately we were unable to run the whole two hours due to maintenance in the studios taking place but I felt that the one hour was enough for that day.
As the weeks have gone by I've been listening to the Spotify playlist that I created after Simon had created a music playlist of the songs that project the image of our show, The Groove. In time we have added and taken away some of the songs so I have been updating the playlist as we go and listening to it as often as possible.
On Thursday, like I said we had an hour run through which helped me highlight some of the possible changes we would need for the pilot and the show in the coming weeks. One major thing for me was the amount of people we had in the studio. Although it was just a stop and start run through, having people coming in and out of the studio made me lose concentration about what song/link/feature we had coming up next and so for the pilot I've asked for there to be no one walking in and out of the studio if they don't need to be.
I also made notes throughout the run through which we mainly comments from Eliza and Simon about my style of presenting. Most comments were about slowing down when speaking, and relaxing into the show a little more. Another major thing was to not be afraid of interacting with Callum.
This run through was mostly to make sure me and Callum were familiar with the show and knew how to explain features and keep to time. Next Thursday is the pilot show where we will be able to run the show in full and will highlight other things that myself and Callum will need to work on before the live show the week after.
---
Production Week Four: 27/11/16 – 4/12/16
This week was pilot show week and a fairly stressful one. I began the week, looking through our Google Drive, listening and looking at everything that had been uploaded so that I knew what would be coming up on our show, including adverts and branding (especially idents for the show and features). I also listened back to our recording from last week when we ran through the first hour of the show. I took on board comments that Eliza and Simon had made and hoped that I could take those into consideration for the pilot.
During the week, as usual I was looking through the playlist to make sure I had good knowledge of the genre. Simon created a schedule so that I could update the script with the song titles so that me and Callum are able to see what songs are coming up etc. as Mark is driving the desk and we aren't able to always see the myriad screen. This script was given to myself, Callum, Mark, Eliza, Dan and Simon so that everyone was able to follow along during the pilot and know what was coming up and when. I was writing notes on my own script throughout the pilot, consisting of ins and out words, ideas for links, how long intros were for songs, who was linking what, making sure I knew when to throw forward to other features in the show, changes in songs and link placement etc. I'll use these notes to update the script for next week's live show, and also when we can practice during the week.
The pilot show helped us realise what really works and what doesn't when it comes to a live show, including a main thing which was how myself and Callum interact. Halfway through the show when the live performance was happening, myself and Callum talked about how we felt that the show felt slightly rigid and that we were following the timings too strictly and felt quite robotic. It was almost like each link was a 'that was…this is' link and we were afraid of interacting due to the pressure of keeping to time we felt. For the live show, we will need to relax into it more and not be afraid to talk over each other and have a bit of on air 'banter' so that it can give the show a more relaxed feel. Off air, and during songs, we were talking about how we would approach each link and how we'd throw over to each other but on air, as said before, it felt like we had to stick to only talking for however many seconds so that the song went out on time etc. I feel that during the week myself and Callum need to practise links with just him, myself and Mark in the studio to see if that lessens the pressure as having so many people in the studio can feel slightly stressful, as mentioned before.
Another issue we had was not explaining the features in simple enough detail so that 'new' listeners would know what it is or what to do. To get round this during our live show I'm going to update the script so that it has definitions of each feature so that me and Callum can easily explain features so that a new listener would be able to grasp the concept easily but also being careful as to not patronise old listeners who hear the features each week. This also linked to call for action on social media. We hardly mentioned our social media handles during the show so next week we will make a point of asking listeners to Tweet in or Facebook us for different reasons. One for example may be at the beginning of the show where we ask people to tweet in where in London they are listening from. I'll speak to Dan about how often he wants calls to action during the show and also add them onto the script where needed eg. around features and interviews etc.
Overall I feel as if I need to spend as much time as possible this week in the studio with Callum running through the show as many times as possible so that we are both comfortable and familair with the show and so that we are relaxed when it comes to the show on Thursday. This may include us trying out different presenting techniques eg. standing up instead of presenting sitting down so that we are more energetic in our links, only having three of us in the studio may also be a factor we need to take into consideration as well. We found out that the other group presented that way and they said it worked well so maybe me and Callum should try that as well.
---
Week Five: The Final Show – 4/12/16 – 8/12/16
We all knew this week was going to be a stress filled one but myself and Callum began the week with a playback session of our pilot. We listened through to the show and discussed the feedback that we were given from Tom and Matthew, which we agreed with. We then decided that on the Tuesday we would have a run through of the show with Mark and Eliza so that we could put the feedback to the test.
One major thing was the energy that myself and Callum needed to put into the show so we decided that we would try standing whilst presenting the show which seemed to work really well and made us both sound like we had more energy. Another main point was the lack of conversation between presenters so we made sure that at every possible time we could, myself and Callum would interact with each other.
When it came to Thursday's show, we were more relaxed and felt a lot better about the way in which we were approaching the show. It got to half one and we made our way into the studio to start checking levels and going through everything to make sure it was all going to go smoothly. We got twenty minutes into the show and during the song before our Rare Groove feature, we had a caller on the phone to talk about their choice for the Rare Groove this week, however when we put Archie through to the desk, he couldn't hear either me or Callum so we had to go with it and play the song without his input. This however led to a huge problem as we had planned to have a live phone interview with Victoria Wilson James from Soul II Soul after the advert break. We had to think on our feet and decided that having me run into the other studio and pre recording the interview with her while Callum stayed in the other studio and continued the show. We then played the audio through the desk and luckily it went out okay in the end with not much of an effect on our timings or confidence. After that hiccup, the show seemed to go smoothly.
Overall, this assignment has been a huge learning curve for me as a presenter in particular learning how to relax more into the role, and forget about the timings and what is needed to be said, and thinking more about enjoying myself whilst doing it.