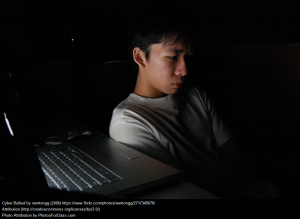 Blog post:
More than 1 in 3 young people have experienced cyber bullying threats. The online bullies that swarm the internet have caused depression, low self-confidence, mental issues and have caused some victims to take their own lives. More is now being done to tackle this crime as Facebook and Snapchat  are set to launch their own 'police' icons which allow anyone who believes they are being targeted to press this button and talk directly to an officer for support.

Natalie Farzaneh, aged 20 was bullied for numerous years before being targeted online. Natalie overcame the effects of the bullies which lead her to be diagnosed with post traumatic stress disorder and is now a bullying ambassador. Hear her story along with CEO of the charity, Bullies Out, Linda James discussing this new scheme. 
Cue:
The effects of bullying can be mentally and physically damaging whether its in the work place, at school or college. And now, with the rise in social networks, the online bullies are creating no escape for victims. 1 in 3 people are now victims of cyber bullying.
So will this issue ever be tackled? Social networks and police officers are now combining together to clamp down on targeting online bullies. Rhys Gunter investigates the effects of cyber bullying and what is being done to target this crime. Just to let you know, this report may upset some listeners.
In words: 'Hi my name is…'
Outwords: 'and it won't be used.'
Dur: 03:28
Back anno: For anyone who has been effected by Natalie's story and may need support, please contact Bullies out by heading to www.bulliesout.com