Link to work can also be found here.
YAPs – Young Able Parents
DURATION: 18-20'
DELIVERY DATE: 12TH DECEMBER 2017
PRESENTER: ELLEN KING
Short Synopsis
Societys' thoughts surrounding teenage mothers are arguable influenced by the media, for example television shows such as MTV's popular "16 and Pregnant". Eight years since the show first aired and the negativity that has been adopted around teenage motherhood is still ever present. In collaboration with Poppy Children's Centre, a place aimed specifically to help young mums, Ellen King attempts to show that life as a young Mum isn't all doom and gloom.
Long Synopsis
Poppy Children's Centre is a council run establishment in Herne Bay, Kent, that supports young parents under the age of 20. Poppy's believes that the social stigma that those who attend face needs to change in order for them not to feel ashamed and be able to provide the best lives for not only themselves, but their child as well.
With 11% of under 18s who fall pregnant getting an abortion due to lack of support (2013), Poppy's wants to offer a safe space to young and/or expecting mothers, allowing them to share issues and experiences and gain first hand advice from those who've been through it themselves. The group includes girls from all backgrounds and wants to offer advice and support for whatever they want to do next whether that's work, education or building a family, on top of the service they already offer.
In this piece of promotional audio, you will hear actuality from the groups meetings including that of the children playing and discussions with the mothers as Ellen King sits down for lunch with them. It will also include interviews with group leader Kim, who aims to create a safe and comfortable environment for the mothers, which will be able to show listeners through first hand experiences what these girls get subjected to on day to day life, and ultimately, breaking down the stigma and images that have become associated with teenage pregnancy.
Following some of the mothers tales from school whilst pregnant adds to the compelling nature of the audio, allowing it to be through provoking to the listener, making them question whether they have ever jumped to perhaps the wrong conclusions about young mothers.
Answering questions that have influenced the general view such as "How did you get through it?", "What did you do?" and, in some cases the most important question, "Why?", the girls give an honest and open encounter of their decisions, pregnancy, experiences, and their lives after to inform the perhaps mis-educated and skewed views of the public, proving that in not all cases is it best to wait.
Confirmation of Commission
Although my commission was made and agreed over the phone, this email proves that I have been working with Kim Burgess and the YAPs group in Herne Bay, Kent.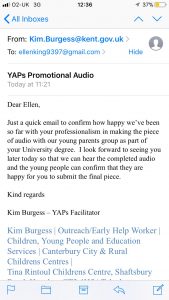 Young parents always get a bad reputation. Whether it's drug/alcohol abuse or just misbehaving in school, there's always a reason to look down on them. With an average 17 out of 1000 15-17 year old's becoming pregnant in 2016, it's not always a 'mistake' to them. In Kent, we go to YAPs, the Young Abled Parent group, set up especially for parents under the age of 20. Get to know the young parents of the group in this 20-minute piece, learning what it's like for them, how society treats them and their children, and how a group like YAPs has helped them.
YAPs is available across the county of Kent; free of charge and free of judgment. For more information about joining a YAPs group or finding out what other services are available, visit the Kent County Council website, or call your local children's centre.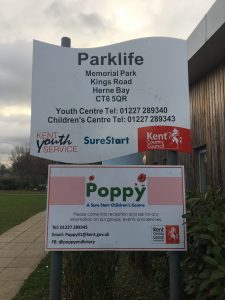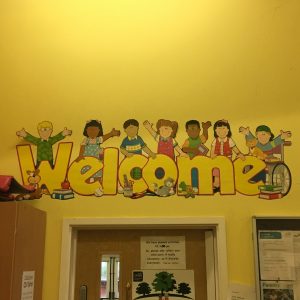 Did you know that an average of 17 out of 1000 girls aged 15-17 fell pregnant in 2016? Me neither. Young parenthood isn't something we should look down upon anymore, but instead try to understand. At the YAPs group in Kent, find out more about what they do http://bit.ly/2jLVE00
MUSIC REPORTING FORM
Name of track: Shine
Composer: Benjamin Francis Leftwich
Publishing company (record company): Dirty Hits
Year of publication/release: 2011
Name of track: On My Mind (Acoustic)
Composer: Jorja Smith
Publishing Company: Spotify Session
Year of Release: 2017
Name of track: I'm Here
Composer: Rosemary & Garlic
Publishing Company: Nettwerk Music Group
Year of Release: 2017