PITCH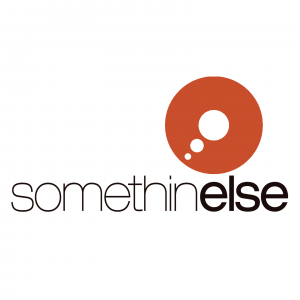 Female Rappers: I've Got Bars Too
BBC Radio 1Xtra Stories 2018
Duration: 18 minutes
Presenter: Natalie Malcolm
Producer: Natalie Malcolm
Short Synopsis
This year Cardi B was the first solo female rapper to reach number 1 on the 'Hot 100 Chart' with 'Bodak Yellow' since Lauryn Hill back in 1998 with "Doo Wop (That Thing)". This shows how tough it is for female rappers to get recognition for their work. I explore what it is like for UK female rappers in a male dominated genre.
Long Synopsis
"Why can't I just do what I want to do freely without feeling like people are trying to put me in a box all the time? Do you know how annoying that is? When you feel like you're doing something greater than life, but you're always just a female rapper?"
Lil Simz
Female rappers have continuously throughout the years been passed to one side and not given the recognition they deserve. They never get the chance to headline festivals and get dropped by record labels very quickly. Not just that, female rappers are constantly labeled in a separate category and told that they should not rap because they are women. Things would be a lot different if they were males as the hip – hop / rap and grime scene is very male dominated.
I speak to MC Stush along with upcoming rappers Lady Sanity, Noname Disciple and Yasmin about their experiences with male judgements and who inspired them. I also speak to upcoming male rapper David Cisay Rule and BBC Radio 1Xtra Producer David Akosim. On top of that, I speak to music editor for Gal Dem Antonia, artist manager and advocate for women in the creative industries Kaiya Milan and Rinse FM presenters Lily Mercer, SK Vibemaker and Jyoty Singh. Some of the questions that have been asked are: How does it feel to be labeled and judged when people haven't even heard you? How hard is it being a female in a male dominated industry? What more can be done in order to try and make female rappers stand out more? What is the future for female rappers?
I will also examine how female rappers hardly get recognized at award ceremonies. Lady Sanity was the only woman to win in the latest GRM Rated Awards out of the 4 nominated which shows how bad things are for female rappers. It is the same for the Brits and MOBO awards too they do not recognise female rappers in any of the categories. Another issue explored is how female rappers don't stick together because females rarely collaborate together and don't have each others back which is what we see males do, so this could be a key factor to where they are going wrong.
In 'Female Rappers: I've Got Bars Too' I will discover what is going wrong for female rappers in the UK and how it can be changed.
COMISSION
This email is from the Head of Radio 1 & 1Xtra at Somethin Else who create documentaries for 1Xtra.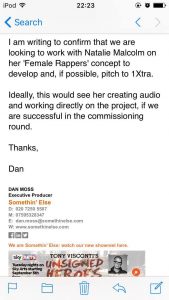 CUE
This year Cardi B was the first solo female rapper to hit number 1 on the 'Hot 100 Chart' with 'Bodak Yellow' since Lauryn Hill in 1988 with "Doo Wop (That Thing)".
British rap has a long history of not recognising women and grouping them together based on gender. They are still waiting for the day that "female" no longer sits infront of rapper. This is is one of the many struggles female rappers face.
Rap enthusiast Natalie Malcolm explores the different problems UK female rappers face within the male dominated genre.
[CLIP]
IN: (JINGLE) "On air, on the ground, turn it up" …
OUT: … "and put greatness out there (jingle)"
DURATION:  18'13
BACK ANNO
That was Natalie Malcolm exploring the issues UK female rappers face in a male dominated genre. Head over to twitter to join the discussion using #I'veGotBarsToo.
AUDIO
Click here to listen to Female Rappers: I've Got Bars Too
TWEET
This weeks #1XtraStory @natalie_malcolm explores the struggles for UK female rappers.  Join in the discussion using #I'veGotBarsToo and lock in
PROMOTIONAL IMAGES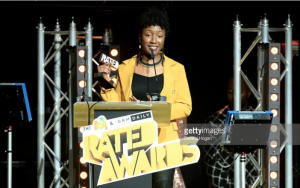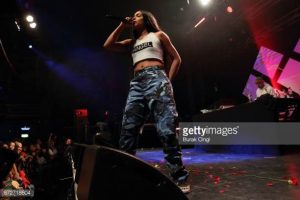 SPOTIFY PLAYLIST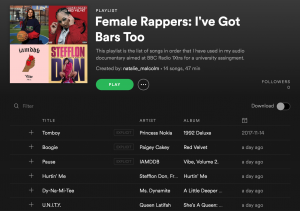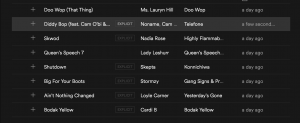 I created a playlist on Spotify which is available for anyone to go on to hear the full versions of the songs used in this documentary in the same order. There is only 1 song unavailable on this playlist 'Say My Name' by Yasmin as it is unreleased.
MUSIC REPORTING FORM
Name of track: Tomboy
Composer: Princess Nokia
Publishing company (record company) Rough Trade
Year of publication/release: 2016
Name of track: Boogie
Composer: Paigey Cakey
Publishing company (record company) Self Released
Year of publication/release: 2016
Name of track: Pause
Composer: IAMDDB
Publishing company (record company) Self Released
Year of publication/release: 2017
Name of track: Hurtin Me
Composer: Stefflon Don
Publishing company (record company) Polydor
Year of publication/release: 2017
Name of track: Dy – na – mi – tee
Composer: Ms Dynamite
Publishing company (record company) Polydor
Year of publication/release: 2002
Name of track: U-N-I-T-Y
Composer: Queen Lafita
Publishing company (record company) Motown
Year of publication/release: 1993
Name of track: Doo Wop (That Thing)
Composer: Lauryn Hill
Publishing company (record company) Ruffhouse Records
Year of publication/release: 1998
Name of track: Say My Name
Composer: Yasmin
Publishing company (record company) Un Released
Year of publication/release: 2017
Name of track: Diddy Bop
Composer: Noname
Publishing company (record company) Self Released
Year of publication/release: 2016
Name of track: Skwod
Composer: Nadia Rose
Publishing company (record company) Ministry Of Sound Recordings Ltd
Year of publication/release: 2016
Name of track: Queens Speech 7
Composer: Lady Leshurr
Publishing company (record company) Self Released
Year of publication/release: 2017
Name of track: Shutdown
Composer: Skepta
Publishing company (record company) BBK
Year of publication/release: 2016
Name of track: Big For Your Boots
Composer: Stormzy
Publishing company (record company) #Merky Records
Year of publication/release: 2017
Name of track: Ain't Nothing Changed
Composer: Loyle Carner
Publishing company (record company) Caroline Records
Year of publication/release: 2015
Name of track: Bodak Yellow
Composer: Cardi B
Publishing company (record company) Atlantic
Year of publication/release: 2017