Formative Blog Post
Sourcing ideas:
I initially made a post online asking for suggestions to commission. Suggestions included a soundscape of local festivals, an audio trail of Art in Romney Marsh, a nursing standard podcast and a soundscape of Indian culture. I particularly liked the idea of creating a more abstract soundscape-style feature because I felt it was something I had not had a chance to try, and would challenge my creativity.
Concept:
I decided to focus on a topic which holds a personal significance to me growing up in Cornwall. The Cornish Chough, a member of the crow family, is seen on Cornwall's coat of arms. However, these birds left Cornwall gradually over a period of a century; but in 2001, a project to naturally recolonise the choughs began.
This soundscape will explore the importance of the chough in Cornish culture through tales, poetry, music and interviews.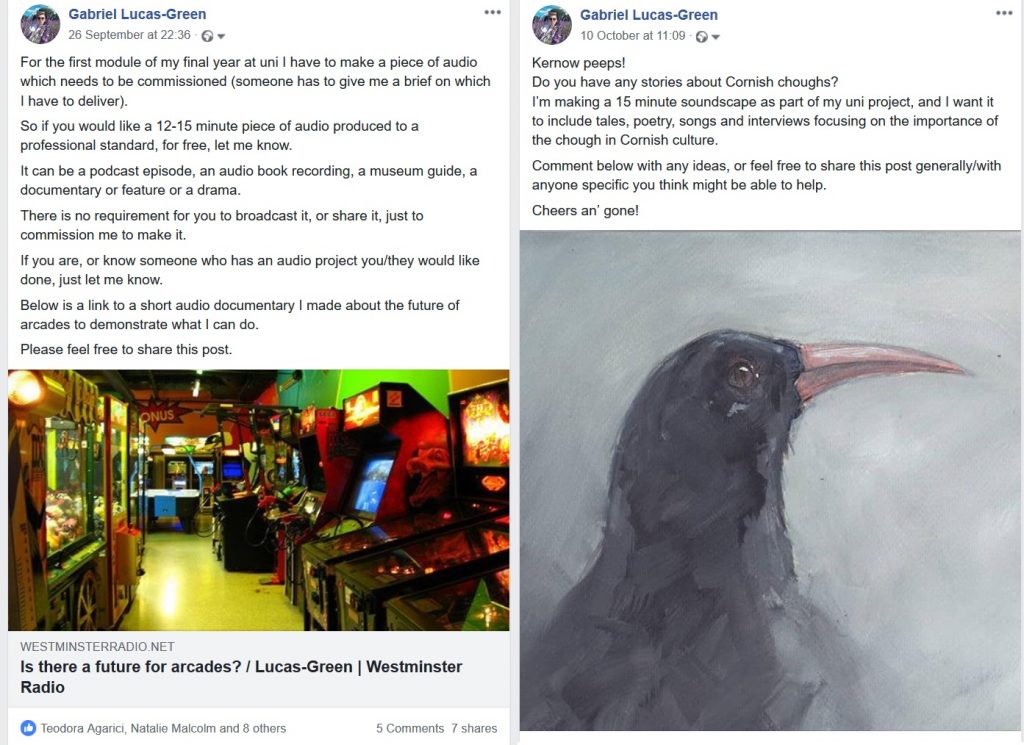 Research:
When researching for this project, I was particularly inspired by 'Skylarking', an episode of the BBC Radio 3 programme 'Between The Ears' by Cathy FitzGerald. FitzGerald writes "This enchanting audio daydream transported me high above the mundanities of planet Earth." I found the audio methods used to illustrate being in the air in this piece very inspiring, and definitely relevant to my project.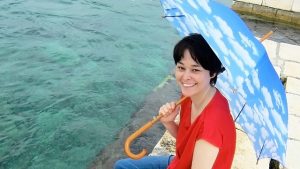 Another episode of 'Between The Ears' which I felt was relevant to my subject matter was 'The Sheep of Art': "From ancient times, the shepherd and the sheep they care for, have been the most consistent of rural sights – they appear in poetry, plays and painting, inaccurately, romanticised, and highly symbolic." This feature combined a wide array of material such as Shakespeare, Greek idylls, interviews, etc.
Potential contributors:
I know many actors, storytellers, poets and musicians in Cornwall who will be able to contribute to this project. I also have contacts who were involved with the natural recolonisation project, who will be able to speak about their experiences and what the chough means to them.
| | |
| --- | --- |
| Name | Contribution |
| John Brolly | Storyteller/Actor |
| Angie Butler | Storyteller |
| Chris & Alice Davey (Cornwall Chough Project) | Interviewee |
| Claire Mucklow (Leader, Cornwall Chough Project) | Interviewee |
| Ian McCarthy (President, Cornwall Bird Watching and Preservation Society) | Interviewee |
Potential Commissioners:
The Cornwall Chough Project is a partnership between the RSPB, the National Trust and Natural England. I would like the project leader to be my commissioner, who I am currently in talks with. Failing that, the Cornish Culture Association or the Cornwall Bird Watching and Preservation Society may also be interested in commissioning the piece.
Possible Commissioners
The Cornwall Chough Project
RSPB
National Trust
Natural England
Cornish Culture Association
Cornwall Bird Watching and Preservation Society
Production Schedule:
| | |
| --- | --- |
| Task | Deadline |
| Secure commission | 19/10/2018 |
| Secure interviews | 21/10/2018 |
| Find text sources (stories, poetry) | 23/10/2018 |
| Write script (first draft) | 28/10/2018 |
| Source found audio (music, selected actuality) | 30/10/2018 |
| Start recording | 02/11/2018 |
| Start editing | 05/11/2018 |
| Re-records (if required) | 09/11/2018 |
| First draft complete | 12/11/2018 |