Getting to Stamford Bridge on a match day-Audio Walk
Commissioned by Sky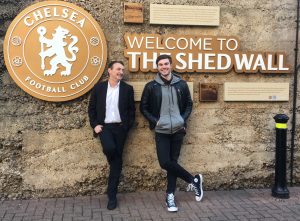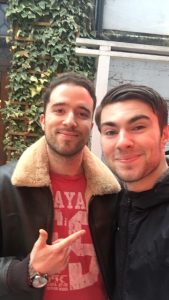 DUR: 13'24"
Delivery Date: 10th December 2019
Presenter/Producer: Ryan Brannigan
https://soundcloud.com/ryan-brannigan-3895890/getting-to-stamford-bridge-on-a-match-day-audio-walk/s-b4J4y
Cue: Ever wondered how to get to Stamford bridge on a match day? Wondered what to see and what to do before a game? Well, this audio walk has you covered…
In: Hello, and welcome….
Out: … Have a great day
Back Anno: That was Ryan Brannigan presenting his audiowalk to Stamford Bridge!
Short Synopsis:
An audio walk exploring the area of Chelsea, walking from West Brompton station to Stamford Bridge via Fulham road. This audio walk will help you along the way with historical facts, description of the area and also interviews from two people connected to Chelsea; Youtuber Younes Hadj-Hamou and Ex-Chelsea player Pat Nevin!
Long Synopsis:
Chelsea FC is located in one of the nicest and richest parts of London, the royal borough of Kensington and Chelsea, but it also latches onto part of Fulham. This Audio Walk will take you in a different route to Stamford Bridge, leaving West Brompton station and going to the Fulham Road with various shortcuts to avoid running into crowds. This is a guide of how to get to Stamford Bridge on a match day so that you don't end up in all the commotion.
Also, this audio walk is unconventional as it features interviews to listen to whilst you're walking. Younes Hadj-Hamou and Pat Nevin come in with their pics for things to do in the area and their favourite memories of Chelsea to give you the all-round perspective of both fans and players. In the walk, you will pass through streets, sights, sounds and local attractions that you can visit during the walk.
The route takes you down to Fulham road and past Fulham Broadway station ,telling the listener the best place to leave after the game and then it carries past Chelsea college. After Chelsea college, you arrive at the Britannia Gate at Stamford Bridge to end the audio tour and embark on the day at Stamford bridge whether it's watching the game or a tour of the stadium.
Treatment:  
This Audio Walk works as it for a sports audience, Chelsea fans in particular and football fans in general. It also appeals to tourists who want to experience Stamford Bridge and have never been there before. Why it works is it appeals to all ages, the young fan has Younes, somebody who they can relate too and the older generation has pat Nevin to reminisce on the more vintage days of Chelsea.
Music Reporting
Name of track: Blue Day
Composer: Suggs and Co Featuring The Chelsea Team
Publishing company (record company): WEA
Year of publication/release: 1997
Name of Track: Journeyman
Artist: Aakash Gandhi
Name of Track: A Brand New Start
Artist: TrackTribe
Both songs were found here: https://www.youtube.com/audiolibrary/music
Tweet: This is the audio walk to Stamford Bridge featuring youtuber Younes Hadj-Hamou and Chelsea Legend Pat Nevin! #ChelseaFC