(1) what research you undertook into the job market for your work experience and for gaining a commission for Individual Audio Project.
a.
My work experience placement took place at production company wisebuddah, from September 2nd – 15th 2019. When researching potential organisations for placement, I knew that I wanted to intern at a production company, or at least somewhere that handled content and not just exclusively audio. This was because I wanted (and continue to want) to expand my skill set and knowledge beyond broadcasting, into content production and more specialised content/music. I was a little worried when I began research, as I was studying abroad in Australia at the time and had to work with contacting potentials from a different time zone, as well as being physically unable to visit places of interest or attend interviews in person. I dealt with this by ensuring my CV and emails I sent were of high quality to maximise interest. I also made myself available on Skype and communicated my availability to potentials, so they were still able to 'meet' and 'see' me. I looked at wisebuddah, Somethin' Else and Grape – amongst others. I also went through my connections on LinkedIn; looking at the companies they worked for and whether they were places that aligned with the goals I had for my placement. After speaking to one of my connections, they passed on a contact for wisebuddah, who I successfully got in touch with and the rest, as they say, is history.
2. b.
For my Individual Audio Project, gaining a commission was quite straightforward as I was creating an audio artefact based on an anthology from Roald Dahl. I contacted the Roald Dahl estate, who usefully had a list of email addresses to be contacted for specific reasons. I emailed Georgia Glover who, at first, was reluctant to grant me permission to complete the project due to copyright issues. My assessment tutor Aasiya advised me this may happen and this is why I copied her into the email so she was able to allay any concerns the estate may have. After Aasiya assured the estate my project wouldn't be published publicly in any way, I received a commission from the estate to go ahead. This just helped to further my understanding of copyright and prompted me to keep reminding myself of this when choosing topics for future projects. As for my contributors of the project, I started by researching articles written on the 'dark side' of Roald Dahl and contacting the journalists who had written them. I then thought about different angles I could take in my project after I drafted a rough plan as to what my project would look like; e.g. 'contributor voice on adult literature', then '2-3′ dramatisation'. I searched for any authors that may be outspoken about Roald Dahl being an inspiration to them, and this is how I found my other contributor – author Andy Stanton. After contacting his agency, he replied to me directly after his agent forwarded my email. I got hold of Pojana, a PhD student writing her thesis on Roald Dahl, quite similarly after reading an article she had written titled: 'Roald Dahl: The children's literary giant who wasn't always so friendly'. I am aware though of how lucky I am that my contributors replied so quickly and were so willing to help out with my project. However, Pojana's first language was not English which may have affected the clarity of her audio so in future perhaps I should record more contributors than needed so I have a choice.
(2) what you learned from your work placement and what you learned from working with an external commissioner for Individual Audio Project
2.a.
My two week long internship at wisebuddah in the content department, opened my eyes to world of radio and content production outside a studio environment. I worked in an office and even though I completed show prep for radio shows, I didn't work within a live studio which was something different for me. I realised just what opportunities there are in the job of audio production that aren't just necessarily around radio shows alone. I mean this in the sense that I helped out on research for podcasts, notes for all kinds of shows and events and so on. I also learned the important skill of being self-sufficient as I was working on my own without people checking up on me or having to work around timings, as you do in a live studio. I learned how to manage my time and prioritise tasks, as I was given a few things to do each day and it was up to me to finish them quickly and decide whether or not I should take on more tasks. I also learned the value of networking; I got to know everyone in the office that I worked with and I made a note of their email addresses and also connected with them on LinkedIn after my internship finished. In my last week I worked with Fuzz Chaudhrey – producer of the Jack Saunders show on Radio 1, and got to know her, which led to me sitting in and shadowing her on the show a few weeks later. This proved to me the value of putting myself in situations where I can meet people, and not being afraid to ask for things as more often than not 'I shall receive'. I am happy with where I am at now in terms of practical experience. This was a big problem for me throughout my degree, as I felt that my CV lacked experience in radio that was not just community radio. After my internship I went on to gain two roles at both Rinse FM and Vibe 107.6 which have both allowed me to hone my production skills and become more confident in myself – which I something I struggled with during my time at wisebuddah. Sometimes I would be hesitant to complete tasks because I didn't feel confident in my abilities. Now, I readily push myself and put myself in 'uncomfortable' situations to make myself grow. One of my main goals throughout my degree has been to become more 'tech-savvy' and being at Rinse has definitely helped me achieve this due to the majority of shows being DJ sets. I had to learn how to set up DJ decks, turntables, studio cameras, lights, the in-studio video stream and similar set-up for pre-recorded shows in the pre-rec studio. My role there has been a lot of 'learning on the job' which has really pushed me out of my comfort zone which I something I constantly look for, as I know this is the best way for me to learn skills.
2.b.
As I pretty much obtained my commission quickly, I didn't really keep in contact with Georgia after I was given permission to create the project. However, as the condition of permission being granted meant that I couldn't publish my project anywhere, which meant I couldn't display it on my personal portfolio. I will be more cautious when deciding topics for future projects as sometimes copyright is more trouble than its worth. With regards to the project itself, I ended up not being happy with the final result as I had to re-record my contributors due to losing the audio off the zoom. This impacted me time-wise and taught me to always double-check everything, and then triple-check! I also realised my interests in audio had changed as, even though I enjoyed my project topic, I lost a little of my passion for it towards the end. This realisation will help me in the future as I decide on projects, as I always want to have a special connection of some sort, to my work.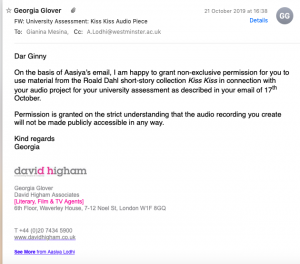 (3) where you hope to go next, what sort of career you are aiming for, drawing on your work experience and Individual Audio Project, and FIVE practical steps which you will follow to help you on the next phase, post-graduation.
After graduation I aim to have a full-time or freelance role within the audio/media industry in some capacity. Possible roles include Broadcast Assistant, Assistant Producer, Podcast Assistant, Researcher, Social Media Content Assistant or Team Assistant. I'm aware that these roles attract a lot of competition and are few and far between. I intend to carry on my unpaid roles to keep building on and refreshing my experience. My work experience showed me that I should trust in myself and also impressed upon me the importance of being proactive in the industry. I expect to be juggling multiple employment opportunities for a few years so time-management and being a 'self-starter', is essential. Working on my Individual Audio Project made me realise that I no longer want to go into long-form audio production – which is what I originally thought I wanted to do. Especially after starting at Rinse FM, I've realised my ambition, and passion, is to work in specialist music. At first I was averse to music radio and I thought that the only viable employment for music radio was within the commercial sector, but now I've found out just how many organisations and stations exist for underground music and I feel confident in my future within this sector. This isn't to say that I will streamline myself into one area, as I recognise the importance of being an 'all-rounder' in media. I will continue to pursue opportunities in both music and speech radio as well as other media genres e.g. Content and Social Media.
1: Talk to everyone and anyone at events and at my radio jobs – I never know where conversations may lead.
I've made so many contacts just by having real, genuine conversations – I shouldn't worry about asking for opportunities etc.!
2. Go for more coffees! I don't do this enough.
I haven't asked people for advise enough; thus wasting good opportunities to get advise from some incredible professionals.
3. Keep practicing practical skills (software) so I don't lose proficiency e.g. use Photoshop.
I've noticed how my live studio production ability wanes if I don't actually put myself in this environment enough. Going forward I'm making time each week or every so often, to practice my skills so I don't lose touch.
4. Be confident in my abilities.
Being hesitant and too modest with myself has hampered me when I'm in a work environment. I need to big myself up more to employers and also to myself. I have proved to myself in my work experience(s) that I am capable. I need to remember this and just keep being positive and confident in the roles I have been training in for years now.
5. Keep in contact with contacts I've made through networking.
I've made good contacts but I fail to keep in touch with them and end up putting myself back at square one. I must remember to send emails/messages/reach out once in a while as this will also maximise opportunities for myself.