(Audio is on private on Soundcloud, see Turnitin for further details.)
Pitch:
Pheasants, factories and eyeballs in basins. Roald Dahl's untold legacy of adult stories are brought to life.
There is no questioning the fact that Roald Dahl is and remains, one of the most celebrated children's authors today. My audio exploration delves into the adult fiction of Roald Dahl, that the public are generally unaware exists. Simultaneously, the project quickly explores the 'dark side' of Roald Dahl that is equally as less well-known; his work for British counterintelligence seducing women, himself as a Hitler apologist, anti-semitism and cheating on his first wife. A re-discovering of the children's literary giant, as well as a journey through quick snippets of the stories that were never meant for children.
I propose an in-depth yet brief (within time constraints) audio exploration of Dahl's adult works, with voices guiding the listener through the dramatised excerpts and providing context to the stories and dark themes that run through Dahl's work – both children's and adult. This is in terms of discussion of his family trauma – losing his 8 year old daughter and other childhood-related experiences that may have affected his work.
The excerpts of 'Pig' and 'Genesis and Catastrophe' are chosen to highlight the difference in his adult fiction to the well-known children's stories, and also to allow the general public to finally hear his adult work if they have not already. The key here is the discovering of this side to Dahl. Whatever the listener's opinion – if they may agree that he was not such an idealised man as he is remembered today, or that he deserves to be remembered the way he is regardless of his past, that is for the listener to decide as this project takes them through this story.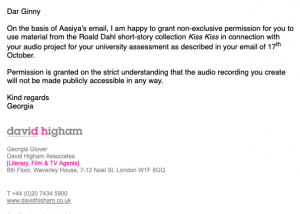 Please see left, for the artefact that provides confirmation of commission.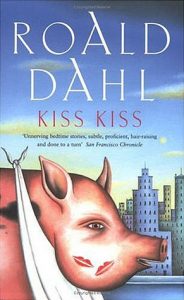 Duration: 12′ 33″
In: "This audio contains…"
Out: "…but my books were red. Ha ha ha."
Cue: A look into the lesser-known 'dark side' of Roald Dahl – into both his adult fiction works and the writer himself. Who would've known the author of the BFG and Matilda, thought Hitler was doing a good job? Openly Dahl-inspired, children's author Andy Stanton and Roald Dahl PhD student Pojana Maneeyingsakul give their thoughts on his works and legacy, whilst Peter voices the infamous 'Pig' and 'Genesis and Catastrophe'.
Roald Dahl is a pillar of children's literature; with his own museum, book club and various other legacies, not many are aware of the other side to the famous author, and the fact that he started out writing for adults. Garish, macabre and chillingly consequential stories such as 'The Landlady', 'Lamb to Slaughter' and 'Parson's Pleasure' were being written by Dahl throughout the 1950s and 60s, and published in 'The New Yorker' to modest reception and success. Pojana writes in her article, "Roald Dahl: The children's literary giant who wasn't always so friendly", suggests how he resented his meteoric success as a children's writer – having wanted to be known for his original, more R-rated works.
Dahl's early experiences as a spy in the World War and the issues of aggression and infidelity with his first wife, are also less publicised and known of in the public forum. Pojana and Andy both briefly touch on the question of the 'art vs the artist' debate, in terms of the sheer weight of his legacy and influence in children's literature, compared to the unsavoury details of his past.
Tweet: "Roald Dahl… but make it adult (link) discover the dark side of the BFG & Matilda author."
Both interviewees consented to being recorded and understood that this project will not be published.