Individual Audio Project 6RDPR001W 2018/19
Professional Practice & Employability 6RDPR004W 2018/19
Reflection (Synoptic Assessment)
As part of my Professional Practice and Individual Audio Project modules I have been tasked with writing a synoptic reflection on my personal development throughout the processes of securing a work placement and a commissioned audio piece.
Placement
Having had a slightly more relaxed approach to work experience or placements throughout first and second year I found myself approaching the beginning of third year with hardly anything that I could count as valuable for my pursuit for a career in the future. I spent my summer break before the start of term working in a factory back home. I hate working in a monotonous or non-creative environment, it drains all passion from one's character and renders you lifeless as you repeat your given paint by numbers tasks.
However, it was here that I regained motivation to really drive towards finding a radio placement which would hopefully open some doors for me. I had bumbled through my first two years at university. Despite receiving respectable grades throughout the course, I hadn't really enrolled myself in any extracurricular activities and now was the last opportunity to do so.
I exhaustively searched career pages on radio station websites but could only find non-production roles. It can become rather difficult looking for radio work via traditional methods. Jobs are certainly not advertised in abundance and the few that are tend to be aimed at someone with more experience than an entry level under/post graduate. I wondered if I would even find anything within my short time left at university. Many others in my course appeared to be making leaps and bounds further than my pitiful steps into the industry.
What happened next amounted from desperation. I'd been at university for two years. Surely, I would have some social standing to ask one of my friends for advice. It was then that Jay Dyson, a fellow radio course member informed me of his recent ascension into the producer ranks of Soho Radio. Soho Radio had always been a station I admired. In first year, our near immortalised selves were graced with a talk from my now boss. That person being Rachael Bird, the station manager at Soho Radio. From that day in first year I became a casual fan of the station, regularly tuning into the specific specialist shows I was interested in. So, when Jay informed me that they were looking for new people to volunteer, I jumped at the chance. I put together a small list of qualities that I felt I could bring to the station. I studied the stations output religiously. Having compiled a better knowledge for the station I got in touch.
At first, I sent an email. Then of course, after all my hard work I was met with no reply. I showed persistence. This was the place for me; I was going to get my foot in the door. Eventually I was invited in to shadow a producer and the rest is history. As of the end of 2018 I was given my own producing slot every Tuesday 2.00pm – 6.00pm. In this role I have worked with some of London's tried and tested musicians and personalities. My confidence has grown immensely along with my general professionalism. This in turn has allowed me to gain more responsibility in my role. One of the biggest tests to my belonging in the radio industry has been the technical knowledge I was initially expected to know. A good producer should have the ability to adapt to different styles of shows and look smooth as silk in doing so (with the latter, I'm not fully there yet).
Quite recently I was producing for the Son of Dave's Filthy 45s show. Son of Dave is somewhat of an eccentric personality on the radio. He plays an abundance of 7-inch singles back to back, occasionally interjecting between songs with his own energetic musical performances and witticisms. If this doesn't sound too challenging of a show to produce imagine the panic on my inexperienced face when during a record, he asked me to arrange an amp and a DI box for an impromptu live "jam" session. In haste I scrambled through the building and gathered what he needed. I then sound checked before teetering his levels and riding the faders on the desk live as he played. This show will always stand out for me as the first time I really handled the pressures of producing on my own and is one of my proudest achievements. Overall, my time working at Soho Radio has taught me that producing is challenging but rewarding in building confidence and personal growth.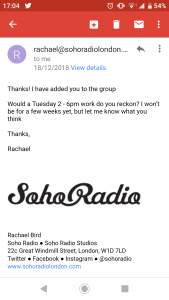 Audio Project Commission
My journey toward creating my final audio project was equally testing as it was fulfilling. I knew immediately from the start the production route I would enjoy taking. I had previously worked on an installation in my second year Pop Goes the Now module and without going into too much detail during that module I found a niche that really inspired me. I had written a short selection of poems which told our installations story arc. I then recorded and interweaved specific sound design/ effects to enhance the readings and bring our installation to life.
So, when we were given the brief for our audio project, I believed I was sitting on a gem of an idea. Deterred by the thought of doing a 15-minute piece on a boring local charity my brain fired into a renewed constructive state. The first step in creating any effective piece is to explore what has already been created by others. Sticking with poetry readings as a base of research I devoured hours of audio online. I found that nearly every podcast or clip was read dry and barely showcased any high-level production. BBC Radio 3s Between the Ears was the closest style I found which resembled my vision but still didn't hit the creative landscape I wanted to create. With inspirations out of the window I decided that my idea of utilising a full range of sound to enhance a poetic reading was truly a fresh idea of my own. No one in my eyes had really attempted to create anything remotely like the hybrid I envisioned. With little reference to pitch with, I found myself thinking carefully about how I could succeed in this task. How was I going to do this project effectively to a client's needs as well as show off my hybrid medium?
I decided to approach Elisa Matvejeva. Elisa, whom I met through a mutual friend quite some time ago had just published a book. The book titled "Flowers I Should Have Thrown Away Yesterday" is her debut entry into the literary world. Briefly perusing through a copy of her book I knew that this could not only fit to my idea but even become a muse and inspire me to reach new heights with my production. I initially pitched to her the idea of an audiobook/ soundscape hybrid and surprisingly she seemed to love the idea. Eventually I discovered that to produce 15 minutes of lucid audio might become too taxing on the listener and tempt them to switch off halfway. Something was needed to break up the readings and give the piece some space. The best idea seemed to be to allow Elisa to voice her own thoughts and feelings about the entire creative process she undertook into her writing. This in turn fixed any doubts that my piece would be underwhelming. We now had a space for writers to enhance and share their own work through sound which funnily is the turn of phrase I used to make the final big pitch to Camilla Byk from Podium.
Now that my idea was teasing me like a golden goose it was finally time to approach the high rollers and get my juicy commission. A piece like this needed a nice home. Fortunately, I was in luck. I had been informed about Podium.me which serves as a podcast platform for young journalists under the age of 25. Realising that their main content bordered on yet didn't have a great amount of literary content I decided that I would shift my pitch focus onto how my audio project would be beneficial for their site. After emailing the Camilla Byk the co-founder, I was met with a near immediate response which detailed her interest for the material. We spent a few back and forth emails going over the details of my brief before I proposed that we meet to discuss her requirements as a client.
Fortunately, by this stage I had acquired some rough audio with Elisa which I was very confident in showcasing to Camilla. Upon meeting however, my laptop was struck by a cruel hand of fate and was cast into an inoperable state. For whatever reason for the entire meeting which lasted nearly an hour my computer wouldn't play ball and I could not show Camilla my work. Undeterred I narrated the order of the piece to her and quickly drew up a rough flow chart of the audios running. Thankfully, Camilla was very understanding and seemed even more intrigued by my work.
Somehow, I had managed to blag my commission. One thing I have learnt from this project is no matter how prepared you may think you are, technology will always think of new ways to fail you and give you a nervous breakdown. In future I will back up all my work on a separate hard drive in case my laptop breaks down. It's also worth stating that as soon as Camilla departed from our café meeting, my laptop burst into new life which nearly resulted in myself throwing a tantrum.
During the recording process with Elisa I had approached another young author who I was very interested on using to juxtapose Elisa's sound. I will not elaborate into too much on this as unfortunately he wasn't available until a few weeks after my deadline. I suggested this to Camilla and we both had no issues with using the second author in a separate commission (one I am hoping to be recording soon). With that, my idea has the potential to spawn into a series I will happily continue for the foreseeable future (or until I get bored of insta-poets)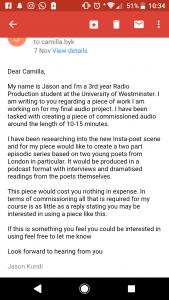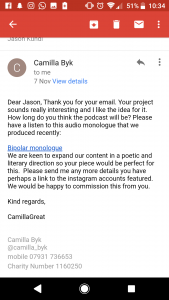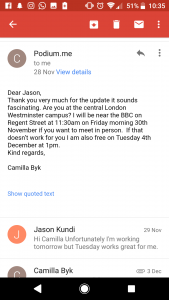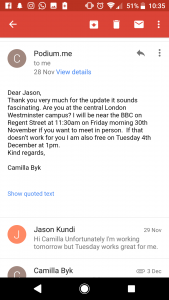 What happens next?
With the near looming graduation date in sight I have thought very deeply about what I want to in my post university existence. I came to university with the clear goal of producing or mainly working in a behind the scenes capacity. Of course, the idea of producing is a dream still very strong within me though I feel I would now like to take steps towards presenting. My confidence has always been something which has oscillated. That said within the last year I have found myself becoming more in tune with myself and have far greater aspirations now than I did in the past. I will continue to produce at Soho Radio for as long as I can justify the unpaid work. My side projects away from university life is what's really starting to excite me currently. Myself, Jay Dyson and Munro Gascoigne have been in the studio recording for our new podcast which will eventually be a fortnightly show. The premise of the show is for it to be a comical coffee review show. As well as this me and Munro are currently writing a sitcom pilot episode, which we aim to have completed and filmed by the beginning of summer. Here are five steps I will be taking post-graduation.
Compile recordings from my podcast to create demos to send out to radio stations
Continue to write and film with Munro Gascoigne for our sitcom with the intention of pitching it to a television production company
Gain more experience in producing at Soho Radio to boost my chances of paid producing work elsewhere
Actively seek out and apply for radio job opportunities in London
Continue to build a network of industry contacts