Ranieri – In or Out?
31/01/2017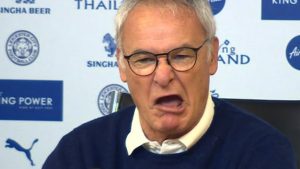 After winning the premier league at 5000/1, Leicester City are now 5 points away from the relegation zone. With reports of players being unhappy and even going on strike, should the man who lead them to victory be let go, or have the supporters forgotten where they came from?
These are the voices of football fans from across the country… Who do they support? And more importantly, Ranieri in? Or Ranieri out?
In Words: "I support Nottingham Forest…"
Out Words: "…I have no idea what a Ranieri is."
Duration: 1′ 30″
Back anno:
There we are. A sure sign that domestic fans, and the fans of their rivals, believe Ranieri is the man to keep taking Leicester City Football Club forward.