Cue:
Although it seems that the LGBT community, has finally started to be accepted in the UK, this is not the case within the UK urban music scene.  Kaylee Golding speaks to established female rapper Paigey Cakey, and up and coming artist Pre Wavey, to investigate why.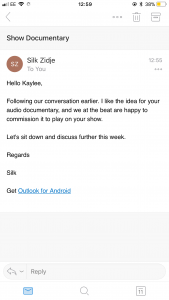 Duration: 12:27
In: …Lesbian, Gay
Out: …hasn't even begun.
Treatment:
This audio documentary will look into the issues that urban female artists are facing if they are part of the LGBT community. With it being extremely music based, you will hear instrumentals from the most well known, LGBT female artists.
Being a woman that works in the UK music scene, but also part of the LGBT community. I felt as if it was important that I presented the documentary. Especially as I had already built a relationships with these artists. And for Paigey Cakey this was the first time she had openly spoke about her sexualty.
I felt it was important to have both an established artist as well as an up and coming artist within the project. Mainly because they have both came out as gay at different points of the career. I really wanted to grasp how this has affected their musical journey.
Link:
https://www.mixcloud.com/kayleegolding/me-gay-and-music/
Music Reporting:
Nadia Rose – Big Woman Instrumental
Young Ma – Ouuu Instrumental
Paigey Cakey ft. Geko – Loving You
Kehlani – Undercover Instrumental
Kehlani – CRZY
Raye – Confidence Instrumental
Paigey Cakey – Pull up and SKrrr Instrumental
Lady Leshurr – OMW
Lady Leshurr – Juice Instrumental
Pre Wavey – ADHD
Sites Used:
DJCITY.CO.UK
FREESOUND.COM