What research you undertook into the job market for your work experience and for gaining a commission for Individual Audio Project.
While studying at Westminster university I always had strong intentions to gain as much experience as possible while living in London. Despite already having experience at some amazing stations in Birmingham like; Bauer's Free Radio, and Capital Birmingham, I really wanted to use this opportunity to actually delve into the radio genre that I love. Which is specialist urban radio!
Due to already having connections with Global, I started work experience straight away as soon as I moved to London. However it was experience in sourcing audio across the stations to send to clients. Although this was an amazing opportunity, I knew I wanted to work in specialist radio. Living in London I knew I was in a great location for urban radio. I completed initial research of all the urban community stations including; Reprezent, Westside, Rinse FM, and The Beat London.  I emailed all the stations to ask if I could gain some work experience. However I got no response from any of the stations. Therefore I used my initiative to find another way into the stations! I contacted presenters via social media to ask if they could steer me in the right direction. Below is the message that really kick started my career in urban radio! Following this message, I joined The Beat London as a production intern.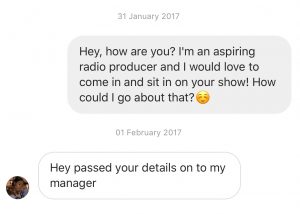 My internship was set out to only last 3 months. In this time I had the opportunity to develop the production skills I already had, but also to learn new skills. For example producing jingles at the time was something completely new to me! I also had the opportunity to try different parts of production. For example I was able to sit in playlist meetings. This is something that you don't really get to do in bigger stations. Each month I really developed myself within each area of production, so I was at a good level within all areas. Within 4 months I was promoted to a paid producer role.  This was my first ever paid role in radio. I still wanted to continue to progress within The Beat London. So every week I would continue to practise the content and audio I was producing, as ask for feedback to better my skills. Within 6 months I was promoted to Head of Production at The Beat London. Following this I have also had paid work at other urban stations including, Radar Radio and Kiss Fresh.
After working within specialist radio, I really wanted to challenge myself. I didn't want to just create a package for a charity, or station that already produces a lot of speech content. Instead I wanted to find a way for my audio project to combine speech and specialist radio. Although this is something we have heard before on BBC 1XTRA, it doesn't really come into play too much at any other stations. Therefore I had to question why this don't happen, and how I could make it work. Therefore I completed research to see what content urban stations put out that is more speech based, whether it be a podcast off air, or small speech packages.  A common theme I found was gender in the industry, and ethnicity in general. Therefore I knew that these are topics which would suit the target audience. With help from my lecturer I developed the idea LGBTQ in urban UK music. Something that hasn't been spoken about on specialist UK radio, not even on BBC 1XTRA! With proof that urban music and speech packages do work, with 1XTRA doing it so well, and with me having a fresh new content idea, I spoke to my manager's at The Beat London. I knew with it being something that we have never done before on the station, I was in for a challenge. Therefore I prepared examples of when this had worked well on 1XTRA, and showed them my idea and how it would work with some great guest interviews. Following this my unique piece to the station commissioned!  Reflecting back, I do feel as if I could of also aimed to get commissioned at 1XTRA. Rather than going for the 'easier option' of getting commissioned for a station that I already work at.
What you learned from your work placement and what you learned from working with an external commissioner for Individual Audio Project
Working at The Beat London has really taught me and allowed me to develop an extensive set of skills, not only within radio but also interpersonal skills as well.  
I will firstly begin with the practical skills. While working at other stations I never really had the opportunity to have a such a hands on approach. For example I have learnt and first hand experienced, having to deal with play out system going down. I have also learnt how to produce station imaging and adverts, and how to run a playlist meeting. And for me, most importantly, how to schedule and programme a radio station.
Secondly I have learnt more structure on how the business of a radio station runs. Things like sourcing sponsors and adverts to fund the station. And also how to keep the clients happy with the audio you produce. How to build relationships with radio pluggers and events, to help with interview and live event content for the station. I have even learnt more on OfCom rules, and also how to log PRS and PPL.
Working as head of production, has also gave me the opportunity to show my creative flair. When working at bigger stations I haven't had much creative control. Whereas now I bring a lot of the content to the station. I produce and develop new ideas every day. However I did stumble at a point that I felt out of ideas. So I had to find new ways to inspire myself. For example, I have came up with a theory where I will take something random whether it be an object or song, and I have to come up  5 content ideas whether it be on air or online.
Finally being head of production, there are plenty of personal skills I have had to develop. For example how to manage a team, this requires patience and strong communication skills. Also with it being a smaller station, the amount of staff members is limited. Therefore I have had to learnt how to organise myself and manage my time well, to ensure I complete a heavy workload. I also have had to ensure I can work in a fast paced, high pressured environment. One task I am still trying to tackle is being on time! But I plan to really focus on this, this year.
All these skills I have learnt and developed while working at The Beat London, helped me work with more established specialist stations like Kiss Fresh. And to really feel confident that I know what i'm doing when, working in these stations. For example one of my first tasks while working as a freelance producer for Kiss FM was to clean DJ mixes, and edit pre-recorded shows together using Adobe Audition. This is something I had been doing for over 1 year at The Beat London, so I didn't even require training at Kiss.
But putting aside being head of production at The Beat London, I have also began to actually present a show on the station. This was a side of radio I never really explored, but has created a new confidence within myself. I have learnt how to think fast and be very reactive of  interviewee. And most importantly listen! Something that I admit, I previously struggled on. From this experience, I generally wish I explored radio presenting a lot sooner, rather than doubting myself. Below is a picture with me and two guests on my show!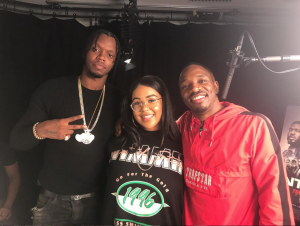 Alot of the skills listed above I further developed while working on my project. For example, I have previously learnt how to keep a client happy with the audio you are producing. When producing my audio project, I knew that it was something new to The Beat London. Therefore I needed to make sure it was good! To do this I kept showing my commissioner the progression of the production, for him to listen to and critique. Then I was able to alter the production to suit my commissioner.  An example of this was the feedback that my commissioner wanted to ensure that the project had some sense of exclusivity to help gain interest . Therefore I had to ensure that the content will be something no one had heard before. I done this by getting popular UK rapper Paigey Cakey to talk about her sexuality within the industry, something she has never spoke on before.
where you hope to go next, what sort of career you are aiming for, drawing on your work experience and Individual Audio Project, and FIVE practical steps which you will follow to help you on the next phase, post-graduation.
As mentioned previously,I have newly started to explore radio presenting. Although I found my first love of radio to production, I have really found a new love for radio presenting. Unexpectedly the presenting side of things have really developed further. For example I won best specialist at the 2018 SRA's, and have piloted at great national stations. Therefore I have now changed my mind on where I would like to work on radio. Rather than working on production, I would like to be a presenter.
However with that said, I used to be very naive to the idea that people can be a producer and present. From working at Kiss, and I now know that's not the case! Plenty of people at producers and presenters at Kiss. And this is something I would love to do!
Before doing my audio project, I only really saw myself presenting music radio. But now I know that I am also interested in presenting documentaries, focused on young music content. Which is now something arising more on young audiences based stations. Even more particularly I have now seen that these packages can work on my weekly music show, as long as the content is relevant to my show! Therefore I aim to do more documentaries on my show. This will show other stations my versatility!
I am now really going to continue to explore being a radio presenter and a DJ. Within the next 18 months I would like to hear myself presenting on a national radio station. To do this I have to ensure that I stay relevant and in the light of the national urban stations.  I have curated 5 key tasks for me to do to help me be successful within this.
Continue to develop my current radio show, to ensure I am putting out high quality content that continues to attract attention to the show

Send out a monthly updates to station managers, programme directors and editors. This should include a monthly demo of my show displaying the content I cover and guests! As well as any highlight DJ bookings I have had, or any other achievements from that month.

Develop my personal brand "Gyal from Brum". By this I need to develop my social media and bookings to ensure that I stand out as not just a person but a brand that stations would like to invest in. This includes, working on a logo for branding, developing my website etc.  

I aim to develop new contacts and stations within stations I am yet to communicate with. For example Rinse FM. I will do this by attending networking events, and sending out emails.

A big part of presenting in music radio, is also Djing! Therefore I need to ensure i am getting the best and most popular bookings! To do this I need to put out monthly mixes online and also email events and venues to ask for bookings.