Letter of School Decision. Photograph: Richard Zou, University of Westminster ↑
During the application season of secondary school places recently, London families receiving letters of decisions haven't been fortunate. Data shows there is ONE-THIRD of teens do not get into their first-choice school. In some parts of the city, the figure is even up to 50%.
The worst number comes from Hammersmith and Fulham among the results of each borough,- only 51% of kids are admitted to their first-line places. And in other areas such as Kensington and Chelsea, the application has also disappointed at least 45% of children.
Investigation shows that nationally 83 percent of students are accepted by their first pick. While in the capital, the number is only 60% on average.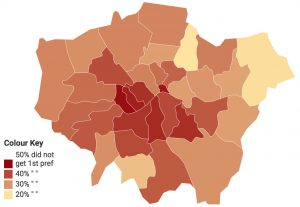 ↑ The battle for secondary school places in London. Source: London Evening Standard Graphic
In every application year, parents need to choose 6 schools in order of preference. Pan-London Admissions Board will then allocates the school places.
Laurel Fishwick, a mother living in Fulham, has just received a decision letter from the council. Her child is assigned to a school far from home which they did not list at all.  'Not Acceptable At All' are the words she uses to describe her feeling:
However, this is not the only case. During this season, 6,442 students are not arranged to any of their selection – Out of those, 620 have no offer at all.
"In this year, there are 3,908 more applicants than usual. The total number reaches 92,509, which is nearly 5% more than last year." Says  Peter Johnthe, deputy chairman of the London Council.
The official analysis turns out that the cause of this imbalance is the rise of 11-year-olds, as probably a result of immigration over a decade ago.
An officer at the Department for Education, who asks not to be named, states the department's plan:
It is estimated that by 2025, the number of London applicants will increase by 540,000, or 19% than before. The Education Department and councils still need more measures to prevent this from happening again.
For those who want to appeal to the school division, please click HERE for further details.
Report by: Shuyue(Richard) Zou