'The Beautiful Sexist Game?'
Delivery Date: December 2017
Abrupt Audio
Duration: 18'-20'
Producer: Lucy Lavery
Short Synopsis
A feature on the difficulties faced by women within the game. We look at the challenges women face from those on the field to up in the commentary box and the boardrooms of the FA.
Long Synopsis
There has always been a stigma attached to football being exclusively a man's game. Still in 2017 the game is dominated by males both on and off the field. The country is split on this topic which is why it would be something that really draws an audience in.
Women in Football is an association which supports all women within the game, providing a network for ladies to share their experiences. Also providing an anonymous platform for those who want to come forward and report harassment they have faced.
The audio feature will tell the story of past harassment which has taken place, right up until today and what is being done by the FA and other bodies to tackle the issue. Something which needs to not be shied away from as we head into another year of football leagues.
Perhaps the most popular and well known sexist case was back in 2011; were by Richard Keys and Andy Gray believed that their mics were off and made sexist remarks regarding the decisions made by lineswoman Sian Massey.
Later in the exchange, Mr Keys said: 'The game's gone mad. Did you hear charming Karen Brady this morning complaining about sexism? Do me a favour, love.' Mr Gray, a former Scottish international footballer, replied: 'Can you believe that? A female linesman. Women don't know the offside rule.'
This topic divides individuals, therefore a wide range of contributors have been sourced in order to create a well-balanced feature which results in an insightful piece of audio. These contributors include; David Gerty whom is Head of Communications for Women's FA Cup and Emirates Cup. Marzena Bogdanowicz: Head of marketing and commercial future for women's football. Joe Hart, goalkeeper for West Ham United and England. Eddie Howe, Bournemouth manger will also give a few words on the improvements that still need to be made.
Lynsey Hooper, Broadcaster for FA and co-host Of Female fronted podcast The Offside Rule as well as the other half of the Offside Rule podcast team Kait Borsay a well-known broadcaster is appearing regularly on Sky and TalkSport.
Fans of the game are some of the most passionate individuals so It is important to let them have a say on this. Vox Pops will be carried out before a variety of large games including England V. Germany, where they are able to speak openly and if they wish anonymously.
As Women in Football celebrate their 10th anniversary stories need to be told by those who have been effected, speaking openly about the harassment or sexism they have dealt with. While pushing for equality throughout this piece it is also of the upmost importance to recognise that the piece must be balanced which is why the contributors will be mixed in their sex, roles within the game and more importantly views.
The aim of 'The beautiful sexist game?' is to shed light on what is sometimes ignored or believed to be unimportant in order to promote further gender equality within the game both on and off the pitch.
Commission Document from Abrupt Audio
Image: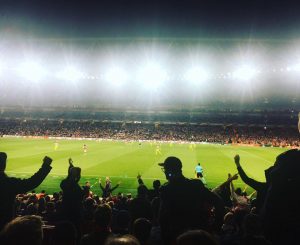 Link: 
https://soundcloud.com/user-940181614/the-beautiful-sexist-game/s-tyqQe
Description: 
Lucy Lavery looks into the footballing world to discover the difficulties faced by women within the game. We look at the challenges women face from those on the field to up in the commentary box and the boardrooms of the FA.
Tweet: 
Does the beautiful game have a dark side? Lucy Lavery looks into sexism within football #FA #FIFA
Music Sourcing:
| | |
| --- | --- |
| Verve – Bitter sweet symphony – |  Richard Ashcroft: 2009 |
| Cinematic Track | Royalty free, GMT, 2010 |
| Oasis – Wonderwall Acoustic | Creation Records: 1995 |
| Hans Zimmer – One Day | Hans Zimmer, 2008 |
| FA – Premier League Soundtrack | Football Association, Premier League 2016/17 |