Week 1
My role for the music radio project is Interactive Producer. In this role, my main task is to put together the online brand of the station and show. To begin my role, we all sat down at our first meeting and discussed what we wanted the station to sound like and from this I was able to go away and create a mood board to how I visually imagine the station to look.
From the mood board you can tell that we are going for a BritPop themed station. With this in mind, the show will mainly play artists such as Blur, Stereophonics and Oasis. As we are going for this sound to the station, it was important for me to be able represent the britishness of the station and the type of music we'd be playing in the logo. I have been working on a few different drafts of logos.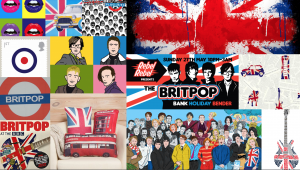 The designs you see here are some of the variations I have been working on and after feeding this to the team, we have decided to go for the final image option which emphasises the british side with colours of the Great Britain flag and has the guitar in it to represent the type of music you'll hear on the station.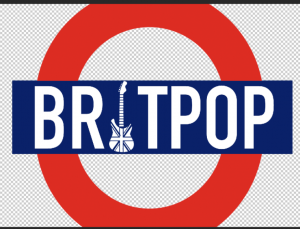 Over the next few days, I will be working on creating our online profiles on Facebook and Twitter. With this I will be putting together some shareable content to share online to help the promotion of the show, this will include sharing pre-show content such us different videos of artists that we will play, sharing music news and more. I hope to start planning our promo video for the show over the next week and then putting together our website.
Week 2
This has been a rather busy week for our music radio show. This week we have focussed on getting content sorted for the show, launching our social networks, imagining, OB practice and a whole lot more. For my role as interactive producer, this week I have launched our Facebook page, which can be found by clicking here.
On the Facebook page, you can see a short trailer video I have put together which features some of the many artists we feature within our show. I have also begun to put together a music news section on our website, this features news about the type of artists you will hear on the station. I will continue to work to update the music section frequently and after I have posted on the website with a music news article, I will share it on social media as seen below.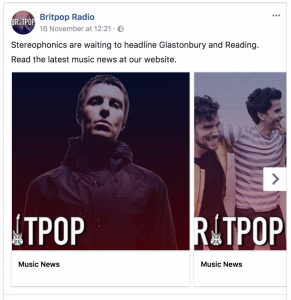 I have also been creating some short shareable and relatable content that will go out on social media over the next few days. One of these pieces is a montage of Pulp tracks which shows that top 5 Pulp tracks, I hope this creates some interaction to the audience and also can be used in the show for the presenters to promote what is on the Facebook page.
Some other content I have created to go out on social media is some 'throwback videos'. These videos feature a range of artists that are performing at festivals or large venues and I have put these together for the audience to watch back and to relate to if they were there for example.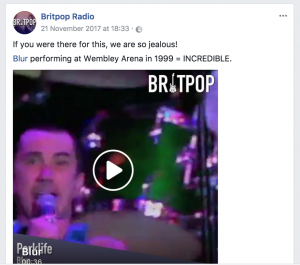 You will also see on our social networks over the next few days' music news updates, more shareable current content and throwback/top 5 videos.
Aside from my social media duties, this week I have also in talks with Saffron from the band Republica to arrange an interview for the show. I am also working on finalising my plans for the promo video with the presenters which I hope to film next week or early week after.
Week 3
With the pilot show vastly approaching it has been a very busy week for Britpop Radio. The team have been working hard on ads, finalising show plans, imagining and more. For my role as Interactive Producer, again it has been very busy.
I began the week with continually scheduling content for our Facebook page and updating our website. For the website, I have now added some further music news articles which redirect to our website for people to keep up to date on the latest music news related to content you will hear on the station. After to speaking to Joe P, he agreed that the content that we are putting on social media and the website can be a nice call to action on the radio as he can direct people to the website/social media pages to find certain things we have been posting. To go with this, I have begun working on questions the presenters can ask on the show to encourage people to get involved on social media. Another new feature on the website is the ability for people to register to come along and see our live artist perform in the online competition section.
One of the new things I have begun to put out on social media and on our website which is going to be one of the call to actions for the on-air presenters is the social quizzes. On our website now you can complete a fun quiz which will reveal which Britpop artist you are. I hope to put together more of these shareable and fun quizzes that the audience can take part in, I will share the stats of the quizzes with the presenters as they may want to refer to them on air.
As in my role description to create a promotional video, we have filmed our promotional video which features a variety of people lip syncing to Oasis which I will begin to edit later this week.
This week I have also sourced voiceover artists for our ads team and am in the process of setting up some interviews for the show too. We will also be testing our Facebook live video stream on Thursday during our pilot show as we get ever so closer to the live show!
Week 4
As the live show is now only days away it was another very busy week for our Britpop Radio show. The week started with me editing together our promotional video, which is the sequence of three people listening to the show and really getting into the music and singing it to themselves. Before they know it, they all ended up next to each other singing the same lyrics.
Watch the full promotional video here.
On Thursday, we did our first pilot of the show. The day began with working with Joe and Gabriel to figure out what else is needed for the show. So I put together some audio bits for the show in regards to the twitter poll, I also put together a sheet for Joe so he knows what to promote on social media on air and I also helped the ads team by giving them some tips and an extra listening ear to their ads.
During the afternoon, I set up the camera set up for our video of the live artist and dressed the room with extra lighting. Myself and Stuart achieved a nice set up in the room, that felt a very intimate live performance.
Once the show was underway, I was waiting for my queues from Joe to publish tweets and facebook status'. To support the on air content, we also did a Facebook live with Stuart to tease the live performance.
During the live performance, we struggled for a talk back with the studio, so therefore on the live show we are going to get some walkie talkies to ensure we can talk directly to the producer in the studio.
With just a few days to go until the live show, over the next couple of days we will be doing another rehearsal, I will be scheduling posts to go out on our social networks in preparation for the live show. I look forward to the live show!
Week 5
It's show week! This week began with me securing an interview with Britpop event organiser, Matt Pugh. It was decided that I would do the interview as a sort of correspondent to the show, which I think worked quite well. On Tuesday, we did another pilot of the show and for this I worked with Gabriel and Joe to see if anything was needed for the show, in which I came up with the idea for us to do a feature on TV themes to really endorse the feeling of the 90s into the show. So therefore I put together the feature of guessing the TV themes which meant people had to guess what 90s TV themes we were playing, for them to guess they needed to head to our Facebook page where they could hear the clip again and take part.
I also then put together the Liam Ghallager guess the lyrics feature of the show, so I edited the audio for that to go out on the show and for people to hear again and guess on social media.
On Thursday (show day!), it started off with me putting the ads into ad blocks to make it easier for Joe to playout and for us to have a variation of ads playing in blocks. After this, I sat down with Joe to go over when he would be mentioning things about social media on the show so I could schedule posts to go out to correspond to what he was saying.
After this, me and Stuart dressed the performance room otherwise known as 'The Crib' this included sorting lighting and setting up the cameras. I took the role of live producing The Crib, as I had a earpiece (talkback) in my ear allowing me to communicate directly to the studio to find out how much time we had remaining in order to feedback to Stuart along with any other things we needed to communicate back to the studio.
I live streamed The Crib performance – which can be seen here.
All of the social media and website content from the show and prior can be found on our Facebook page, Twitter page and website.
I am really happy generally with how the show went, a real jammed packed show which enticed Britpop to the max! Great team work all round to create this special live show.