Production Week One: 09/02/18
22nd January 2018: Today was a quick run through of what this module will consist of and Tom and the class ran through some ideas as to what kind of genre the online pop-up station could be. Although I was not present today (I had emailed Matthew to advise this), I was advised that Tom had set us homework, which was to go away and start thinking of ideas for the online pop-up station genre to pitch to the group next week as well as what roles we would all consider being in.
I had a few ideas of my own which the first was
World Health Day – Saturday 7th April 2018
The premise of the station would be to make our audience more aware and health conscious
Our slogan could be: "HEALTH IS WEALTH"
We could cover all four corners of health, which would be:
Mental Health – Psychological and emotional well being
Physical Health – Overall well being
Spiritual Health – Religion, Faith, Values, Beliefs and Morals
Social Health  – How we interact socially
Stories that could potentially be relevant for this topic:
Mental Health – Mental illness and its effects (Gender, Race etc.)
Physical Health – Bullimia, Obesity – Possibly speak to sufferers or carers
Spiritual Health – Methods on how to meditate or pray for example.
Social Health  – Relationship Corner – where people get to apologise to a loved one on air maybe or Autism, it may be harder to form relationships with such disabilities – discuss with carer/guardian
Although I had my own ideas  the ideas that were shared today by the group are listed below:
– An alternative football radio station: The World Cup/ Rugby 6 Nations/ Winter Olympics
– 100 years since women got the right to vote: A woman's station
– Join in Campaign (#Lonely)
– A Gaming Station
– Food
– 40 years since the peak of Disco
29th January 2018: Today was a very organised day, although I didn't manage to offer my own ideas for a station as options had already been decided upon and so decisions were finalised on teams and positions as a result of a group vote on every individual. We also came to a decision on the station name which was Unlocked. I decided that I would enjoy working on the website as I have had prior experience in building websites before. I also do enjoy being creative with ideas and designs. I did stress that social media was not my strong point but will be willing to assist during the shows if necessary.
Therefore, I was given the role to design the website and Daniel and James were both given the roles of Digital Executives.
The team structure was as follows: Roles
Once our teams and groups were all set up we all got to work. One thing that had to be decided was what platform we would use to build the website with. I did stress that I had never used WordPress before so would like to use a site that was familiar. As I was under the weather I wasn't able to think clearly and simply agreed with James and Daniel to use WordPress – As their reasoning was that it was the cheapest site to use. This is where I made a mistake, as I should have taken the time to think with a clear mind what the implications would be, using a website that I was unfamiliar with.
At first, Matt and I were instructed to come up with ideas for the logo, so I came up with the idea that the logo text should be pixelated and that the icon should obviously be a padlock which was unlocked. I found the website https://www.dafont.com/joystix.font and then came up with the written logo as shown below:
James then found a simple white design of a games joystick controller and asked us if we could take the idea and run with it. As I left midday, I did try that night to come up with some ideas using Photoshop: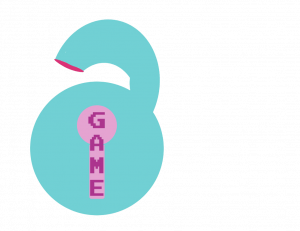 I also managed to look at some cheaper packages for our website to be built and had a look at 1 and 1 who charge only £12.00 in total for the full year but take payment on a monthly basis.
05th February 2018: During class, I spoke to the boys as to what I had found – the website that was cheaper than WordPress and Daniel advised that they had already purchased a hosting site and would now only be able to work with WordPress and would no longer be able to change it. As I did stress that WordPress wasn't familiar territory, I was hoping for the purchase to have been communicated to me beforehand.
Production Week Two: 16/02/18
12th February 2018: Last week Daniel had created a mock-up of the logo which Eliza approved and so I asked if Daniel could send it to me to add it to the website. At this point, I was working on the basic function of the website so placement and flow – looking at various different themes which would be best as the foundation of the website.
16th February 2018:  I saw on the Unlocked Online Facebook page that James had created the finalised logo so requested it to be sent over to me.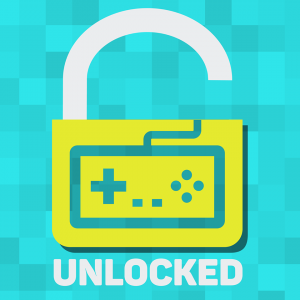 Production Week Three: 23/02/18
17th February 2018: It wasn't explained to me how the competition was going to work so I spoke to Eliza in order to set up the "Win" page and was told it hadn't been decided on yet. I took the initiative and had a look through the Google Drive studying what each shows output of information would be to help everything sync with the website copy – I also studied commercial radio sites such as Capital and Kiss for ideas on placement, flow and call to actions.
19th February 2018: The foundation of the website is now completed. Now I will update website copy to make it relatable and interesting to consume. Having spoken to Eliza, she advised that she would prefer the site to look slightly cleaner in terms of colour and placement of material.
Adam kindly placed information of a few games in the Google Drive which will assist in writing gaming reviews. I have also read and listened to a few reviews taking all of the updated gaming information and placing the information within the reviews of each of the gaming posts under new releases.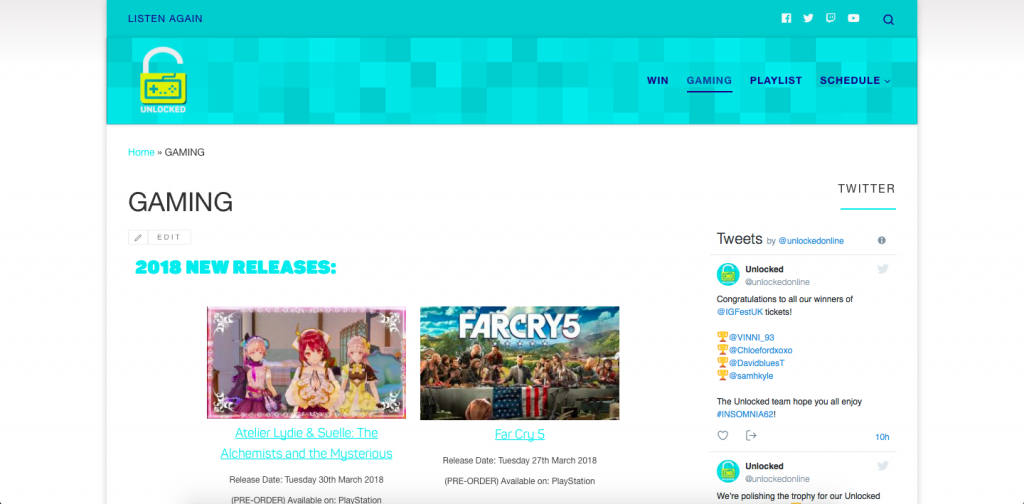 Pilot Week: 02/03/18
01st March 2018:  There was a lack of communication regarding the transfer of the beta site to the official site – I wasn't aware that all of the information I had input into the beta site, Daniel had gone ahead to transfer across to the official site. He advised that everything would be transferred smoothly, however when I went to check many posts in particular gaming posts didn't transfer, so attempted to redo this section again.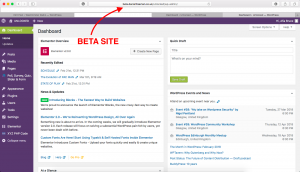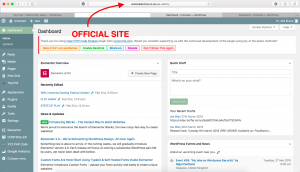 On-Air Week One: 09/03/18
05th March 2018: Today the plan was to get the social media posts out on time and to also continue updating the official site;  transferring all pages from the beta site to the official site was quite a challenge as certain bits of content didn't cross over. Also while listening in to the show, I would take ideas from what was being discussed and create articles from them as the example seen below.  Once the show is over I will put up the recorded shows on the Listen Again page on the official site.
Once the show is over I will update the recorded shows on the Listen Again page on the official site.
The feedback from today was to get the website copy up to date which I will focus on along with bits that the public can interact with from each show.
07th March 2018: As Daniel is overseeing the website he had advised that I cross check the feedback and a todo list that he had created on the Google Drive and so I will add that to what is needed to be updated.
09th March 2018: Today I just double checked with both James and Daniel if there was anything (other than the list in the drive) that needed to be applied to the site. They both advised that in week 3 the talk show 'State of Play' will need a section specified to a Gaming Addiction call-in helpline shown below: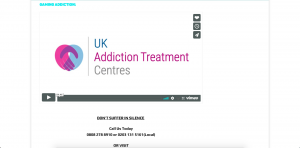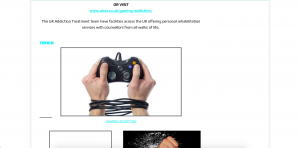 On-Air Week Two: 16/03/18
12th March 2018: Today was a bit of a frustrating day as once again attempting to continue to develop the website but feel like my immediate team and I are not communicating very well. Therefore, spoke to Daniel and advised to keep the communication lines open. I did receive updates from one or two groups with Iona stating she wanted a playlist to be shown on the playlist page embedded from Spotify and Pheobe stating a dedicated helpline section for the talk show would need to be up for the third week.
The feedback from today was to offer a playlist that wasn't static and to also create more editorial around Press Plays top 10 count-down. Also suggested was to create short clips for the site offering an angle of conversation so will take this into account and get it done before the next show.
15th March 2018: As we received our individual feedback it stated I needed to make sure that all website copy needed to relate to the on-air shows. Therefore, I  asked if any of the show teams wished for anything to be put up on the website they should let me know and received a response from Phoebe with the dedicated helpline information.
On-Air Week Three: 23/03/18
17th March 2018: The entire day has been dedicated to creating website copy related to each show. I also asked Eliza if she could re-address the group for assistance with website copy as it is only myself constructing all editorial – Natalie offered assistance.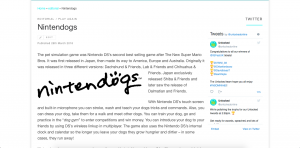 Working on the site I did realise that Daniel had implemented code, which I did advise during the beginning of the process that I wasn't familiar with. I do feel there has been lack of communication with the execs and myself and wish to rectify this so I can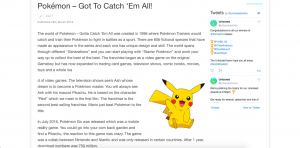 implement the necessary updates for the website before our next show.
19th March 2018: Today creating more content for the each of the shows pages and uploading audio footage where necessary.  Natalie has been forthcoming with a lot of mini-articles which have been really helpful in terms of content for the site.
Tom advised in the feedback from today that he appreciated a lot of the bitesize clips so will be attempting to get more done by Monday. Also will update the Gaming and Playlist pages as they are very static.
21st March 2018: Natalie managed to complete an article for Super Mario so uploaded that article to site.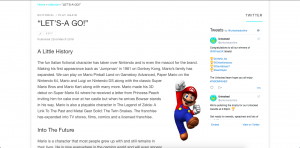 Will continue to update the site and get the to-do list that Natalie created in the Administration folder on the Google drive completed by Friday.
22nd March 2018: Today I let everyone know that if they had any anecdotes or audio clips that they would like to use as a point of conversation throughout the shows as well as social media then we should have a conversation. I'll also have a look at stories on the internet which could work as conversation points.
On-Air Week Four: 29/03/18
26th March 2018: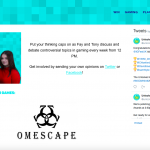 Today was the final show and I wanted to ensure small details like the Omescape – The Escape Room during the AFK segment were easily available on the site. I also wanted to get our internet audience talking about VR/AR/MR so uploaded an article entitled 'Is VR the future of gaming?' with reference to the State of Play show prior.
I later updated the 'Win Page,' allowing whoever saw the page to know the competition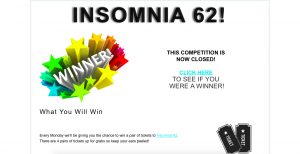 was closed and if they were a winner I directed them to a list of names on the Unlocked Online Twitter page
27th March 2018: Looking back over the entire process, my contribution to the project wasn't what I would have hoped it to have been. I would have liked more creative control over the website and to also have had better communication with my immediate team and the team overall. Moving forward, the approach I think I may have to take when I require more assistance will be to simply speak to the person controlling all departments and interact with them more (in this instance it would have been Eliza) in order to reiterate the importance of all outputs being n-sync. Ultimately, I am happy with what was produced as the website functions well in a user-friendly way, it is clear, clean and bright to look at and above all readable for users to consume our content.