Blog Post One –  10/10/17
I have chosen to focus my Digital Entrepreneurship project on the Ego Performance Company. They are a Community Arts Venue based in my hometown Coventry. On their Facebook page, they describe themselves as a Charitable Organisation which through many different forms: Theatre, Film and Music help individuals of all background and ages to become more confident. As well as granting individuals/groups/charities great opportunities. Since their launch in 2006, they have produced 22 original theatre performances, 10 short films as well as many music and comedy gigs. They are also involved in the Coventry City Of Culture bid for 202
The reason I have chosen to do my project surrounding Ego is that I already have several contacts with the Company as I know friends and family who work at /attend the arts venue. I also did work experience there 5 years ago so I know well how the venue works. Both of these things mean I already have good knowledge and research of the company and have easy accessibility to gaining more.
I have two ideas of which direction I could take the Project with Ego. Number one is to produce an Audio Drama with them. They have produced several theatre productions and films before, but have never done an Audio Drama and I feel this would be a natural opportunity for them.
The other Idea I have is a promotional documentary audio piece. Currently, they're trying to raise money to buy the building that they use as their venue so they can continue to operate there. The audio piece would present what happens at Ego and the work they do as well as talking to some of the 200,000 people Ego has helped over the years. The hopes would be for the end project to help promote Ego and raise more money for their building.
I have been emailing with the team at Ego and we have agreed to a meeting on the 20th October. At the meeting, we will discuss which commission they prefer and if they have any ideas. I will then spend the weekend starting work on the project.
Blog Post Two – 24/10/17
On the 20th of October, I travelled up to Coventry and had an in-person meeting with Corinne and Georgina who are the two heads of EGO.
I pitched them the two ideas I had, one being the documentary type feature on what EGO is and the other of the Audio Drama.
They liked both ideas, but in the end, decided that they would prefer the documentary feature as It showcases what EGO is and promotes what they do more.
That evening they officially commissioned me to start working on the piece of audio.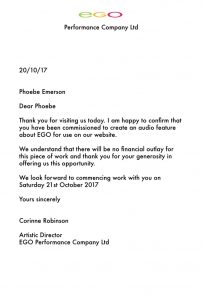 Like it says in the email they gave me permission to start working on the audio piece the following day.
So on the 21st I travelled back into EGO with my Marantz and started recording the sound of the atmosphere in EGO as well as conducting a few vox pops.
My aim for the next week is to start work editing the audio I have recorded so far and I am heading back to Coventry on the 2nd of November to spend more days recording at EGO.
Blog Post Three- 07/11/17
I was in Coventry from the 2nd November – 7th November and managed to go to EGO to record more audio on the 4th and the 7th. On Saturday (4th) I recorded some more vox pops with volunteers at EGO and some background noise.
The 7th was a much more productive day as I went along to an EGO rehearsal session for an upcoming theatre production they're putting on. I recorded the entire rehearsal so have lots of audio to work with. This includes reading of the scripts, stage directions, and sound effects.  This recording is incredibly useful for my finished project as it really portrays what EGO is like.
I've also managed to write out some of my links and start planning the overall structure of the piece as well as having done basic edits of the audio recorded so far.
My aim in the next coming weeks is to have recorded some of my links and to have started to edit the final audio piece together.
Blog Post Four – 21/11/17
I've started editing the audio I've recorded and I am in the process of editing and producing the full audio piece. I have also planned and written most of my links, but have yet to have time to record them. This is something I aim to do next week as to make sure I have enough time afterwards to edit it all together.
I am also going to my final recording session this week at EGO and will be aiming to conduct in-depth interviews with people who work there. Once I have recorded this and the links by next week I will have all my audio together and will be able to solely focus on editing together.
Blog Post Five – 05/12/17
On the 27th I went to EGO and recorded my last piece of audio there. I conducted an interview with Corinne who is one of the heads of EGO and who started the company. I also recorded a few links at the venue as well. I edited this audio throughout the rest of the week.
I then went into the studio on Saturday 2nd to edit more as well as recording my links in the studio. Once I had everything recorded I started placing everything in the structure I wanted it to.
I plan to do the final bit of fine editing this week so it's all done in time for the 12th.
Blog Post Six – 12/12/18
This week I edited the audio I had recorded and produced the documentary length I wanted. I also pound and placed in related bits of music in the audio piece. Once completed I listened to it several times and edited any obvious mistakes/problems i could hear. Once satisfied I uploaded it to SoundCloud.
I placed the link to the SoundCloud on the other blog post as well as the pitch/commision evidence I had previously written. I then wrote out the cue and backanno as well as the promotional tweet. Finally, i added some promotional images I took on one of my many visits to EGO.
Once the blog post was complete I published the page then linked to it in a word document which i submitted to turn it in before the deadline.