The rise in pre-written and plagiarised essays has called for new punishments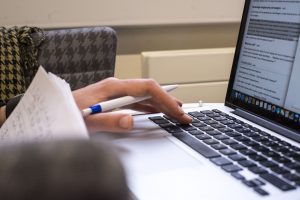 Over the last year there has been an increase in University Students cheating and now they could get a fine and criminal record if they plagiarize their essays or buy an essay already written for them online. Many different ideas and proposals on how to solve the problem are being discussed by The Department for education. Government want to toughen up and decrease the number of students not writing their own work as thousands are buying dissertations from websites which is being said to ruin the quality of work at Universities.
Websites like britishessaywriter, essayshark, echeat and buyessay, are what an increasing number of students are using to write their essays for them for money. Students put their name, email and card details onto the website and then could choose to pay thousands of pounds if they wanted a PhD dissertation or under 20 pounds for smaller pieces depended on how well, detailed, and quickly done students want their work to be. Even asking about the format of the essay. On some University campuses there is adverts for such sites like flyers on lampposts.
'Essay mills' are large businesses that make a lot of money and there is said to be over 100 running. From 2014 until now nearly 50,000 students have been found submitting plagiarized work. Essay writing websites can still be found easily by just simply searching into Google even though Google had said it would stop adverts for these sites almost 10 years ago.
The clamped down will be hard as it is not yet illegal for someone to write an essay for someone or for someone to buy an essay but the morals of it is wrong and an unfair way to gain a degree. There are still concerns though that these sites operating in the UK they could move overseas instead when they are targeted. Most universities have harsh penalties for students plagiarising. It can have the outcome of students being expelled. Although there is anti-plagiarism software like Turnitin which many universities use, they could not prevent students paying for someone to write an essay for them.
Fines, blacklists and even criminal records are looking to be put in place in the 2017/2018 academic year (in September). This means if a student is caught it could possibly ruin their careers in the future. Search engine businesses will be advised to block Essay Mills when the new legislations are in place. In New Zealand, essay writing websites have been already been shutdown and fined. Fines could be up to £5,000 but will this deter students? Ellie Beresford a Student from London SouthBank University tells use why she thinks students use them and will these laws deter students from cheating?
(Audio recorded by Phoebe Hutchings)
(Photograph By Phoebe Hutchings)