PRODUCTION WEEK 8 (17th March – 22nd March) 
It was our final week of the show! I'm really happy with the final week. There was a minor 2 second blip with the end of the podcast when it played on air, where I think radio.co cut out and then restarted playing the podcast – but that was no fault of our own. Aside from this I'm happy with the final output of the show.
After the stresses of the week before, it was advised that I ask people for help more instead of taking on all the load for myself, Charlie assigned me Andrea to help out with things. I asked her to make a few posts for social media, so she made the posts for Top 5, and What Does Y2K Mean To Me. They were quick jobs, but having a lot of them to do at once can mean that its a big one, so it was a great help to have Andrea do that for me. The rest of the social media posts were pretty much covered for because I had done them all in previous weeks, the only additional posts that I had to make were for Oops I Did It Again, and for this weeks 5v5 as I usually don't do those until the running order is finalised just in case any changes are made to the songs. I also made the running order and captions sheet as per usual, and I think this was effective and it meant that all posts could go out in time.
I made some social media posts for the instagram stories like I usually do, most of this was on Instagram stories as this is what really worked well last week. (They can be seen in the highlights section on the Y2KReloaded Instagram Page for every week, at the top of the profile). One day there was a trivia quiz that involved content from the previous week's Top 5. Another day there was also a trivia quiz for Charlie and Marlyse's Oops I Did It Again. I joined their zoom call when they were writing the script for it and told them what the voting figures were so that they could incorporate it into their script in any way that they liked. I also shared a TikTok that I had created onto the Instagram stories as well. During the show, I made sure to utilise this too as I posted a clip of what Janine was talking about in the podcast – Gurl.com, and also a screenshot from our zoom call of when she showed Hannah and I the Hit Clip. I used the comment item again for 5v5 which I think worked really well. Because asking people to post voice notes is one thing, but if they can't physically see a reasoning for it (meaning they may not be listening live and just on their socials, therefore wouldn't know if their voice note is played or not). So therefore, by reposting comments that come through can provide people with satisfaction. I think it also encouraged people to DM too as I received a message from a few people which I reposted onto the account. All comment cards were also shared on Twitter and Facebook stories too.
I think the podcast made a massive improvement this week. Although the interview with Niamh went on for over an hour, I think she was a really great person to interview and she made some points that were really relevant to Y2K. I think this was a nice contrast to have because Janine is very descriptive because she lived through the time, but Niamh's journalistic side critically analysed some important parts of Y2K culture that weren't included in the other shows – making the podcast have its own separate entity. As well as this, Hannah and I also recorded a video of ourselves creating a MySpace page for The Y2K Time Machine as an added bonus. The original plan was for it to be as an additional feature in the podcast but because we had Niamh, which meant that I now had over 3 hours worth of things to edit down – the myspace making part didn't get into the final cut! I made the video and wetransferred it to myself, so that I could save it and put it on my phone to upload to IGTV – but due to my slow internet upload speed it took 15 hours to send to myself over night. This then wouldn't work, so I was stressed because it was something that was mentioned in the on air content but would look bad if it wasn't there. I sent the link over to Lauren and it wouldn't work for her either. I also sent the link to Charlie and that worked for her, and she was able to start to upload the video to IGTV from her laptop which is something I didn't think was possible! Unfortunately it then said it couldn't upload to IGTV after processing. So it was uploaded to YouTube instead. Please take into account the video was optimised for phone usage so it may look a bit odd on there! I also made a post saying that people should check out our website for the link to the YouTube video, as there was not enough time to correct the on air/podcast content (and even if there was – with my dodgy internet who knows!). Overall, I'm really happy with the podcast for the final week. I made sure to include a lot of idents in the editing as requested, and used different beds to highlight the different areas – one bed for intro & outro, one for what does Y2K Mean To Me, one for Janine, one for Niamh and one for Win and Sin. It was advised by our guest marker that the bed for Janine went on for too long. And although my thinking was the bed was to highlight the entire Janine segment, in future I would have a different one interchanging throughout to keep up a bit of variety.
To conclude, although it's been a stressful time due to trying to wrap my head around what was happening to one of my much loved family members. I'm really proud of what I have achieved in spite of all of this. I'm also proud of everyone for doing 4 of these shows, because as we're such a small group it wasn't easy.
Onto the next assignment!
PRODUCTION WEEK 7 (10th March – 16th March)
This week was a pretty stressful week for me to be honest. But I still managed to achieve everything that I needed to.
The first thing that I did was finish editing the podcast. Although I was a bit disheartened with the feedback from the third show with the podcast, I'm still happy that our show grade went up as the rest was sounding really good. I've taken the feedback on board and contacted Niamh, who graduated from our university last year on the journalism course, and runs her own blog where she mainly discusses climate change and women's rights. During our zoom meeting on Monday night when we wanted to look for an angle for someone to interview, I suggested that we do climate change because this is a pattern that was discovered during one of the preliminary weeks, because more people were started to become interested in it. Therefore, Niamh will be helpful to talk to as she has knowledge about the origins of acknowledging climate change as this is one of the areas she has prominently spoken about on her blog. She also did a project where she lived on no plastic for a week, so I have come up with a question about this too. Aside from this, I will try to include more idents, and take the feedback from Matthew on board so that hopefully our final episode will be our best one yet. Although the episode of the podcast wasn't the best, I'm still proud of my efforts in keeping editorial content and making some topics of conversation relate to how they are helpful for Y2K today, as I brought up that comment a few times with how marketing of bands are impactful in the celebrity world today, and how different artists that started to experiment with different genres during y2k have impacted how many different genres artists have in the world today. I'm going to try and make sure we are always relating back every point we make to why it was important and why they have impacted society today in our final recording in order to give everything that we say a purpose.
I recorded the top 5 too, and ran a poll for the number 1 top spot on social media. After discussing what we should do in a meeting, we decided on 'Top 5 Millennial Must Haves', as this is a fairly broad subject compared to tech and social networking. And it sums up the broad subject of culture nicely. I've also put a poll out on twitter which I will use to read out  the top spot again.
Another task was to gain more followers across social media platforms. I did get a few more followers on the social media accounts, and some of my classmates got other people to interact and follow too which is great. Although the growth in followers wasn't massive, we had the most votes for 5v5 that we've ever had! So I think that's a really positive spin to look on it. I also thought that during the 5v5 I would utilize stories more, and this was definitely helpful as maybe people weren't as confident to send in a voice note as they were to type their feelings with the comment box function that instagram has. I also reposted all tweets and comments on stories across all social media accounts.
I also created more social media posts to match what was happening with on air things, eg the new oops I did it again feature (which I think works really well!), and when Charlie and Marlyse mention the McDonalds iPods that you could get with a happy meal for instagram so that listeners can interact with our social media and really visualise what;s being spoken about. I'm going to continue to do this this week, once all of the running orders are finalised, so I can see what they're talking about, and co ordinate with Andrea what could be made. As I've been told that I should be asking for help more and not getting stressed by taking on every single piece of work as my own stressful workload! I will therefore, make a social media running order and captions sheet as well.
Although I usually make an article every week too, this week I am not. As spoken about prior with Matthew, I've been getting really stressed with what's happening in my personal life, and taking on even more work when social media and editing the entirety of the podcast is such a massive role in itself. But I have enjoyed my articles that i've written over the past 3 weeks, and I think as the weeks have gone by they've captured the essence of the Y2K and developed more of an editorial content.
To Do: 
Finish editing podcast
Interview Niamh
Record Top 5
Create a social media running order & captions sheet
Create social media content relevant to what is being discussed that week (asking Andrea too if necessary)
PRODUCTION WEEK 6 (3rd March – 9th March) 
I feel a lot happier with our 2nd show for entertainment week. We're really starting to get the hang of broadcasting online, and since there's only 6 of us and we're having to get used to this new format, so I'm really happy with the grades that we've gotten so far.
The first few tasks that I set myself last week were to finish editing the podcast, and to find some more upbeat beds for this. I did find some beds – however when downloading them my computer imploded and I lost all of my progress for the podcast, even though I made sure to save! I'm not quite sure what happened, but I didn't want to risk it so I asked Hannah to find some beds. I edited them onto the podcast, made sure they were of an audible volume and I really like the feel that they give. I also turned up the volume of the short stab idents, and combined them with the dry 'y2k reloaded' idents to give some more definition to each section. The beds also provided some nice definition to each section too. As for feedback, we still need to work on some editorial content, so when Hannah and I recorded the music episode of the podcast today (Tuesday 9th), we made sure to relate each vox pop to why they are so significant to y2k, and I think they sound a lot more structured as last week we were told we did a lot of describing, but not a lot of in depth explanation. I think our recording sounds a lot better and structured now because of this, and I'm looking forward to what the final product will be. Matthew also advised not to make Janine sound so monologue-y, so we've split her interview into 3 sections so we can chat about what she said and really define the editorial content and why these parts of y2k are so significant. My task for the podcast now, is to just finish off editing and send it over to Charlie for approval and over to Lauren to upload to radio.co by Friday, which is the deadline that we agreed we'd finish everything by and just have the weekend to focus on small edits that may need to be made.
I recorded the top 5 with Lauren, and I'm happy with how it turned out! Friends is a topic that we're both quite passionate about, and I think that it was really fitting in the show and a good chat! I will also be recording Top 5 for this weeks show, along with Lauren, Hannah and Andrea which will be all about music videos. As we need 1 more item for the top 5, I have posted a poll on Twitter and Instagram asking people what their favourite music video was, and gave them 4 options to choose from. We will then have the number 1 in the top 5 as what the listeners vote for online. This is a good way to incorporate Matthew's feedback about having more social activity in the show. I have also tried to gain a few more followers on the social media accounts for Y2K reloaded, and will continue to do this over the week so that more people can engage with the content that I've been posting throughout the week.
Throughout the past week, I have been making posts on Instagram, Twitter, Facebook and TikTok that related to the theme of last week, which was Fashion. I did a variety of things on different platforms, such as posting a trivia quiz on the Instagram story that related to the top five feature, and making posts on TikTok that relate to celebrity fashion looks from Y2K. I also created a headliner video, taking the best clip from The Y2k Time Machine, and shared it across social media platforms to get people to engage with the content and want to listen on our website. I will continue to make these posts during the week as I think they were successful, and I want to keep having the same themes for certain days. Eg. have Wednesday as 'Trivia Day', Friday as 'Meme Day' etc. because I think it's good to have a set schedule to keep things organised.
Another task that I need to do is to continue to make the on air output match the social media posts that I am putting out during live shows. We have scrapped the Y2K2Day feature, and instead having an 'oops I did it again' feature about sampling, so I need to make some posts that will match this. In addition to this, once all the scripts are done for different features, I will look at them to see what I can make that will work well with what's being said on air, and will also fill in some 'gaps' in time, so that there isn't a time when social media has gone a long while without being posted on when on air. I will make a social media running order, and captions sheet once again so that I can visualise how this will look. During this show, I made use of stories a lot more, on Instagram, Facebook and Twitter. Eg. instead of making a post during 5v5 about people's comments, I instead reposted them onto the story. I think this worked better and I will continue to utilise this during our next on air shows on Monday.
Some examples from posts that I have made throughout the week and during the live show can be seen below. Starting with 2 examples of Instagram story posts. A tweet promoting the podcast in the middle. And the 2 posts promoting the comments people had sent during 5v5, that went on the Facebook story. You can go to our TikTok profile by clicking here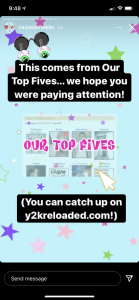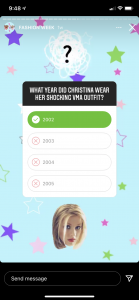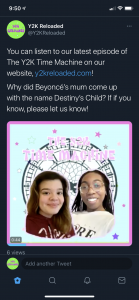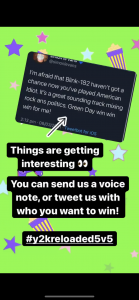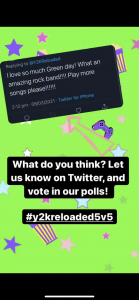 Finally, another task that I set myself was to write 2 articles. Andrea asked me if she could write one article with me about tv, because she liked the idea of writing about tv so we-co wrote the article together. I also wrote an article about the Nintendo DS and the games you could play on there. This is because the Nintendo DS was quite an innovator when it came to handheld gaming – eg. it was the first to have a touch screen. So I thought it would be good to give an editorial spin, and write about how it's changed the handheld gaming industry over the years.  I also wrote about some of the most popular games on there, that were best sellers, or very unique, and also that had special features to them that the Nintendo DS could provide. It also relates to on air content as Hannah & I mentioned it in the podcast. This week, I am writing another article for music week about the best selling albums of the Y2K era, and I will make sure that they have an editorial spin to them as well – Hannah and I mentioned a bit about how y2k music has defined genres and sounds that we still have today, so I think this also relates to on air output too.
To Do: 
Finish editing podcast by Friday
Record Top 5 with Lauren, Andrea and Hannah
Gain more followers across social media platforms
Continue to post across social media during the week
Create more social media posts to match on air output – eg. oops I did it again
Create social media running order & captions sheet
Write article about best selling Y2K albums.
PRODUCTION WEEK 5 (23rd February – 2nd March) 
In preparation for our first on air week, my first priority was to edit and get the podcast to a high standard, taking on the advice that Matthew had given us after the pilot show. Hannah and I then recorded the additional feature for the show called "What Does Y2K Mean To Me?" In which, we get vox pops from listeners who tell us about what they love about Y2K that relates to the theme of the week, and we then comment on what they thought. I think this is a good starting feature for the podcast, because it sets up the idea of Y2K and some general thoughts as to why people think Y2K is significant, before talking to our expert who lived through the Y2K era, and we then decide the win and the sin based on all of these factors. I then edited two versions, one with a song and ident for the on air version, and one without which went on Soundcloud. After the first show, Matthew gave us some feedback and we took this into account when recording entertainment week. (It was recorded today – Tuesday 2nd March). We did have some parts already recorded for entertainment week, but decided that it would be best to re record the intro to make it sound more chatty as this was one of the feedback given from Matthew, and I'm really happy with how it sounds! Another idea was suggested is that we ask people questions about the introductory package, which we did. We also made sure to make separate links for social medias and give each social media an identity. Eg. people would go to Twitter to say where they recognise the introductory package from, and they would go to Instagram to send us voice notes for the What Does Y2K Mean To Me feature. Another piece of feedback was about the beds and idents. I've turned up the volume of the idents in between each feature, as they were there in the first episode but I don't think they were loud enough. I'm also going to look for a more upbeat bed to use for this weeks episode when I finish editing.
Another task that I did which was set last week was creating the website feature. Andrea and I had a zoom meeting together where we came up with a script to make sure to mention the articles and quizzes that were on the website, I then recorded this and edited in the backing music which was Toxic by Britney Spears, and Andrea found a few clips that went with things that I spoke about and I edited them in. I'm really happy with how it sounded, and I think the use of Toxic by Britney Spears as a bed was effective not only because it was very fitting for the station, but because I could use certain parts as the song to act as musical punctuation. Hannah will be recording the website feature for next week, as I will be on the Top Five feature with Lauren, as we're chatting about our top 5 Friends moments as the show ran from 94-04, and we're both very passionate about the show! I'm looking forward to recording it, as there's so many great moments. Charlie said that it is important to make it so that it is still relatable to people that have not watched Friends, and explain why we think they should watch it, so we will take this on board when recording.
Matthew also mentioned editing into the competition readout that I edited that I should find a clip of the voiceover artist Travis saying the name of the website url, but unfortunately there was no clip of this so I couldn't do it! I did however edit the end of the song as advised by Simon, to make the 'If You Wanna Be My Lover' lyric louder and punchier. I did this and put it on the drive, and I think it sounds a lot better.
Another task I set myself was to write an article for the website. I wrote an article about 6 times that celebrities today have revived Y2K fashion in their music videos. I also gathered the pictures too, and put this all on google drive so that Andrea could update it on the website and keep things in the same format. I'm going to write out 2 more articles for this week, as they're topics I'm really passionate about. The first article being about the Nintendo DS and the games that could be played on it, and what's making a comeback today, as this was mentioned in the Win or Sin part of Hannah & I's entertainment podcast. I'm also going to be writing an article about different tv shows of the Y2K era, and their different genres. Part of this will include Friends for the sitcom genre, as it relates to the Top Five segment that Lauren and I will record.
Finally, (and most importantly as it is my main role!), I spent a lot of time working on more social media output for Y2KReloaded, taking on board Matthew's advice from the pilot show and creating some unique content that was only available on certain platforms so that everything wasn't just a carbon copy and giving people a reason to engage in each of the social media platforms. For example, I made a photo album on Instagram for Top 5, which had a photo album that related to the top 5 content that was discussed on air. In addition to this, I also made a table on google docs for captions, so that I could simply copy and paste the captions during showtime instead of frantically typing them out to get them to post on time. I made some captions the same if all posts were going to be the same (eg. at the beginning of the show I posted a picture onto all platforms so people can visualise the presenters), but aside from this they had slightly different phrasing (eg. 'go to our instagram to see our top fives!). I also made a full social media running order for the live shows, and for what I would post throughout the week for off air content. I think that this was really effective, and helpful during the live show as I printed it off and ticked off as I posted so that I didn't get lost. I also had 3 devices on the go: Phone, Laptop & iPad, so that each post could go out at the exact same time. I think this was effective and for this week I will make another social media running order, as well as a captions sheet. I will also make some more content that will match the on air output.
To Do: 
Find more upbeat beds to use for each feature of the Podcast
Finish editing Week 2 Podcast
Record Top Five with Lauren
Write 2 Articles
Make social media content to match on air output
Create social media running orders – on air and off air
Create captions sheet
PRODUCTION WEEK 4 (16th February – 22nd February)
Because I had created the majority of the social media posts that I would need for the shows off and on-air output in production weeks 1-3, my main focus for this week was on The Y2k Time Machine Podcast. Hannah and I recorded the interview with Janine, which we both thought went really well. We asked her if she wanted to record 2 episodes in 2 different sessions, but she said that she was happy to record all 4 interviews in one go. She was really chatty, and the energy was high throughout. In the end we spoke for 1 hour 20! I edited the audio down into a shorter clip, and sent it over to Hannah who liked the sound of it. We also recorded our chatty parts to go around it on Friday afternoon. I then edited this together with the interview that I had recorded prior, and made sure to include the great introductory audio package that Hannah made. During our group meeting on Sunday, we listened to the first episode together, and I was really happy when my teammates said that they enjoyed listening to the podcast and even laughed at some of our conversations. (I didn't realise how passionate I was about low rise jeans and small sunglasses until I was recording, but there we go!). Matthew also listened before our pilot show, and said that he liked it but thought we could have made the opening part a bit more chatty, and made sure to explain just exactly what 'wins and sins' are, and the purpose of the time machine. Hannah and I then went on a zoom call and made some adjustments to the script, and recorded our changes. I then went and edited it together on the audition multitrack that I had open, and wetransferred it to Lauren who kindly uploaded it to radio.co in time, as my upload speed on my wifi is horrifically slow. We later on discussed adding another feature which had another chatty element as this is definitely mine and Hannah's strong point of the podcast, we will be recording this part on Wednesday at 12pm, in time for another run through that we agreed as a class on Thursday.
Another task that I had set myself was to make a few more social media posts. I made them to showcase the contributors that will be interviewed on air, and I'm really happy with how they looked! After creating these, it had meant that I could make a social media running order for the pilot. Unfortunately due to a situation that had increasingly developed amongst my family that has been discussed with Matthew and other members of my team, I didn't have time to make a full social media running order for the full 4 weeks of on air and off air content. I did however, make sure that I made a schedule for the pilot as this would be important. Due to my lack of time because of the family situation as previously mentioned, I didn't get a chance to make a proper one and instead copy and pasted the running orders that were for the other shows on google drive and replaced one of the end columns with my social media posts. Screenshots can be seen of my word document on google drive, because for some reason it said the word document would take 630 hours to upload?! My plan over this next week is to make a proper social media running order for the next 4 weeks and the individual Monday's themselves so that it is easier to understand and would be more detailed.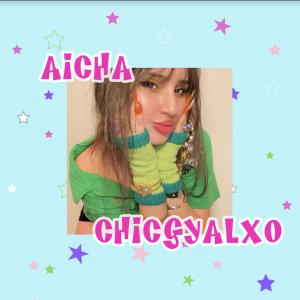 I edited the competition readout too, after Charlie had put the audio from our voiceover Travis on the google drive. I'm really happy with how it sounded, as I think the wannabe instrumental underneath was a good fit. I made sure to time it well so that as soon as Travis was finished talking, the 'If You Wanna Be My Lover' lyric plays out to end the readout. Matthew said that he liked it, but asked if it would be possible to have the voiceover saying the url of our website instead of 'check out our website'. Charlie mentioned that we have some audio of him saying this so I will get in contact with her and ask where this can be located on the drive and see if it fits. I also edited together the video of our group lip syncing to Wannabe for the competition, and everyone really liked it. It was really fun to do and make, and even if we haven't been able to go into the studios, it was a nice momento to remember our work on the station. I'm looking forward to posting it and see what sort of reception it gets, and what other people that duet it will make!
The other task that I had set myself was to write an article for the website that I had agreed that I would write with Andrea. As mentioned above, my family emergency had to take priority over a couple of days in the week, so I told myself that I would just have to prioritise the work that was needed to be done for the pilot (eg. the social media running order, editing the competition readout and the podcast as this would actually be put on air). As writing an article wasn't necessary for the pilot, I told myself that I would write it this week instead. I spoke about this with Andrea today, and told her that I would write the article for fashion week after I have finished working on the podcast with Hannah and she agreed that this was ok.
Another major thing that happened this week was the pilot show and the meeting prior to the pilot show. It was really nice to chat to everyone on Sunday evening for a group meeting, and was a well needed distraction. It also made me feel a lot more confident about the work that I had created in the competition readout, and the podcast with Hannah as mentioned above. It was also really nice to hear other people's work that they had done, and made me feel confident about the final product as I feel like it's all come together really well. I felt like this even more during the pilot, and I really enjoyed hearing all the on air content, that everyone has worked so hard to make. I did struggle a bit posting to social media, as I used my phone to post on all 3 platforms. But I have decided that for our group run through on Thursday and for all of the shows in the future, I will use multiple devices dedicated to different platforms so that it'll be easier to post. As we also had a bit of a problem with the stream at the beginning I missed out posting the beginning parts of the show, so I am looking forward to having another run through on Thursday. Matthew mentioned making sure that the content posted on platforms was unique to each platform and not just a carbon copy, so I will make sure to look at each post and see how I can optimise the content for each platform before our group run through on Thursday. A couple of examples of the posts can be seen below.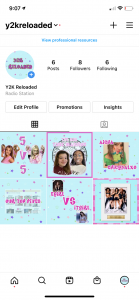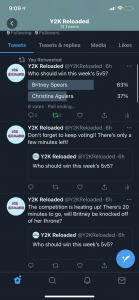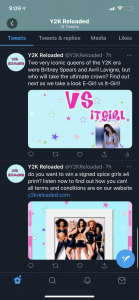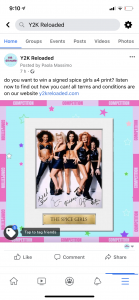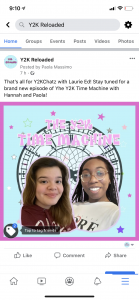 One of the things that was discussed was adding another part of the show to feature the on-air content and articles, as we are now adding 20 more minutes to our on-air output after the changes that were discussed after our pilot. Andrea and I will come up with a script together for a 2 minute feature that I will record a voiceover for. I am looking forward to this, as I like the idea of practicing my voiceover work. We will have a meeting together Wednesday at 5pm.
All in all, I think that it has been a pretty productive week, and I am looking forward to our run through on Thursday that we agreed we'd be having as a class to get everything really smooth. I'm also really looking forward to the show on Monday, as I loved listening to the great content that we all put out to make.
To Do This Week: 
Gather vox pops, and record additional feature with Hannah
Edit the feature into the podcast
Create a few more social media posts, exclusive to some platforms
Make a social media running order for the individual show, and the whole week
See if I can fit in the voiceover saying 'y2kreloaded.com' in the competition readout
Create script for 2 minute website feature with Andrea
Record the voiceover for the 2 minute website feature
Write an article for the website for fashion week
PRODUCTION WEEKS 1 – 3 (25th January – 15th February) 
After creating a PowerPoint presentation with Hannah with our ideas for a Y2K themed radio station, I was really happy when the group chose our idea. We've had lots of meetings that have adapted our idea to become what Y2KReloaded is, and I'm very happy with the outcome and looking forward to getting the station on air, as this is definitely a station that I'd listen to myself!
When choosing the roles, I put myself forward to be the head of social media, as well as helping Andrea who was in charge of the website. I put myself forward for this because I think that createing social media content is one of my strong points, and I really enjoyed doing this for our music radio station from second year, so I am planning to use the feedback I received in order to better my content for pop up.
In the beginning few weeks, I helped out Andrea with coming up with content for the website. I have been a part of several web team meetings with Andrea, Charlie and Hannah in the beginning few weeks. During these meetings I took minutes so we can look back on Andrea has done the main building of the website as this is her role, but we all contributed our thoughts about how it could look and colour schemes etc. to make it what it is today. I also created lots of Y2K themed quizzes, inspired by both BuzzFeed and my work experience at Fun Kids, and I found a suitable way to display them on the website, and showed Andrea how to display the quizzes that she wanted to make too. I made a little 'quiz' asset that would go on each of the cover pictures, to give each picture a running theme, and so that they can look more unified on the page. An example of one of the cover pictures that I've made, along with the 'Quiz' asset can be seen below.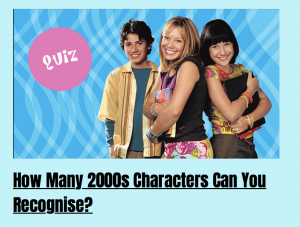 In these meetings we also spoke about the audio branding. It was decided that we should have more of a male voice on the station, since we are all female and don't want to exclude one demographic. Charlie suggested having the voice of a Californian man, as this is very on brand for the Y2K aesthetic, and will also give a bit more diversity to the brand since we'll be an internet station for people to listen to anywhere in the world. We scrolled through Fiverr together and found a good sounding voice that we will use for the competition readout, and that will say the idents and jingles for our station. We also found the voice of a 'valley girl', and we will ask her to read out the same idents as the Californian man in order to give a bit of a diversity to the jingles.
In addition to this: Charlie, Andrea, Hannah and I came up with an idea for the competition. We experimented with lots of different ideas and prizes, from a signed Spice Girls book, to a gift card for retro sweets. In the end we settled on the signed A4 Spice Girls Print because it meant that the competition can be more themed around the Spice Girls. So far, I've written the competition readout that has been sent off to our voiceover artist that we found on Fiverr for the audio branding. As the Y2KReloaded team will be making our own TikTok for people to duet to, I sent the team a clip of the specific part that they need to record themselves lip syncing to so I can edit everything into one big video. They will be sending me the videos by Friday, and I'm looking forward to editing it all together! When we have got the competition readout back, I will also edit this for our pilot on Monday.
Hannah and I are also working on the podcast, and came up with the name 'The Y2K Time Machine', to give the feeling that we're stepping back in time. I contacted a contributor, Retro Avocado, who has 92k followers, and 2.2million likes on TikTok for her Y2K content. We thought that she would be perfect to ask to be our Y2K expert, because she has so many videos about all things that we are covering on our station: fashion, entertainment, technology and culture of the Y2K era. Hannah and I are interviewing her on the 16th of February at 5pm our time, and then after this on Thursday we will be recording our chatty bits of the podcast together. Hannah has made some great introductory packages, and I will edit this into the final product. For now, my main focus will be to edit the fashion week together, as that is the week of our pilot and our first show the following week later.
Finally, in terms of my own role for creating social media content, I have been creating things for both the website and for our social media output. I have made a profile picture for the podcast, and the 5v5 show. I also made a promotional picture for the podcast that Andrea wanted for the website that made it look like you could listen to the podcast on apple. I have also created a meme template for Andrea, so that she could use to create memes on social media as she expressed that this is something that she would like to do. I have also made some screencap posts, which match the theme of the week and are taken from a variety of different movies, tv shows etc from the Y2K era that mention things related to the week. Eg. I have a screencap of Cher from clueless saying that they are "desperate for a makeover" which I will use to promote fashion week. I have also created content for shows individually, such as the 5v5s for Charlie and Marlyse's show, and for some of the segments for Lauren's talk show. The main inspiration for making these posts was the idea that they were cut from a Y2K magazine, hence why there is a lot of overlapping of hearts and stickers, and the image of sellotape hanging up the posters, to give this retro effect.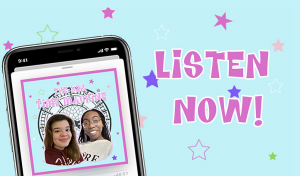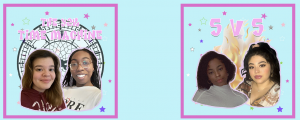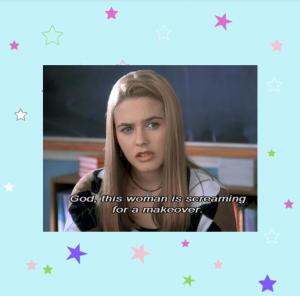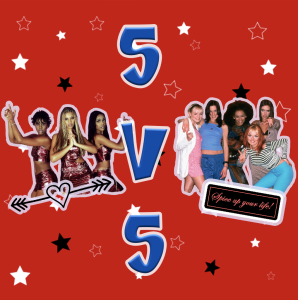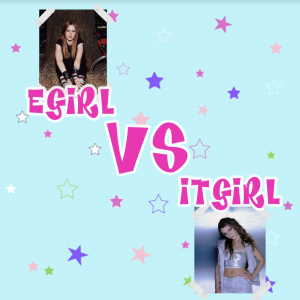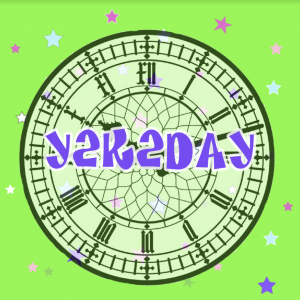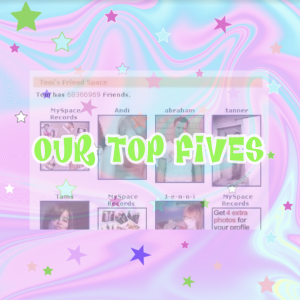 I showed the group at the end and they liked what I've created. I only have a few more to make this week, and then I can make the social media running order.
To Do This Week: 
Record podcast interview with Hannah
Record chatty parts of podcast with Hannah
Create the final few social media posts that are to do with show content
Make a social media running order
Edit the competition readout
Edit the podcast (first episode most important)
Create some articles for the website