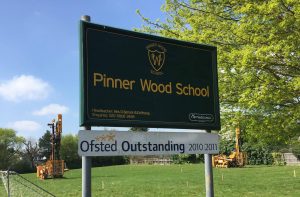 Pinner Wood School, in Pinner, North West London, was closed on 23rd March, by Harrow Council after a chalk mine tunnel below it "partially collapsed".
This is after a crater opened up in the tarmac of the staff car park at Pinner Wood School in the summer of 2015. The hole was approximately 3 metres wide and 1 metre in depth. This quickly prompted an investigation into the "surface stability" of the junior school.
Geological surveys have found that the ground below Pinner Wood School is an "unacceptable risk" due to the fact that it could become unstable at any point.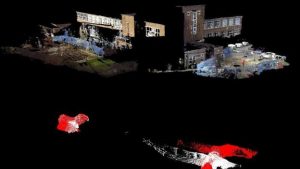 (Photo: Harrow Council)
The chalk mines reportedly date back to the 1800s and recent laser imaging of the tunnels revealed that they stretch throughout the school building, where several mine roofs have collapsed in places.
Harrow council have warned parents and pupils that the surveys could take months to complete and even then, it's still possible that the ground underneath the school could be so unsafe that the school may not be able to open again in its current location.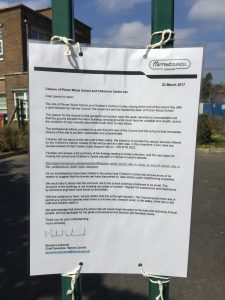 The council have announced that classes will be relocated to different schools for the rest of the summer term and will stay in existing class groups. This is whilst more tests are carried out in order to assess the site's current condition and safety.
Daniel Lester, Head of Communications at Harrow Council, saw the light in the situation, saying that the council's view on the circumstances is "Pinner Wood On Tour" and shared their hopes and expectations.
This has posed many problems to outraged parents with children in separate year groups, who will have to collect their children at the same time from different schools in Harrow. This is due to year groups being split, with Years 3 to 6 going to Whitefriars School, Harrow. Whilst Reception, Year 1 and Year 2 are set to take classes in another school near Whitefriars, however the school is yet to be confirmed.
Deb Spruce, head teacher of Pinner Wood School told the Ealing Times that: "I'm certain we will all rise to this challenge and show that our school is united by much more than just our buildings."
Harrow Council are appealing for help with transporting student to their temporary schools, for more information listen below. To get in touch email: pinnerwoodclosure@harrow.gov.uk.