Cue: New research published by the Office of National Statistics found that more people identify as Bisexual than any other LGBT group in the UK. Our team wanted to find out just how well these figures mirrored the way we see Bisexuality in our community. On the back end of LGBT History Month, Pulama Kaufman went to find out more-
In Words: "Newsbeat… our teenager years"
Out Words: … slash pages, slash bisexual."
Duration: 3'24"
New Research Shows More People Identify as Bisexual than any Other LGBT Group in the UK
But where is their representation?
March 8th. 2017 . Pulama Kaufman
*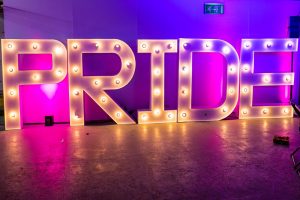 Figures gathered by the Office of National Statistics found that of the 1% of the UK population that identify as LGBT, .6% are bisexual.
A study by the American Phycological Association suggests that we discover our sexual identities between our early adolescence and teenage years.
At a time when are discovering ourselves, our self image is very malleable, and it is essential to have positive role models and representation.
However, the lack of representation in the media and in communities for bisexual youth is often times overshadowed by the support for the L and the G of LGBT. I asked people of the public if they could name someone in the media that identified as Bisexual and I was met with a lot of thoughtful silences and "uhms."
The glaring truth of it is that there really is not as much bisexual representation in the media as there may be for other sexualities. From characters on TV, to politicians, to celebrities; the grand total is slim.
I reached out to Sue Sanders, Chair of LGBT History Months Schools Out program to better understand the impact positive role models and representation can have on a developing mind.
The Schools Out program, she told me, is focused on making LGBT role models visible in the community and normalizing talking about different sexualities from a young age. Examples of this in the curriculum are using shapes of the tents at Brighton Pride in maths lessons.
"Its as simple as that, and as important as that, if you see what I mean." Sanders says
When I asked her about the possibility of these lessons supporting an adolescence discovering they identify as bisexual she was adamant that this program would contribute to them feeling supported and represented because, in her words, it would no longer be seen as a big deal.
To find out more, listen to the whole story here: *insert embedded website link*
–
If you or someone you know needs support or would like to know more please visit www.thetrevorproject.org/pages/bisexual
Find out more about the Schools Out program HERE
Find out more about National Student Pride HERE
*Photo via Smoke Radio