Individual Audio Project  – Blog
This assignment I knew that I wanted to create something that was emotive, real and hard hitting. The reason for this is that following the success of a documentary I created last year on people who had witnesses Terrorism attacks, I want to carry on first person documentaries as this is something I would like to work on more after my studies.
Some of the initial ideas I had for a documentary were:
This documentary would hear from survivors of the fire. It would hear about their individual story from what happened that night. It would then hear about the immediate aftermath of the fire, how they got help etc. However, it would mainly look how they are now nearly 500 days on. It would look at how they have built new lives and how they are receiving support.
Someone goes missing every two minutes.
I was surprised to find out the statistic above and therefore was intrigued to make a documentary about this. My idea surrounding this statistic would to be to create something that works directly with a charity to raise awareness of what to do if you are thinking on running away, if your currently a missing person or if you need support because a loved one is missing. The documentary would hear from parents and family members who have loved ones that are missing. It would speak to families who have had loved ones come home and the relief they now feel. It would hear from the charities to explain what support they can give.
Other ideas included:
This documentary would follow round a recognisable person for a day to give the audience an insight into the day to day life of someone they want to know more on. It would hear and follow them round to provide an exclusive insight into this persons life. It would include interviews in between the parts to answer some of the questions that people want to know about.
Celebrating 50 years of Glastonbury
With the 50th anniversary of Glastonbury Festival around the corner, this documentary would remember and celebrate five decades of this monumental festival. It would look at the history of the festival, iconic moments and the future of the festival. It would hear form the organisers, attendees and artists are we take a look back at 50 years of the festival.
From these ideas, I worked out the strengths, weaknesses and feasibility of each idea. From this, I have decided to create My Life After Grenfell documentary. My reason for this is because creating something that involved real people, telling their unique story and being able to create something that tells this story is something I have a real interest in. I also believe that this idea is unique, we have seen many different Grenfell Documentary which tell the story of minute by minute of what happened that night, but now with the inquest happening we have not seen any noticeable documentaries which hears from survivors 500 days on. To hear how they have or have not rebuilt their lives and if they are receiving the right support.
After deciding that I wanted to create a documentary on Grenfell. I immediately began to rewatch accounts of what happened that night. I specifically watched the BBC, ITV, and Channel 5 documentaries which relived the night for survivors. It showed minute by minute what happened with survivors telling their own unique story on what happened that night and how they escaped. As mentioned before, what I found to be lacking in these one year on special programmes was the insight into how these people are now, how they are rebuilding their lives, how they feel about going back to the fire, what memories stick out from that night and do the memories come back. Those points are which I will be basing my documentary on.
Following watching interviews and special programmes put out by broadcasters, I began my first task of finding survivors to speak to. I firstly decided to put out a generic tweet with the hashtag journorequest which sometimes can help for other journalists to point you in the right direction.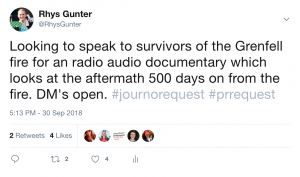 This unfortunately did not really bring in anything which led me to get in contact with any survivors. Therefore I went back through the documentaries and interviews that I had watched online and found the names of survivors and then created a list. From this list, I found 10 survivors on Facebook which I privately messaged. So far, two of those survivors have got back to me and have agreed to speak with me.
The two survivors that have agreed to an interview are:
-Alison Moses (Fourth Floor) (Aged 59)
–Antonio Roncolato (10th Floor) (Aged 58)
I am still looking for another survivor to speak to, ideally I would like to speak to someone who was higher up in the tower. Please see my production schedule to see when these interviews will be taking place.
Outline of the documentary
The first part of My Life After Grenfell will look at the survivors story of what happened that night to allow the audience to understand more about the survivors and for the audience to be able to hear different stories to create a connection with the survivors. The survivors will discuss when the first knew there was a fire, how they escaped, what they witnessed and what there immediate steps were after escaping.
The second part will focus on the immediate aftermath of the survivors. It will hear how the survivors dealt with the days after the fire, finding somewhere to stay, money and getting to grip with losing everything. It will explore their feelings the days after, hearing how they went about their next steps after the disaster.
The third part will look at how the survivors are rebuilding their lives after Grenfell with it being nearly 500 days on. This part, the survivors will speak from outside Grenfell Tower to hear their thoughts now on being back and to hear what it brings back/how it makes them feel.  Ultimately looking at what their next steps are, do the memories come back, are they receiving enough support and have they returned back to Grenfell.
The programme will be built up entirely of the survivors stories, there will not be a voiceover to guide the piece. Using the survivors to guide the story of what they went through and are still going through will help to add a further personal level to the piece with the audience. It will use a montage format to connect the stories together. The piece will include archived news reports to add context to certain parts of the piece.
Commissioning
As part of this assignment is to have this programme 'commissioned' by a broadcaster. At first, I was a little bit concerned on who I would choose to approach my piece too. As it is a topic that most radio stations cover, it was difficult for me to decide which station this programme would suit best on.
As it is only a fifteen minute piece, originally I thought it could suit a Newsbeat lunchtime slot. However, I have decided that this would not suit the target audience of Radio 1. It would have if the survivors I have contacted were younger and I am not making this piece as 'pacey' as some newsbeat programmes normally are.
Following further debate and thinking on what station this programme would suit. I have decided to pitch my idea to talkRADIO. I feel that the sound, pace and contributions will suit ideally to this station. I am pitching the idea as a special 15minute programme that can be played out to mark 500 days since the disaster.
Another reason that I have decided to contact talkRADIO is because they have recently been nominated for an ARIA for their coverage of the anniversary of Grenfell. Showing that the station has marked these occasions suitably on the station meaning that this programme would fit well into broadcasting on the 500 day anniversary.
I have contacted Elif Mills, producer of Eamonn Holmes' Drive Time Show to see if she would be interested in hearing the programme.
After speaking to Elif in person, she would be willing to listen to the programme. I am awaiting email confirmation from her as evidence.
Location
I am still working out the logistics on whether it would be a good idea to take the survivors back to Grenfell to get there feelings going back. After visiting Grenfell yesterday to do a recce of the area, I noticed that outside the Grenfell Tower Memorial, there is a lot of construction work going on and this would disturb the sounding of the piece.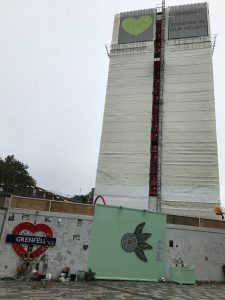 Therefore I will look further to other ideas that may work.
Production Schedule
PRODUCTION SCHEDULE FOR MY LIFE AFTER GRENFELL
15TH OCTOBER – VISIT GRENFELL TOWER RECCE
16TH OCTOBER – SUBMIT FORMATIVE BLOG POST
17TH OCTOBER – PREPARE QUESTIONS FOR INTERVIEWS
19TH OCTOBER – MEET WITH ALISON
30TH OCTOBER – MEET WITH ANTONIO
W/C 5TH NOVEMBER – BEGIN EDITING
12TH NOVEMBER – FIRST DRAFT COMPLETE
23RD NOVEMBER – SECOND DRAFFT COMPLETE
3RD DECEMBER – FINAL DRAFT COMPLETE
10TH DECEMBER – SUBMISSION