This has been a rather busy week for our music radio show. This week we have focussed on getting content sorted for the show, launching our social networks, imagining, OB practice and a whole lot more. For my role as interactive producer, this week I have launched our Facebook page, which can be found by clicking here.
On the Facebook page, you can see a short trailer video I have put together which features some of the many artists we feature within our show. I have also begun to put together a music news section on our website, this features news about the type of artists you will hear on the station. I will continue to work to update the music section frequently and after I have posted on the website with a music news article, I will share it on social media as seen below.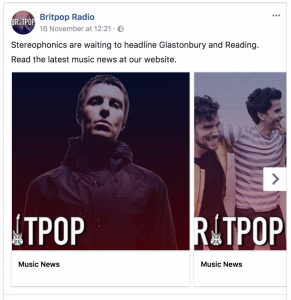 I have also been creating some short shareable and relatable content that will go out on social media over the next few days. One of these pieces is a montage of Pulp tracks which shows that top 5 Pulp tracks, I hope this creates some interaction to the audience and also can be used in the show for the presenters to promote what is on the Facebook page.
Some other content I have created to go out on social media is some 'throwback videos'. These videos feature a range of artists that are performing at festivals or large venues and I have put these together for the audience to watch back and to relate to if they were there for example.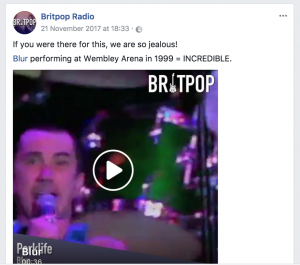 You will also see on our social networks over the next few days' music news updates, more shareable current content and throwback/top 5 videos.
Aside from my social media duties, this week I have also in talks with Saffron from the band Republica to arrange an interview for the show. I am also working on finalising my plans for the promo video with the presenters which I hope to film next week or early week after.