What research you undertook into the job market for your work experience and for gaining a commission for Individual Audio Project.
 One of my key decisions in deciding to study at the University of Westminster was that if successful it would maximise my opportunities for a wide selection of work experience within the media industry. I always knew that I had a passion and love for radio and had a preference that I wanted to work in radio and specifically music radio.
I was keen to get as much experience as possible within my three years of studying here. Therefore, after much work within the last two years, I have gained work experience at Sky News, Vibe 107.6, BBC Radio 1, Love Sport Radio and talkRADIO. Being able to have experience at these small and large media outlets means that I have been able to develop and nurture a variety of different skills, learn more about different industries and ultimately discover what area of I would like to focus in.
For the purposes of this assignment, I want to focus on my time at talkRADIO as this has provided me with now a clear understanding on what I want to do in the future, and it has helped me grow as a radio producer in more ways than I could imagine. I was keen to get work experience in whatever area of radio that I could and had never really listened to speech radio before, but I was very keen to get involved with speech radio. In gaining my initial work experience at talkRADIO back in November 2017, I started off just going into review different new music, film and TV releases of the week. This helped to give me an understanding into the preparation that goes into shows and especially how the format of a speech radio show works as this was something, I was unfamiliar with. Being able to witness first hand all of this going on was so valuable for my future. Following doing these reviews on the shows for a few weeks, I was really eager to get involved with this national station in whatever way I could. I made the station aware that I was confident at driving a desk and this led to them offering me the position as the Saturday morning technical operator. Subsequently, by using my experience that I had gained before moving to London I was able to get a paid job being a technical operator.
Now, following my work over the last 12 months I was able to take this new editorial and creative skillset that I gained and develop it further to create my own first person led programmes and documentaries. For my individual audio project, I was keen to make something on the Grenfell Tower fire. I was aware that there had been a lot of programmes made by other producers which relived the night with survivors, however I was keen to do something different which included personal reflections of what happened that night. I approached talkRADIO's producer of the Eamonn Holmes Drive Time Show to see if they would be interested in hearing a programme that told the story of how the survivors are now.  This included accounts where survivors openly reflect on the last 500 days and tell the story of how they got rehomed, how the community helped and how they are recovering from the effects of the fire. In deciding what station to approach to commission my piece, I chose talkRADIO because they undertook a lot of Grenfell coverage and especially on the anniversary. Additionally, and helpfully, talkRADIO's coverage of the anniversary of the Grenfell Tower Fire was nominated for an ARIA. The station has over the last year completed many different on-air interviews with survivors in regard to the inquest and the anniversary. However, they have not broadcasted any dedicated documentaries on the programme, which makes my programme unique to the station. The reason I also chose the Drive programme on talkRADIO is because this is a quite unique news programme.  It is a programme that approaches the big news stories but also focuses on the issues that is affecting the listeners. Eamonn's show seemed the perfect match for this programme also because he speaks to a lot of case studies and first-person guests who have experienced something out of the ordinary. Therefore, with talkRADIO's passion to broadcast Grenfell content and with Eamonn's show having regular case studies it seemed the perfect station for this programme to broadcast on.
What you learned from your work placement and what you learned from working with an external commissioner for Individual Audio Project
Being at talkRADIO every week within my new job has and continues to provide fantastic learning and develop my skills and knowledge as a radio producer. It is allowing me to develop my skills as a technical operator but ultimately it gave me new skills. From learning how to manage and work with talent, to dealing in a high-pressured environment with changing news and how that shapes the programme differently.  Added to this was learning about team dynamics, individual roles, their responsibilities and collective relationships. I always knew that I wanted to be a producer of a radio show and now I was able to witness and learn from a whole team of producers. Being able to work directly alongside producers to deliver the output of the show allowed me to understand more about how a speech programme can go right and wrong. It allowed me to understand basic things such as what to do if a guest drops out, how to get guests for a programme, the need for in-depth knowledge of broadcast stories and many more key aspects of how to put together a three-hour current affairs and entertainment speech programme.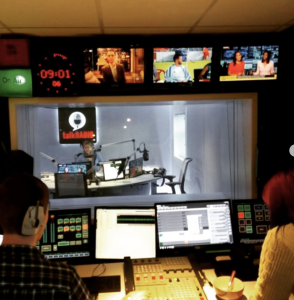 Following, being at talkRADIO for around five months, I felt personally that I had grown confidence in how speech radio works and was really keen to develop further in this area of radio. I feel I am always researching and always looking for my next challenge. Therefore, I saw advertised a position for an assistant producer at a new start up current affairs and sports station called Love Sport Radio. I was able to draw on my experience and knowledge of radio and my new knowledge of speech radio to be able to apply for this job. I was offered the job of a producer instead of an assistant producer. At first, I doubted myself that I wouldn't be ready for that role yet as I felt I didn't have the right experience, contacts or knowledge to be that level yet. However, with the confidence and reassurance from management at Love Sport I decided to take the role as a producer. Looking back now, a key piece of reflected advice I would have for myself and others is to avoid self-doubt, particularly when someone is willing to in some ways take a risk with you and to take every opportunity that comes my way.
Being able to research to find this role allowed me to now take my new skills that I had picked up and to use it at another station in a different way.  When I was asked to produce a specialist crime show, I spent time with the presenter discussing how we could shape the show to sound even better. What I found that the show was missing is the heart of the story, this is something that talkRADIO production teams had talked about a lot. Although it would take a lot more work to get to the heart of the story, it would benefit the show immensely by having that first-person story to go with the show. By now my skills continued to develop and by shadowing different team members I knew what methods to use to contact and get the confidence from the guest to appear on the programme. An example would be that I decided to run a story on the programme to do with food within prisons. I could have gone down the route to get a spokesperson for a prison union on the programme however, I now appreciated the benefits that getting to the heart of the story could bring. Therefore, by tracking down an ex-prisoner to talk about this story and to give his experience it proved further to me the difference that getting that first-person perspective can give to a programme. This started my interest in first person led programmes and their stories.
After sending my proposal for my audio project to the talkRADIO drive time show production team, I was pleased that they replied and would be very keen in hearing the first-person programme as it appeals to their show greatly. Once, I received this I was keen to ensure that the programme wouldn't sound out of the ordinary on the station and would fit the format. Although, the production team were keen for me to get on with the programme, they didn't provide any input into specially how they wanted it to sound. I spent a lot of time listening to the station and noting what would and wouldn't work in the documentary. One of the key aspects that I did notice on the Eamonn Holmes' show is the increase in music which they tend to play out of breaks to give segments some context. Therefore, I was keen to bring music in the form of music beds and associated music tracks into the documentary. I also noticed within Eamonn's interviewing that he likes to hear emotion and personal feelings from interviewees. Subsequently, I was keen to get their emotion that the survivors felt across highly in this piece. I took into account the current sound of the station, the programme to help shape the pace, editorial and creative sound of the programme. By using my work experience and having an understanding of the station I was able to find those key parts within my interviews that would sound editorially right and compliment the programme. Whilst working at talkRADIO, I have been able to pick up on key lines out of interviews that can be used for news reports or online articles. I have now taken this new editorial skill and used it within my programme. I was able to pick up the key parts from interviews and condense them to be able to result in a powerful, informative and slick documentary.
Where you hope to go next, what sort of career you are aiming for, drawing on your work experience and Individual Audio Project, and FIVE practical steps which you will follow to help you on the next phase, post-graduation.
As a consequence of the journey described above, I am now in a fortunate position where through the development of my skills and knowledge, I am now the assistant producer for weekend breakfast and mid mornings at talkRADIO. I am now looking ahead where I go next, I am always looking for something that is a challenge. I've challenged myself over the last three years to gain even more knowledge and skills of the radio industry by working at a national radio station. But now, as I look ahead to graduation, I think I am ready for a new challenge outside of radio. I have always had a passion for live TV and would like to pursue further as I look forward.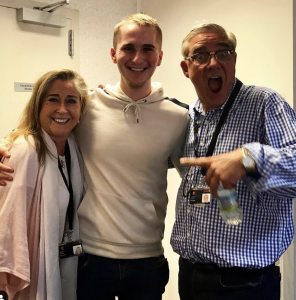 The skills that I have learnt in a live radio environment I believe to be transferable skills into working in a live TV studio. I have been able to grow and develop vital skills such as working and leading a team, working with talent, working in high pressured environments, working to tight schedules and keeping my organisational and communication skills to the highest level. However, more specific skills such as using the Adobe package, understanding how to use cameras and microphones, being able to build a list of current affairs and entertainment contacts are what I believe to me more appealing transferable skills to an employer following the work experience that I have been able to obtain and that can now been used in TV as well as radio.
My overall aim is to become a producer for a live entertainment TV show. I will need to grow on my skills and knowledge further to reach this end goal. I do not however want to just give up on working in radio, the joy about being a freelancer at the moment allows me to try different things. I have set out my next five steps to gain more experience in TV.
Contact various production companies (such as Fremantle, Thames TV and Potato) / producers for work experience at TV stations (such as BBC, ITV, and Sky News).
Develop and establish my personal brand for employees to understand what makes me different to other potential employees.
Actively look and apply for researcher and runner roles within TV production companies.
Continue to work for radio stations in order to maintain skillset and contacts.
Speak to various TV producers and companies for advice about getting into the industry and establish the best way to get in.