a) Written Pitch: To Steven at Ignite Books
Dear Steven,
My name is Simon Woolcott and I'm currently studying for a BA in Radio & Digital Production at the University of Westminster. As part of my course I am required to seek a commission to make a piece of audio.
Having put out some feelers, I received a reply from Ian Elmslie in which he expressed an interest in an audiobook of his autobiographical volume 'A Marvellous Party'. As I was familiar with the book I agreed that the idea of an audio version had merit.
Ian and I have had an initial meeting in which we discussed tasking the idea further and creating dramatisations of particular sections, something which my tutor had suggested. Having concurred that 'A Marvellous Party' lends itself to such a treatment, we agreed that I should approach you with a formal proposal with a view to obtaining a commission from Ignite to produce some dramatisations. Said proposal follows:
Ian Elmslie – A Marvellous Party
Proposal: A dramatised audiobook
The statistics
While sales of e-books have been declining over recent years (Good E Reader, 2016), the sale of audiobooks in the US increased by 31% between 2015 and 2016.
However, Good E Reader (2016) suggest that one of the biggest trends in the audiobook industry in 2016 was the "lack of innovation and risk".
The sharp increase in audiobook uptake is a recent occurrence. According to Neilson Book Research, by 2016 audiobooks had become the fasted growing format in publishing. Over half of audiobook consumers in the UK started purchasing and listening to the medium in the last two years. (GQ, 2017).
Dramatised
Although 'radio drama' had been in decline since its heydey in America, with the last bastion of the radio drama, the BBC, axing the Friday Play from its schedules in 2010, the genre of 'audio drama' is on the rise thanks to podcasts (Popmatters, 2013).
According to Time Magazine (2017), The podcast renaissance is showing no signs of slowing down with drama, comedy and history podcasts among the 50 best podcasts currently available.
Bestsellers
Both Roberts Webb's: How Not To Be A Boy and Matt Lucas': Little Me, are sitting at the top of the best seems list on audible (audible.co.uk, 2017).
It is hardly surprising that the two most popular biographical books are read by theatrically trained comic actors. Their stagecraft gives them the ability to lift their words off the page with a dramatic flair, making for a more entertaining listen.
Proposal details
Ian Elmslie's book is hugely enjoyable read, but an audio version read by Ian, who like Robert Webb and Matt Lucas is theatrically trained, would be sure to delight audiences.
Dramatising some of the settings and details for some of the situation in which he meets the famous and sometimes infamous characters would lift the chapters even further from the page. Further, casting actors to play opposite Ian to dramatise certain passages would be sure to enhance the reputation of 'A Marvellous Party: An Audio Dramatisation' and help spread word of the book's warmth, humour and pure entertainment value.
At no cost to author or publisher, I propose to make recordings of dramatisation of two or three passages of the book as an example, in the hope that I may be commissioned to provide a similar treatment for more of this hugely enjoyable volume.
If given the go-ahead, I would make arrangements to discuss with Ian which passages it would be pertinent to dramatise in the first instance. If commissioned, these recording would be available for your perusal by the middle of December.
Thank you for your time, I look forward to hearing from you.
With best wishes,
Simon Woolcott.
b) Confirmation artefact: The email I received from Ignite Books confirming the commission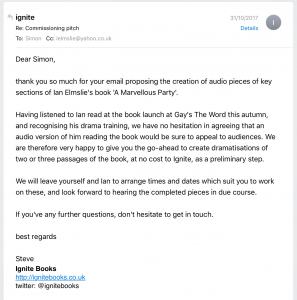 c) Cue: Short paragraph to introduce the audio 
 A Marvellous Party by Ian Elmslie / Dramatisation Package
12.12.17 Simon Woolcott
A Marvellous Party is a candid account of Ian Elmslie's journey from his childhood home in the suburbs to the heart of London's alternative cabaret scene.
After three years at drama school at the end of the 80s, Ian found infamy as one half of musical comedy duo Katrina and The Boy.
Championed by Paul O'Grady, they rose to the top of Britain's gay cabaret circuit picking up a myriad of awards along the way, and garnering many a famous fan.
This memoir pays tribute to the gay community and is an open letter to many of Ian's personal heroes, some of whom he was lucky enough to meet along the way.
These are dramatised excerpts from Ian's story and feature encounters with Julie Walters, Armistead Maupin and a moving tribute to David Bowie.
[CLIP]
IN: As one-half of celebrated cabaret darlings . . . .
OUT: . . . . it was produced and directed by Simon Woolcott (Music fade)
DUR: 20'10"
BACK: That was a dramatisation of excerpts from 'A Marvellous Party' by Ian Elmslie.
d) Images: These are the images Ignite and Ian are using on Youtube to promote the dramatised passages
e) Tweet: Click on the text to view the tweet on Twitter
I was lucky enough to receive a commission from @ianelmslie62's publishers @IgniteBooks to produce and direct audio dramatisations of passages from his book #AMarvellousParty. Here's the first of three: The day Ian met @ArmisteadMaupin youtu.be/hU9k2MbWUJo enjoy!
f) Music reporting sheet: Details of music used in the order that it appears 
1: Marvellous Party
Compass / Coward /Ghost
Universal Music
2017
2: I'm In The Mood For Love
Fields / McHugh
Sony/ATV Music Publishing
1996
3: We Are What We Are
Herman
One Media Publishing
2009
4: Song On The Sand
Herman
One Media Publishing
2009
5: The Best Of Times
Herman
One Media Publishing
2009
6: Sue (Or In A Season Of Crime)
Bowie / Bateman/ Bhamra / Schneider
A Side Music
2016
7: Starman
Bowie
Sony / ATV
1972
8: Ashes To Ashes
Metheny / Mays / Bowie
Sony / ATV
1980
9: Tin Machine
Bowie / Gabrels / Sales / Sales
EMI
1989
10: Rebel Rebel
Bowie / Sue
Sony / ATV
1974
11: The Wild Eyed Boy From Freecloud
Bowie
Sony / ATV
1969
12: Space Oddity
Bowie
Sony / ATV
1969
g) Other supporting documents: Miscellaneous reactions to the project