What research you undertook into the job market for your work experience and for gaining a commission for Individual Audio Project.
Over the past three years, I feel that my opinions on radio and what job career path I want to go down has changed each year. When I first started out I was adamant I wanted to be the best radio presenter for BBC, but that took a turn when I learnt that there are more sectors in the radio industry that I can go down. In first year, I got to experience a weekend with AudioBoom being a volunteer at ComicCon. My role included editing and uploading content onto Audiobooms' website and also onto MCM's website. I have also looked into production side of media, with create productions and have a work experience lined up for March 2019, which is a different sector as I am not completely sure what sector of media I want to do. Not only have I been behind the scenes I have also been lucky enough to have my own radio show at I Love the Beat Radio, where it helps me improve my creativity and be my own producer as well as presenter. I have also helped produce a few shows of others who work there which has helped me realise that maybe this is something I need to research into, and get work experience for. Furthermore, I would like to gain more work experience and I have researched into BBC, Baur Media and Wireless Group. 
When it came to my work experience and researching I found it difficult to source radio jobs as I had no experience prior. I found global ambassador later on in my last year of university. I wasn't sure what kind of thing I wanted to do in radio so I decided on picking a work experience that would instead of being in the radio part be in the street and communicating with the potential audiences. The researching into this job role it seemed like it would help boost my self confidence. For my work experience there are a lot of different aspects and different companies within Global I work for so knowing about each individual company is important. I hope to apply what I learnt at Global to any other work experience or job afterwards as it shows that I am good at remembering and learning jobs 48 hours before the work experience. I would like to gain more experience in Global but in the radio side so through my contacts that I have slowly become friendly with I can shadow in the radio part of Global and use my skills and creativity elsewhere.
Here below is the evidence of my work experience and what my job role entailed: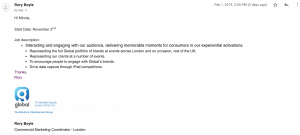 When we got given the task of working on our Individual audio project, from the start I was adamant on trying something new, a walking guide. I had the idea set as I felt that it should have been something I was passionate about and was easy to access. When it came to research companies I wanted to commission the audio walk, as it is a niche subject and based in Haworth, about the Brontes I needed to ensure that it would be commissioned by a company that would benefit from it. The reasoning for it solely based on the Brontes is because I am passionate about literature and also as a kid I used to travel to Howarth and learn about not just the Brontes but the living standard of life. Haworth is a beautiful place, and I wanted to have a walking guide for the many tourists who come there to visit the Bronte house. I then researched and saw that there was a website for the Brontes and on there website that is where it would be great to feature an audio walking guide.
The company I got a commission from was the Bronte Parsonage museum itself. Getting the commission was very simple at first but then I had to work collabayritly with them to ensure the product was up to the standard they wanted.
Here is the email from the Bronte Parsonage Museum which shows that they want to commission my work and work with me collaboratively:
I have also included the email that I sent prior to show that I was clear in what I wanted to do and that I wanted to work with them also: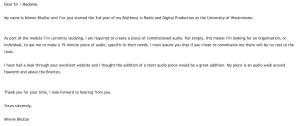 2. What you learned from you work placement and what you learned from working with an external commissioner for Individual Audio Project
The work placement with global is a foot in the door even though I am not really helping with radio in general, I was helping to work with the other sectors. I am a Global Ambassador and what I learnt with my work experience is to work with different and new people and how to be more self-confident with approaching different demographics on different locations. It is a personal growth and to see what it is like to work within a large team or even a small team. My personal development and journey over the past years have surprised me as recently, this year I have started to get work experience in the media sector. Being a Global Ambassador you learn many different skills and learn more about Global as a whole and work with different businesses not just Capital or Heart. My main role for my work experience when working at the Jingle Bell Ball, was to get different demographics to get involved and sign up to emails and drive data capture through iPad competitions. This is something that is important to as I was representing the brand and had to be confident and know about the different businesses.
What I learnt from working as a global Ambassador is that working in a team is important. Communication is key and establishing the difference between personal life and work life. There are many aspects to being a global ambassador and as I am an ambassador I have to be professional and articulate myself and look a certain way as I am the faces that audiences see and affiliate with Global. I learnt how to interact with different demographics and also learn how to work in a fast paced environment, especially when it was Jingle Bell Ball. These skills I can refer too in different jobs. I feel that what I learnt at Global has helped me achieve my other modules too and helped improve my organisation and get ready for the fast paced environment.
Working with the commissioner for my Individual Audio Project was very difficult, as I felt that we had different ideas and approaches to the subject, but as I was being commissioned by them I had to come to a compromise. As the commissioner was all the way in Haworth, we found that it was easier to communicate through email and even over the phone. However, when communicating, some of it got confused on the other end and I had to get Aasiya involved to help me get them and me back on track. Once that was corrected, the commissioner sent me an email to say that once I had completed my walking guide to send it over for them to listen too. This made me excited yet nervous as I had to make sure it was perfect. Knowing I had support from the commissioner that helped with my confidence. The outcome and what I learnt from the commission is to take other peoples opinions and to structure emails properly otherwise there will be days in which there is confusion. I also learnt how to approach a commissioner, which is important as I had to articulate myself in an appropriate way. Also learning to take criticism and feedback from third parties to help improve and incorporate into my individual audio project.
3. Where you hope to go next, what sort of career you are aiming for, drawing on your work experience and Individual Audio Project
Over the three years my opinions and ambitions have changed from wanting to be a top presenter to being a producer or even going into another sector altogether. I am hoping to go into a career where I can learn more and see different aspects of radio, for instance I enjoy finding content for radio so maybe going down the producer side. I am however more into the television side, even though I haven't experience any TV, I feel like I can't limit myself to one media sector and try out something new altogether.
Drawing from my work experience, in particular at Global, I would like to be able to move forward and be something more than just a Global Ambassador and have something more challenging and ambitious. Furthermore, there is also the experience with working on my Individual Audio Project and working with the commissioner. I enjoyed finding a commissioner to commission my work and I would like to focus on that in the future and help make documentaries and audio walking guides. I have listened to many documentaries and I watch many documentaries on TV. I feel that my skills have enhanced and I feel more confident in myself to be able to approach and email commissioners and even companies to help with something along the lines of documentaries. This is something I want to thrive with in the future as it is something for everyone and never gets boring but can get more challenging.
When it comes down to the five practical steps that I would follow to help me on my next phase, post graduation, they are as followed:
I want to gain more experience in different sectors of the radio industry. (Even if it is just tech oping for the first few months and slowly get to assistant producer and then producer).
I am also working on producing a podcast which focuses on me having a nut allergy. What I want to get out of this is the production value and to have a sponsor and also good content and an interest to the demographic.
I have a 2 week work experience placement at Create Productions. I want to be able to see what behind the scenes of television and radio is like, especially the social media aspect. This will help to see another aspect of radio and also television.
When it comes to me, I want to improve on my confidence and creativity. I don't want to be afraid of saying my ideas and showing my creative flow as this is important in the media industry.
Finally, I want to have a job ready for after I graduate or more work experience as it is important. I hope to have something in Sky or even WiseBuddah. If not I also want to go down the music route and have a look at internships at Apple or Spotify as this would fuel my passion for music.