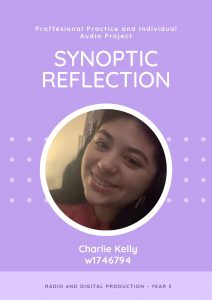 Blog post 1:
What research you undertook into the job market for your work experience and for gaining a commission for Individual Audio Project.
Whilst studying Media and Communication at Glasgow Caledonian University, I worked with BBC Radio 1/1xtra as the Chief Student Brand Ambassador which was a placement I secured through the creative agency, Native. Whilst in this role I learned about events curation and marketing. I also met a few BBC executives in marketing and radio production. This experience gave me valuable insight in to a national radio station as well as how to execute events, particularly for a student demographic.
Since 2017, I have been heavily involved in the underground dance music scene, spending a lot of time working with DJs and artists and even managing a few. When I was in Glasgow, I met DJ, events promoter, agency and label owner, Sofya Staune as she was the agent for a DJ I was managing. In June 2019, Sofya booked me for my first DJ set at the Rum Shack in Glasgow where I opened for many of the big names in the Glasgow underground scene. After moving back to London, I have stayed in contact with Sofya and in December 2020, she asked me to interview three of the artists on her roster. This was a paid opportunity and allowed me to gain experience presenting on local radio. After the interviews went out on Radio Beuna Vida, she asked me to have a recurring segment interviewing artist on her monthly show.
I have also been working as a Production Assistant/Producer at Rinse FM since September 2019 and whilst being there I have developed my admin and radio production skills. I have emailed music labels and agencies as well as made personal connections with artists, event promotors, radio producers and other creatives. I worked on Afters with Emerald, which was a live event being broadcasted on Rinse's output and on our YouTube channel. I was also the head producer for the Rinse x Puma International Women's Day event which was held in the flagship Puma store on Carnaby Street. This experience helped me to learn more about outside broadcasting technical set-ups as well as the importance of brand relationships and sponsorships.
As mentioned, from working at Rinse I have made many connections with artists on our roster. This is where I met GRANDMIXXER, who is a Grime DJ and producer. He also founded the music label, SLSA (South London Space Agency). In January 2020, he requested to Emily Ady (Rinse FM Station Manager), that I became his executive producer for his monthly show. Not only have I been able to work with GRANDMIXXER at events and on Rinse, but he was also the commissioner for my individual audio project which was named after his label, SLSA (The Club). The idea to ask him to be my commissioner came while I was attending a dance music exhibition at the Design Museum during week 3 of the module. I attended the exhibition to research the evolution of dance music as well as learn more about sound design. Due to our personal friendship and my love for his music and label, approaching him to commission my project was more exciting than challenging. I felt he was the perfect commissioner as I wanted to recreate a grime night and he owned a grime label and like any club night, it had to have music and he was a DJ/Producer.
Through being a student at Westminster, I have met people such as Kaylee Golding. Matthew also put me in contact with Apple Music producer, Joshua Joseph who is a former Rinse and Capital Xtra producer. Talking to Josh has given me valuable insight in to more professional and commercial radio. He has also offered me his contacts at Capital Xtra as well as an opportunity to visit Apple music when lockdown restrictions are lifted.
Through my dissertation which I am currently writing, I have also been able to utilise my contacts at Goldsmiths university. I have known about Dr Alex DeLacey for a few years as he is a grime DJ on Mode FM and has a PHD from researching Grime and Rap. As my dissertation topic is about women in Grime, I have been able to talk to him and other grime academics such as Dr Monique Charles.
Blog post 2:
What you learned from your work placement and what you learned from working with an external commissioner for Individual Audio Project.
From my marketing ambassador role at BBC Radio 1/1xtra I've learned I do not enjoy face to face marketing and I also feel like I did not get on well with the BBC structure of work such as the "refer up" system. I found this to be a long and slightly frustrating way of working.
I enjoyed managing artists as I felt using all the different media and communication skills I have whilst working with others was really fun but I also learned it is quite hard to pursue artist management as a full time job unless you are part of a big agency. I still give artist advice to friends who are in music on a casual basis but I do not think it's something I can see myself doing full time.
I know for a fact I love radio production and being in the media/music industry. Working in media is very important to me as it's where most of my skills lie and I enjoy making and exploring creative content. From the individual audio project, I feel more confident in my sound design skills as well as executing a concept. I enjoyed working to a brief with a commissioner as it was nice to have a clear brief whilst having full creative freedom. Having the input of my commissioner when I needed inspiration was also a pleasant experience. My commissioner and I both thought my final individual audio project went really well and he has since spoken to me about working on another (paid) commission for him. Working with a commissioner I already knew also taught me about the value of making personal friendships with the people you work with and how transferrable those connections can be.
I have loved my time at the University of Westminster and since writing my dissertation and speaking to academic professionals in Grime such as Dr.Delacey, the idea of doing a postgraduate is appealing to me. I have learned I work well having a clear end goal but freedom to execute it how I want and academia also provides that.
From years of unpaid or low paid media jobs, I feel like financial stability is important for me and since being at Rinse and talking to professionals in radio, I do not think I would feel very financially secure pursuing a full-time career in radio as a producer. I feel I am lucky that I enjoy so many different things such as academia and policy as well as music and I have a great network to utilise as I grow and find out what I want to do long term. No matter what I end up doing full time, whether that be a full-time job or going in to further education – freelancing radio production and sound design on the side is something I would like to keep pursuing.
Blog post 3:
Where you hope to go next, what sort of career you are aiming for, drawing on your work experience and Individual Audio Project, and FIVE practical steps which you will follow to help you on the next phase, post-graduation.
As mentioned in blog post 2, I want to stay within the media/music industry. I also feel that being in the creative space with other creative people to exchange ideas with best fits my working style. I also enjoy academia and have been researching further education options.
I do not have a clear idea of exactly what I want to do post graduation but I do have a few paths I can explore simultaneously. There are steps I can take to make finding a career and navigating life after university easier. These are my five practical steps:
1. LinkedIn/networking
Due to the pandemic, I am no longer networking in person at the Rinse studio or at events as life has moved online. Networking online through platforms like Linkedin, Instagram and Twitter have become great ways to meet people. I have made a LinkedIn but I have yet to fill it out or utilise it's features so a practical step would be to fill it in and use it to further expand my network and put my work out online. I feel I have built a great social network via Instagram but I could build an equally good professional network on LinkedIn.
2. DJing and music production
DJing and music production would greatly enhance my network but would also allow me to put my brand out. Being able to DJ better and release mixes would be great for if I wanted to be on the front end of radio and take presenting more seriously. From being an artist manager, I already have contacts to labels, agencies and event promotors so when I feel I am ready, It would be easier for me than most to make a small living out of music. I have been having DJ lessons with GRANDMIXXER and have been playing on CDJS for a few years but I do not feel as confident as I would like to. I have downloaded Ableton Live Studio 9, which is a music production software. I have been watching YouTube tutorials on how to produce but I also know professional producers who are available for advice.
3. Research postgraduate courses
The main postgraduate course I have my eye on is the MPhil/PHD Cultural Studies at Goldsmiths, University of London. I understand going for an MPHIL/PHD straight after an undergraduate is very high reaching but it is not unheard of for students without a masters to go straight on the course, as stated on the course page. I have a very clear idea for a research proposal and have received advice from Dr.DeLacey about it and feel confident I could apply depending on the outcome of my overall degree classification as well as the mark for my dissertation. Ideally if I received a first-class classification for both my dissertation and degree I would apply. If not, I have looked at masters such as the MA Gender, Media & Culture at Goldsmiths. I am very familiar with Goldsmiths and many of its students, alumni and staff so I know I would enjoy the university but I feel like attending some online open days would also be a good idea as well as researching funding options.
4. Freelancing
I do not want to completely dismiss working as a radio producer as I enjoy it and feel I am good at it but I think it has become more of a passionate hobby rather than a serious career choice. I have a lot of radio connections as well as the skill set to carry on radio producing and even presenting on a freelance/part-time basis. I am able to do this by being at Rinse FM once or twice a week and through connections I have made networking so far. Not only is radio production a relevant freelance avenue for me (as well as music as stated in step 2), but so is sound design and presenting. As discussed in question 1, I have been freelance presenting already through my contacts in Glasgow, but I could explore presenting in London too on stations such as Reprezent. In terms of sound design, as mentioned above, I have already spoken to GRANDMIXXER about a paid commission as he enjoyed my individual audio project so much.
5. Apply/look for postgraduate jobs
I am in the final stage of the Ofcom Policy, Enforcement & Research 2021 graduate scheme. I will need to prepare for the assessment centre when the relevant details are posted and see if I get the job or not. If not, I have been looking at job sites such as The Bright Network and Run The Check. Looking at and applying for graduate jobs is valuable to whatever path I take next. This is because graduate specific jobs often provide a lot of versatility as employers understand graduates don't always have a very set career in mind and want to try different things. If I do go on to further education and do a MA or MPHIL, graduate jobs will also be a necessity to look at for when I am finished with education.