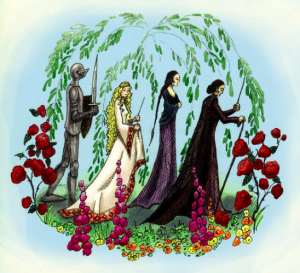 ( A private link has been included in the document submitted on Turn it it)
Dur: 12'12"
Cue/Description for digital distribution: If you are a fan of Harry Potter, then you may remember the beloved story book for wizarding children, The Tales of Beedle the Bard. The book contains five magical fables; The Wizard and the Hopping Pot, Babbitty Rabbitty and Her Cackling Stump, The Warlock's Hairy Heart, The Tale of the Three Brothers, and The Fountain of Fair Fortune, which has now been brought to life in a dramatized audio-story. So, sit back, listen along and join the fight to reach the magical fountain.
Presented and Produced by: Charity Bloxham
Notes for listening:
This audio-story  has been designed to be heard through headphones. Using headphones will allow for a more immersive experience.  
Commision confirmation:
I received my commission from The Blair Partnership, who are  J.K. Rowling's agent.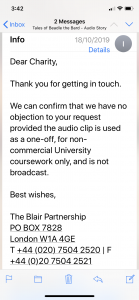 Promotional Tweet:
"For lovers of Harry Potter, a new audio story from the wizarding world. Listen to The Fountain of Fair Fortune now here – ____________________" 
Music Reporting:
Track: Perennials Awaken
Composer(s)/Artist(s): Howard Harper-Barnes
Label: N/A
Publisher(s): Epidemic Sound 
Link to content online: https://www.epidemicsound.com/track/J5BCmT4ejQ 
Track: The Wind is Changing
Composer(s)/Artist(s): Howard Harper-Barnes
Label: N/A
Publisher(s): Epidemic Sound 
Link to content online: https://www.epidemicsound.com/track/en2kLRC4qe 
Track: A moment to Breathe
Composer(s)/Artist(s): Jon Björk
Label: N/A
Publisher(s): Epidemic Sound 
Link to content online: https://www.epidemicsound.com/track/PA7m8rUunr 
Track: The Storyteller
Composer(s)/Artist(s): Kikoru
Label: N/A
Publisher(s): Epidemic Sound 
Link to content online: https://www.epidemicsound.com/track/0Nyl5FMieB 
Track: Like a Lullaby
Composer(s)/Artist(s): Claud Signet
Label: N/A
Publisher(s): Epidemic Sound 
Link to content online: https://www.epidemicsound.com/track/Z09ysMA03f 
Track: Once Upon a December (Instrumental) 
Composer: Stephen Flaherty
Label: Atlantic Records
Publisher: Unknown (audio obtained from Youtube)
Link to online content: https://www.youtube.com/watch?v=cBw1PP-Y9B0 
All sound effects used in this are from, freesound.org and epidemicsound.com