Written Pitch: 
Title: 'The Pleasure Gap'
Station: Radio 1 short Documentary (for on demand platforms)
Delivery Date: 11th December 2018
Duration: 15'00"
Presenter: Holly Palmer
Producer: Holly Palmer  
Short Synopsis: A journey that explores why there are stigmas surrounding the subject of female masturbation among young women.
Story: "Ladies when was the last time YOU had a wank?" … yeah that question might seem quite frank… But the issue is, young women are too ashamed to admit they are masturbating. Why you ask? Well, society traditionally celebrates self pleasure amongst young men, but for women masturbation is seen as the elephant in the room.
'The Pleasure Gap' between men and women is a gendered issue and is gradually changing. In a generation where online campaigns such as #girlswanktoo exist, women are using social media to encourage themselves to sexually explore their own bodies.
Treatment: This Documentary will aim to follow BBC values and will inform, educate and entertain a Radio 1 audience aged between 15-29 years old.  
'The Pleasure Gap' will look at the brief history of how female masturbation has been perceived through the media and will question why and how a stigma became associated with female masturbation. The Documentary will explore if the problem has stemmed from a lack of sex – education in the classrooms and seeks to look if young women know the the physical and mental benefits of masturbation. *The Documentary will contain strong language and adult themes*
The audience will be exposed to a crude and raw reading from the number one selling book 'Feminist don't wear pink (and other lies)'. Grace Campbell's extract from the poem (called 'The  Female Wank') will open the documentary and will follow with a short snippet of her interview of her own opinions of self pleasure.
The presenter then takes a look at how female masturbation has been perceived in the entertainment industry/ throughout history. (This will be mixed in a form of a montage using archive audio from popular films such as 'Sex in the City'.) Until the presenter reaches 2018 and explores how social media is being used to celebrate female masturbation.
The Documentary meets Honey Ross, the co-founder of the Pink Protest. A London born 'community of activists committed to engaging in action and supporting each other.' She explains how important the launch of the #girlswanktoo campaign was back in the Summer of 2018 and the aims and effects the movement is having on young women in the UK.
(Grace Campbell is a co-founder of the Pink Protest too) Grace's previous interview then picks back up and she explores how the stigmas need to binned in order for society to change.
Education! It can be argued to blame, for the lack of knowledge of self pleasure. Therefore the presenter meets with TV's Dr Karen Gurney, a clinical psychologist in sexual Health at the Havelock clinic in Central London. Dr Gurney analysis why sex-education in the UK needs a refresh and why young women need to be informed of the health benefits of self pleasure from a young age.
Social media is a key in changing stigmas in a online era, and young women are using Instagram as a platform to express their thoughts and feelings on masturbation. The presenter meets with freelance illustrator Natalie Byrne, and questions how she is using her 10K Instagram followers to change opinions, by exhibiting her 'wanking' artwork to the world. (Natalie was part of the #Girlswanktoo movement and was commissioned by the Pink Protest to create fun artwork).
Throughout, the Documentary will be filled with a mix of vox-pops from women of all ages as they share their opinion of masturbation. As well as a range of archive audio, from snippets of sex-sperts and pleasure positive influencers. Overall the piece will have a 'Badass' feel, with the use of vibrant music and SFX, provoking a wider conversation about the issue and leaving the audience feeling informed and inspired.
Confirmation of commission:
First Commission: from Gabriela Jones, Creative Producer at Wisebuddah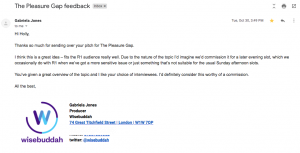 Second Commission: from Hana Walker – Brown, Executive Producer at Audible UK & Audio Producer at Falling Tree Radio Productions

Cue:
Title: The Pleasure Gap
*This feature contains strong language and adult themes throughout*
Why is female masturbation associated with embarrassment and humiliation, when guys encourage each other to speak openly about their bedroom habits?  BBC Radio 1's very own sexpert, Holly Palmer, investigates why female masturbation isn't widely spoken about and how Women have taken it upon themselves to destigmatize self pleasure, through online campaigns and social media platforms.
Back anno: Like Holly said, if you want to be apart of the conversation, tweet @BBCR1 and use the #pleasuregapdoc to share your opinions!
IN: "Wanking, pleasure cruising, treating yourself, flying solo…."
OUT: "… Use the #pleasuregapdoc on social media, to continue this conversation."
DURATION: 14'45"
Images:  2nd image is the illustration created by Natalie Byrne, as spoken about in the doc and commissioned as by the pink protest for the Girls Wank too movement.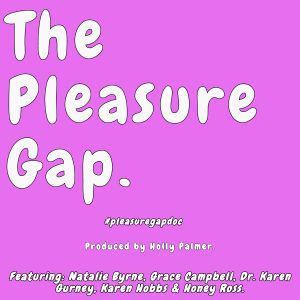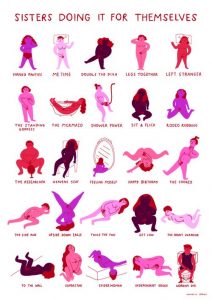 Tweet:
BBCR1: Our very own Sexpert @radio_holly is talking masturbation and feminism, in our new pleasure gap documentary. Listen now on the BBC Sounds App. Search for 'the pleasure gap doc', to listen on demand! #pleasuregapdoc
Music reporting:
Little Mix ft. Nicki Minaj – Women like me Instrumental
Youtube – EdKara
Published: 30th October 2018
Hailee Steinfeld – Love myself Instrumental
Youtube – Queen of the Clouds
Published: 22nd January 2016
Ariana Grande – Thank you, next instrumental
Youtube – EdKara
Published: 10th November 2018
Heartbeat theme
Youtube – Mark 1 Dart
Published: 27th January 2015
Anne- Marie – Ciao Adios instrumental
Youtube – Hit Nation Radio
Published: 16th April 2016
Charli XCX ft. Troye Sivan – 1999 instrumental
Youtube – Felix Nitro
Published: 6th October 2018
Beyonce – Run the world (Girls) instrumental  
Youtube – Adam Tan
Published: 26th May 2011
Fifth Harmony – BOSS instrumental
Youtube – Vincent Premme
Published: 15th July 2014
Meghan Trainor – NO instrumental
Youtube – Karaoke Theory
Published: 1st May 2016
Demi Lovato – Sorry not Sorry instrumental
Youtube – Demi Lovato News
Published: 19th July 2017
Sia – Titanium instrumental
Youtube – holyshitsinstrumentals1
Published:  28th July 2012
Iggy Azalea – Trouble instrumental
Youtube – New classic
Published: 14th November 2015
Katy Perry ft Migos – Bon Appetit Instrumental
Youtube – PrisMize
Published: 31st May 2017
Ariana Grande – God is a Women Instrumental
Youtube – Rafael Oliveria
Published: 17th August 2018
Nicki Minaj – Barbie Dreams Instrumental
Youtube – JCKVEVO
Published: 11th Aug 2018
Archive Audio Clips:
Gavin and Stacey – Satisfaction with every erection
Youtube – Matty
Published: 15th June 2011
Loose Women – Orgasm a day
Youtube – Loose Women
Published: 20th March 2017
When Harry Met Sally – Faking it
Youtube – FHEfoxconnect
Published: 28th June 2012