Written Pitch
The Streets of the Peaky Blinders
Delivery Date: 12th December 2017
Duration: 18'04"
Presenter: Callum Denning
Producer: Callum Denning
Short Synopsis:
The BBC TV series Peaky Blinders depicts a gang that controlled the Small Heath area of Birmingham in the aftermath of World War I. The show claims to be based on the exploits of the real Peaky Blinder gang, a group so violent that they obtained their name by hiding razor blades in the peaks of their caps for headbutting, but how true-to-life is the portrayal? Callum Denning investigates.
Long Synopsis:
Peaky Blinders premiered in 2013, bringing worldwide attention to tales from the history of Birmingham that had been passed on by word of mouth from generation to generation. Many Brummies had been brought up hearing stories about the Peaky Blinders and their exploits in areas such as Small Heath, Bordesley, Nechells, Sparkhill and Aston.
The show became a worldwide hit, with famous fans ranging from Snoop Dogg to the late David Bowie. Fans have made pilgrimages to the Black Country Living Museum, where the show is filmed, to display their love for the series. But how accurate a job have the crew done of portraying a Birmingham of a different age? How accurate is the portrayal of the gang themselves?
To find out, we take to the streets of Birmingham with local historian and Peaky Blinders expert Professor Carl Chinn MBE. We'll also find out how local businesses are taking advantage of the new attention being brought to the city by launching their own Peaky Blinders themed initiatives, with walking tours and merchandise galore now being found in the city.
We'll also investigate whether or not the show has had a positive impact in terms of bringing work to Birmingham or contributing to the local economy with an influx of visitors. And finally, we'll debate whether or not we should be glamourising the exploits of the gang, a group with a notorious part in history for their sheer violence.
Confirmation of Commission: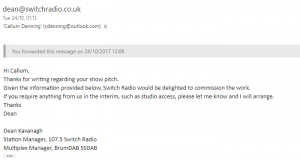 Cue:
The Streets of the Peaky Blinders / Documentary
12.12.17
Callum Denning
Up next, we'll take a trip back to the streets of 19th century Birmingham. A darker, grimier setting that millions have taken a look at through the eyes of BBC TV series Peaky Blinders. But how feared were the real Peakies? Has the show done a good job of portraying their exploits? Join Callum Denning for a walk along The Streets of the Peaky Blinders.
[CLIP]
IN: "The hit BBC TV series…"
OUT: "…but it's not the reality."
DUR: 18'04"
BACK: Callum Denning, there, with a look at the exploits of the real Peaky Blinders
Images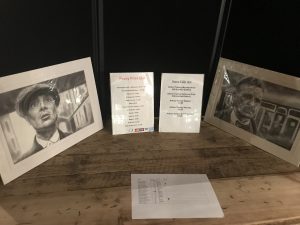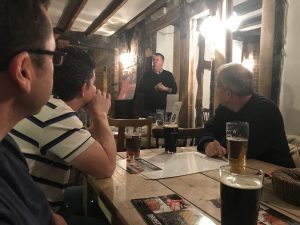 Tweet
Enjoying #PeakyBlinders season four? Have a listen back to @switch_radio's look at the show and its contributions to #Brum, with a look at what activities the real Peakies were known for, courtesy of @PeakyTours.
Music Reporting Sheet
1: Red Right Hand
Harvey / Cave / Wydler
Mute Records
1994