URL: https://soundcloud.com/tony-basten-274568153/why-would-westminster-work
Pitch:
As the universitys across the country are seeing numbers drop, the university needs a new way to promo itself. And a new way for the student union to reach out to future students with the work they do. As such a 20 minute long audio tour which helps to show off what the university has to offer to new students and what the history of the campus is.
Artefact commission:
Intro to the audio:
Its appropriating that time of the year. no its not Christmas. Its deciding on what university you should go to. Sure you could get into oxford or study abroad. But who would want to do that. At the university of Westminster's harrow campus, we have everything you need. Take a tour with Tony Basten, he'll show you what we have to offer here and what someone can achieve when they arrive here.
DUR: 19,10"
IN: Ah university, they say…..
OUT: Until next time, thank you and goodbye.
Image promo: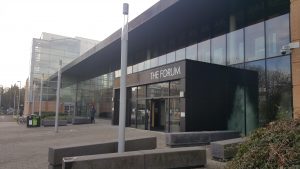 Tweet promo: